Meet Leonie Bos; this year's Le Guess Who? Illustrator
Thursday Oct 19th 2017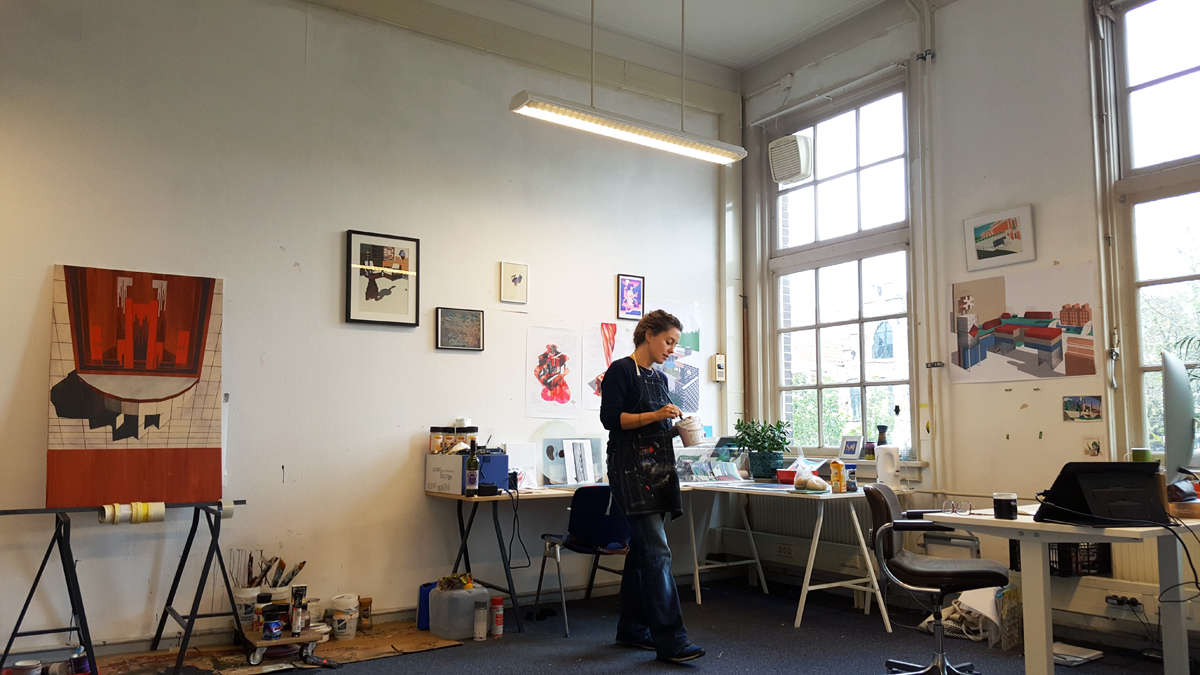 Besides the artwork and typography done yearly by Loudmouth Utrecht, Le Guess Who? each year invites a different illustrator to design the main festival images, which evolves during multiple line-up announcements. Last year, this was Suuns' Joe Yarmush; this year, it's Leonie Bos. Now that the full line-up - and indeed, the full artwork - has been revealed, we thought it the right time to introduce Leonie to you:
Can you introduce yourself to the Le Guess Who? visitors?
My name is Leonie Bos, I'm working as a freelance illustrator for over ten years now. Dutch people might know my drawings from de Volkskrant and VPRO covers. But last year I joined London based agency Handsome Frank and since then I've been mainly illustrating for the overseas market. I live in Amsterdam where I love to spend my days in my studio, overlooking the beautiful Prinsengracht, or at home enjoying my man's amazing cooking, my daughter's (17) annoying jokes and my son's (8) daily changing role-playing games.
How would you describe your work & how did you find your signature style?
I like to approach my subjects from a constructive angle. I literally build up my images. Stacking layers of colors, structures and patterns. Although my work has become fully digital by now, I think my method is still quite similar to traditional painting with its assembly of corrections. Leaving these repairs partially visible, making it look like it's handmade, is a characteristic aspect of my work. But since I also have a compulsive need for accuracy, working on a computer suits me really well. I mainly work with Photoshop and Illustrator. And I recently started using 3d modelling software to construct the base of my drawings. It offers a lot of possibilities. For instance it allows me to approach a setting from different angles and that helps me to obtain the best perspective.
What was the inspiration for this year's Le Guess Who? artwork, and could you explain a bit how the collaboration with Le Guess Who? unfolded over the months?
In my initial conversations with Bob van Heur loads of possible inspiring artworks were reviewed. He was very involved and buried me with various artists ranging from Donald Judd to El Lissitzky to Bridget Riley. He explained the way he constructed LGW's program and how, ideally, creating the artwork would go simultaneously with the development of his lineup plans. And, since 2017 is the year of art movement de Stijl, he liked to see the final artwork to be based on Mondriaan or van Doesburg. But, adding some sort of psychedelic impact. I took it all in and when I presented the first sketches I was a little anxious about to what extent I had succeeded to meet his wishes. But he must have felt confident with the direction I had taken because the next day he gave me the green light. We have been on the same page ever since. And in the following months his enthusiasm and support proved to be even more inspiring than Mondriaan and Judd together.
The artwork for Le Guess Who? features 3 stages; could you describe the different stages and the evolution of the artwork?
My starting point was the fact that I was asked to create multiple artworks which would lead to the final poster. So I wanted to tell a story, build up to something. After a number of conversations with Bob, in which he shared his vision on the project, I arrived at LGW's question mark. I wanted to find a shape from which this question mark would originate, and I approached this quite literally. In the first artwork you can see some loose elements. Their form betrays that they have consistency. Which is explained in the second poster. Here the elements are composed and form a mold. The liquid poured into this construction forms the question mark that is unfolded in the final artwork. I'm very happy with the degree of abstraction, especially in the first one, while at the same time revealing a strong figurative presence. As there is a different form of energy and depth in each poster, the repetition of the elements and the consistent coloruse make the three of them a coherent whole.
Are there any acts playing at Le Guess Who? that you're looking forward to seeing yourself?
Yes sure; Thurston Moore, Kevin Morby and Moon Duo are high on my list!
What are you working on now that the artwork for Le Guess Who? is finished / what does the future have in store for you?
I am currently working on a 10 page interior-feature and the cover for Wallpaper Magazine. I'm very proud to be asked to contribute to such a prestigious magazine, and it's so much fun it's not even work. And in the meantime I still need to get a lot of work done for my soloshow at gallery Sergeant Paper, in Paris. This is what excites me the most at the moment. Funny how making uncommissioned artwork nobody is asking me for, has become more exciting to me than being featured in any celebrated magazine whatsoever. Or wait, I have yet to be asked to illustrate the cover of the New Yorker :)
Find out more about Leonie here.