Mazaher - Live at Le Guess Who? 2021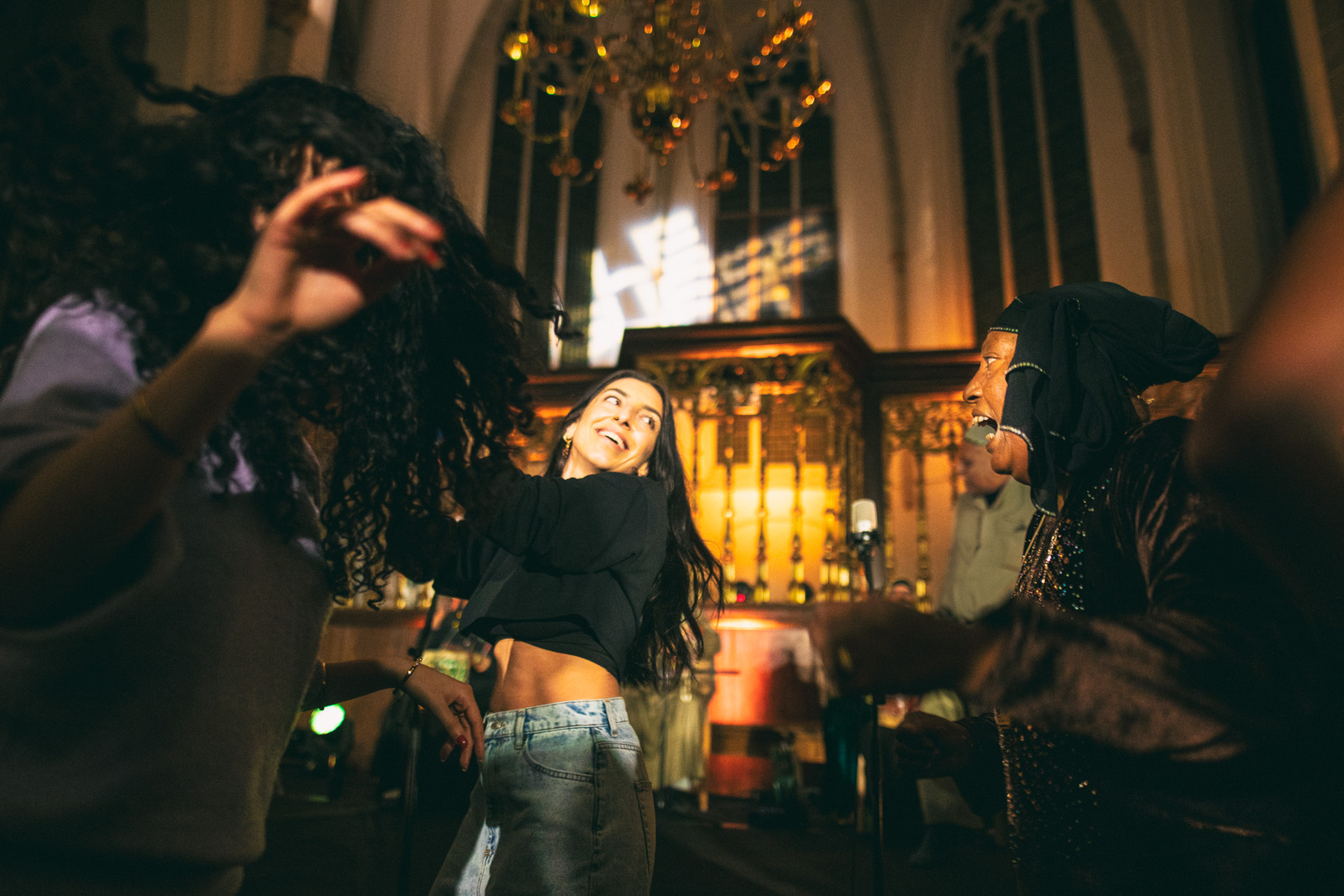 Chanting songs and playing hypnotic polyrhythms, Egyptian ensemble Mazaher gave a rare performance at Le Guess Who? 2021. It was their first European show in over 15 years.
Mazaher is an Egyptian ensemble, a small group of mostly women musicians and singers who play Zãr music: a combination of chanted songs and hypnotic polyrhythms used as purification and exorcism ritual to pacify and cleanse the human spirit. Their performance was part of the project Hidden Musics, which aims to present global music traditions that normally don't reach our shores; music that has been developed with little to no Western influence, but with a very rich and often centuries-old history.
Le Guess Who? is proud to now share the concert film and full audio recording of Mazaher's celebratory live performance at the Jacobikerk during the 2021 festival edition. The recordings are premiered by Pan African Music, who also provide an in-depth article about the ensemble and Zãr traditions, written by Théophile Pillault. Read, listen and watch here.
"In the heart of a Dutch winter the Jacobikerk, a small Protestant church in Utrecht, awaits a sacred event. This is the fifteenth edition of Le Guess Who? festival, one of Europe's most audacious musical events, and tonight the festival is hosting a mysterious female-led Egyptian ensemble called Mazaher. Their arrival is exceptional – the group has not performed in Europe for more than fifteen years – and so is their music. The six members of Mazaher are the last practitioners of zãr, a therapeutic trance ritual that heals and delivers" -
Pan African Music
Though Zãr ceremonies have been largely dissipating or outlawed, Mazaher remains part of a movement preserving it as a vital cultural heritage passed across generations. In conversation with Egyptian artist Nadah El Shazly for Le Guess Who?, Madiha, one of Mazaher's members, recounted the passing away of some Mazaher members, adding that one day when they all pass away, most probably this music will also wither away with them, with very few people left practicing Zãr today.
Le Guess Who? Recordings
The publication of this recording is part of Le Guess Who?'s ongoing expansion of the festival's recordings archive, with 50+ recordings from past editions now freely available online. It contains audio and/or video recordings of The Microphones, Mary Margaret O'Hara, Aldous Harding, Deerhunter, Makaya McCraven, Art Ensemble of Chicago, Beverly Glenn-Copeland, Neneh Cherry, Mount Eerie, Selda Bağcan and many more.
Captured live at Jacobikerk Utrecht on Friday, 12 November during Le Guess Who? 2021.
Mazaher: Om Sameh, Raafat Farag, Om Hassan, Nour Elsabah, Shadya, Araby
Artistic director & Arrangements: Ahmed El Maghraby
Direction: Dammes Kieft
Camera: Anaïs Saebu, Jonathan Sipkema, Nicky Pajkić, Rikash Gobardhan, Yuma Eekman, Dammes Kieft
Production: Claudia Rison
Montage: Jonathan Sipkema & Dammes Kieft
Audio recording: Marc Broer & Philip ten Brink
Audio mix: Marc Broer
Photography: Tim van Veen & Juri Hiensch