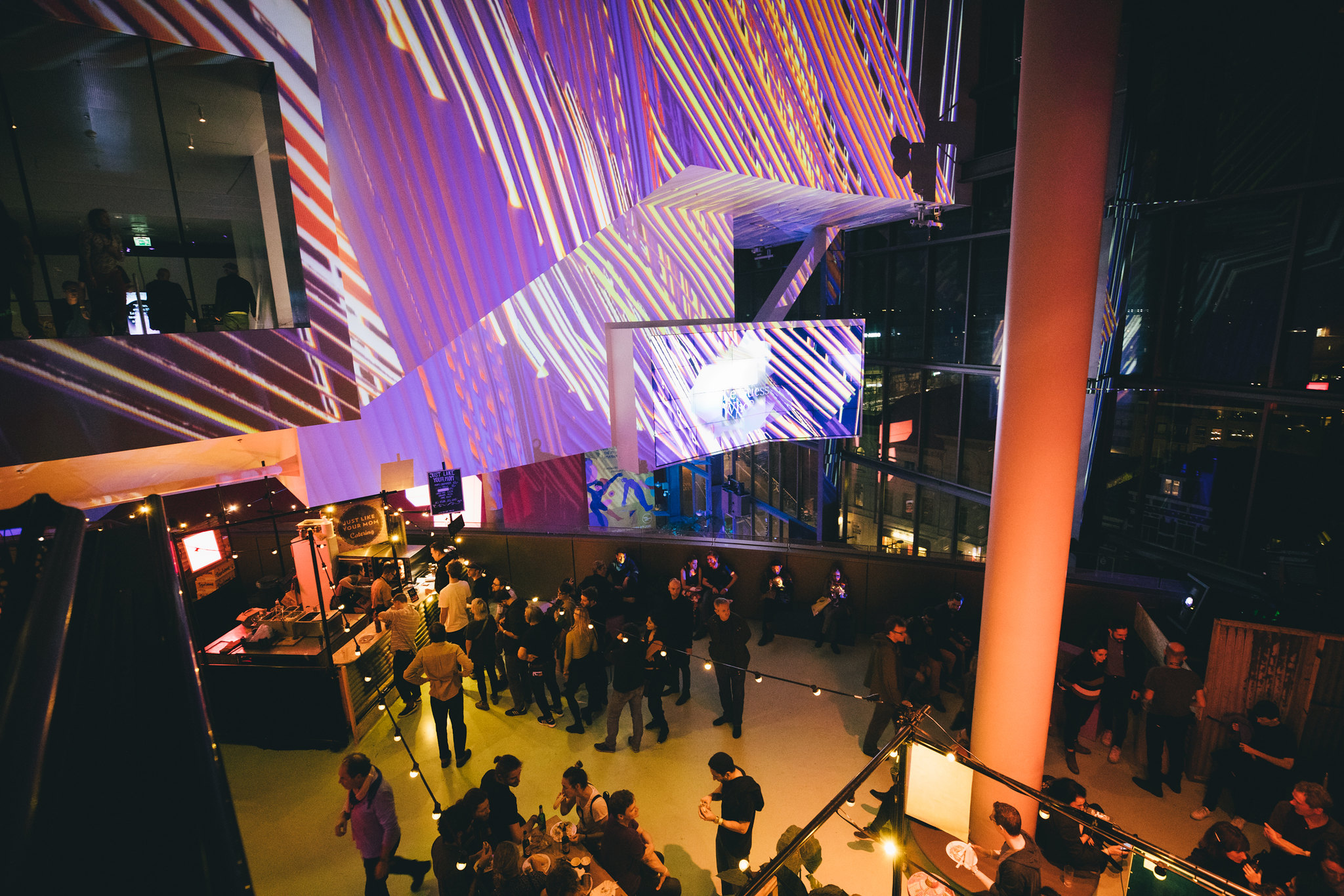 General info
What is Le Guess Who?
Le Guess Who? is a Celebration of Sound in Utrecht, The Netherlands. As one of the most forward-thinking festivals, Le Guess Who? returns 7-10 November 2024 for its 17th edition.

Dedicated to boundary-crossing music & culture from all over the world, Le Guess Who? platforms underrepresented sounds that are rarely heard in other places; sounds that have the power to enrich lives.

Every year, Le Guess Who? invites a diverse range of artists to curate part of the festival. Previous curators include a.o. Iris van Herpen & Salvador Breed, Jenny Hval, The Bug, Animal Collective, Wilco, Devendra Banhart, Shabaka Hutchings, Moor Mother, Perfume Genius, James Holden, Grouper, Shabazz Palaces, Jerusalem In My Heart, Julia Holter, SUUNS, and Sunn O))).

Across four days Le Guess Who? takes over the entire city center of Utrecht, with over 150 artists performing in pop venues, theaters, churches, warehouses, and clubs. U? is the participative and freely accessible day program of Le Guess Who?, created for and with the city of Utrecht. COSMOS is our hybrid platform, which translates the festival's mission to an online environment.

Throughout the years, Le Guess Who? has grown to become a leading international festival, known for its unparalleled presentation of genre-challenging music. In 2022, visitors from 50 different countries travelled to Utrecht in November to attend the festival.
When does Le Guess Who? take place?
The 17th edition of Le Guess Who? is set to take place 7-10 November 2024.
Where does Le Guess Who? take place?
Le Guess Who? takes place over four days in the city of Utrecht, The Netherlands, and features performances in dozens of different locations, including beloved pop venues TivoliVredenburg, EKKO, De Helling and dB's, as well as various theaters, churches, galleries, brewpubs, and even a fire station. The non-musical festival program--film screenings, visual art and photography exhibitions, lectures, debates and listening sessions--are presented in workshops, movie theaters, bookstores, and museums. You can find an overview of all festival venues here.
Who will perform at the next edition of Le Guess Who?
Find the line-up for Le Guess Who? here.
How do I make sure I don't miss any festival updates?
Line-up additions and other festival news items are announced on this website. If you'd like to be among the first to hear about festival news & program updates, subscribe to our newsletter and/or Whatsapp service, and make sure to follow our Facebook, Twitter and Instagram channels.
Is there a way to relive past festival editions?
Yes! We have recorded several festival performances over the last years, which we have gathered in our Recordings archive. Featuring over 50 audio and/or video recordings of live performances at Le Guess Who?, our archive includes a.o. Arooj Aftab, Aldous Harding, Ayalew Mesfin & Debo Band, Makaya McCraven, Minyo Crusaders, Art Ensemble of Chicago, Beverly Glenn-Copeland, Neneh Cherry, Mount Eerie, and Selda Bağcan.

Apart from live performances, the LGW? YouTube channel contains a lot of content that was broadcast as part of LGW ON (like Reports from Other Continents, Vunk on Vacation and King Khan's Telethon), as well as video portraits of former festival curators and performing artists, live sessions, interviews and reports on our satellite events and educational projects. All our audio recordings can be found on Soundcloud.

Do you want to explore the past line-ups of the festival? Our carefully composed playlists, as well as playlists curated by a.o. Iris van Herpen & Salvador Breed, The Bug, Moon Duo, Jenny Hval, Devendra Banhart, Shabaka Hutchings and Moor Mother, are available to stream on Spotify, Deezer and Apple Music.
Can I purchase any Le Guess Who? merchandise?
Official Le Guess Who? merchandise is available in our webshop. It includes a.o. our official magazine, t-shirts, sweaters, and slip mats. The sweaters and t-shirts were printed at by local print workshops Kapitaal and Katoenfabriek.
Is there an age restriction?
Children up to 12 years old are welcome to accompany their parents free of charge. We strongly advise that any children under the age 16 visit Le Guess Who? under parental supervision. Please note that there is an exception for two night locations: WAS. is a 21+ venue and BASIS is an 18+ venue.
Tickets & Festival wristbands
Where can I buy tickets?
4-Day Festival Passes and Day Tickets for Le Guess Who? are available here.

Please note that Yourticketprovider is the only official ticket provider of Le Guess Who? and that the only safe way to buy tickets from someone else is via TicketSwap, a platform that enables the reselling of tickets in a safe way and is a partner of Yourticketprovider.
What tickets do you offer?
Each year, we offer 4-Day Festival Passes as well as separate Day Tickets for the festival, which give you access to all festival activities (but please keep in mind that venues have limited capacity).
Where can I exchange my ticket for a festival wristband?
To ensure entrance at different festival venues, you will need to exchange your ticket for a festival wristband when arriving at the festival. Please note: You can only do this at our Ticketing Area in TivoliVredenburg. Wristband pick-up is not available at any festival venues other than TivoliVredenburg. You must collect your individual wristband in person, as they need to be worn immediately. We accept printed tickets, but can also scan it from any mobile device.

With a Night Ticket you can go directly to the program venue.
Can I get a refund?
We can't offer any refunds if the festival is going ahead on the date originally planned. It is possible to resell your ticket. TicketSwap is a safe platform that enables the reselling of tickets in a safe way and is a partner of Yourticketprovider.
Do I need to personalize my ticket, and can I resell my ticket after I personalize it?
Yes, you need to personalize your ticket. You don't have to this immediately, but make sure you do it before the festival starts.

You can still resell your ticket after you personalize it. So it's no problem if your name is on the ticket. Looking for a safe platform to resell your ticket? We highly recommend TicketSwap, this is a safe platform that enables the reselling of tickets in a safe way and is a partner of Yourticketprovider.
Social Safety at Le Guess Who?
Code of Conduct and House Rules
Our Code of Conduct and House Rules can be found here, and are applied to everyone related to our festival, our team, artists, partners, and our audience.
Social Safety Team and Hub
A Social Safety Team and Hub will be located in TivoliVredenburg (Park 6, under the Cloud Nine stairs), facilitated by Sexmatters. They function independently from Le Guess Who? and are there to welcome you when you feel unwell or have experienced any form of harassment or discrimination.
Sustainability & Accessibility
Where can I find more info about sustainability?
Please have a look at our Sustainability Manifesto. Here, we'd like to give an insight into what sustainability means to us and the steps we are taking. This is by no means a finished plan or approach, but rather a starting point to explore more possibilities to create a sustainable festival model.
Are all festival venues accessible for people with disabilities?
Le Guess Who? aims to present a festival that is accessible to everyone, but unfortunately not all venues are equally accessible. For more information regarding facilities for people with auditory impairment, wheelchair users, disabled parking places and accessible toilets, please have a look at the specific venue page (you can find an overview of all venues here). To make sure that festival visitors with disabilities can be accommodated properly, we recommend that you contact the venues you wish to visit in advance.

If you have any other questions about accessibility, please don't hesitate to send us a message via accessibility@leguesswho.com.
Support the festival
Is there a way to support the festival other than attending it?
As a creative organization we are always looking for new ways to do what we do. As we say: Le Guess Who? is an ever-changing format. But being an independent festival, we couldn't do it without the support of our loyal visitors and supporters.

If you want to support us, and help us to continue developing the festival the upcoming fifteen years on the same level as we did the last fifteen, you can do so by becoming a LGW Supporter. You can also make a one-time donation.

We are always full of new ideas that help us make Le Guess Who? a more diverse, accessible, inclusive, comfortable and sustainable organization. With your structural support, we can realize specific activities and projects that otherwise would not have been part of Le Guess Who?.
Traveling to The Netherlands and Utrecht
How do I travel to The Netherlands?
Le Guess Who? collaborates with Choo Choo to offer festival visitors a sustainable and easier way of booking international train journeys. This includes travel options from & to Paris, Berlin, Zürich, Antwerp, London, Barcelona and Milan, but you can also reach out to Choo Cho directly for other cities and options. Travels options are available every day of the week

For other international train information, please check NS international travel or Interrail.

If you are traveling by plane, the most convenient airport is Amsterdam Schiphol, just 30 minutes away from Utrecht by train. You can also fly to Eindhoven Airport or Rotterdam The Hague Airport.
How do I travel to Utrecht?
A non-stop train departs Schiphol airport for Utrecht Central Station every 15 minutes, and the journey takes approximately 30 minutes. From Eindhoven Airport and Rotterdam The Hague Airport, it takes around 80-90 minutes to travel to Utrecht by public transport. For national train information see the NS website.
Getting around Utrecht
How do I get from one festival venue to another?
The easiest way to get around Utrecht and the festival is by bike. There are multiple options for bike rental in the city:
Willemstraatbike (Willemstraat 22)
Laag Catharijne (Catharijnesingel 28)
Black Bikes (Vredenburg 29)

The venues located in the city center, such as TivoliVredenburg, EKKO, Theater Kikker, Janskerk, BASIS and Kapitaal, are all within walking distance from each other. You will find a detailed overview of all festival venues here.
Accommodation
Where can I stay during the festival?
For more info about accommodation options in or around the city center, please visit our accommodation page here.
Volunteering
I would love to be a part of the LGW team. Can I apply as a volunteer?
Each year, Le Guess Who? works with a large team of volunteers, compiled of enthusiastic music-lovers from all over the world. More info here.
Accreditation
I would like to attend the festival as a journalist. How do I apply for accreditation?
If you'd like to attend the festival to provide media coverage, get in touch with us for more information. Please note that we receive many requests, and cannot guarantee accreditation for all due to capacity issues.
Other
Is your question still unanswered?
Get in touch by emailing us at info@leguesswho.com.