Pink Oculus - Live at Le Guess Who? 2021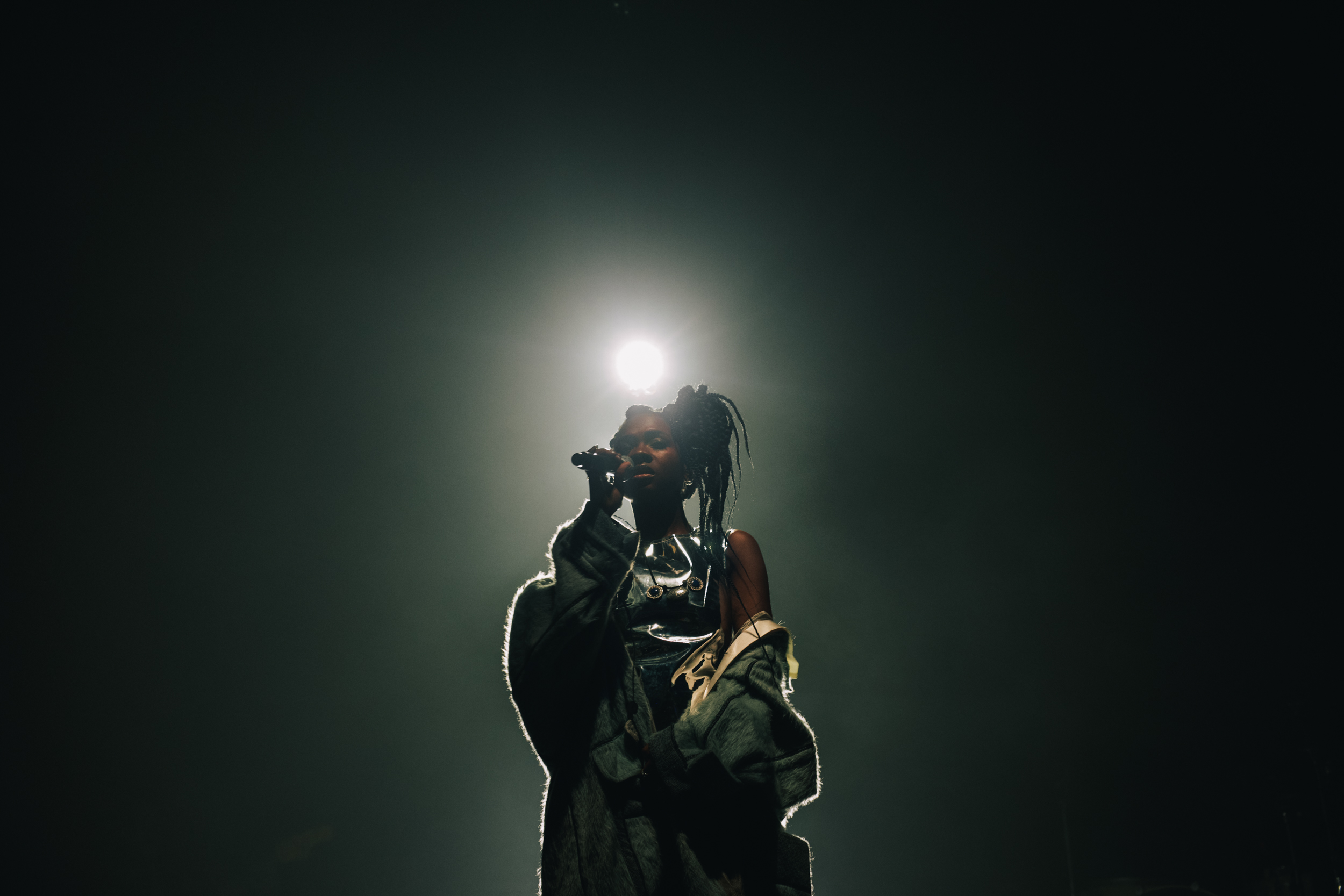 Dutch-Surinamese artist Pink Oculus premiered her new project 'Before Wisdom' live at TivoliVredenburg during Le Guess Who? 2021. 'Before Wisdom' is a special collaboration with audiovisual artist Boris Acket, spatial designer and scenographer Dennis Vanderbroeck, and writer Vincent van Velsen.
The newest video to appear online now is 'TAUT', live at Le Guess Who? 2021. Earlier on, we also published 'NOTIFY ME', 'HIDE' and 'WATER | AWAY'. You can watch all videos below:
"At last year's Le Guess Who? festival [Pink Oculus] introduced her album project Before Wisdom with a towering performance enhanced by the interactive light installations of Boris Acket.
Pink Oculus, whose real name is Esperanza Denswil, has now released double lead singles "WATER" and "AWAY". The former is a spectacular, serpentine wickerwork of organic and synthetic percussion. "I melt with each notice, of wordlessness within", Denswil sings, almost as like a memento to herself." -
Beats Per Minute
Le Guess Who? Recordings
The publication of these recordings are part of Le Guess Who?'s ongoing expansion of the festival's recordings archive, with 50+ recordings from past editions now freely available online. It contains audio and/or video recordings of Eddie Chacon, Mazaher, Alabaster dePlume, Suuns, The Microphones, Girl Band, Deerhunter, Makaya McCraven, Art Ensemble of Chicago, Beverly Glenn-Copeland, Neneh Cherry, Mount Eerie, Selda Bağcan and many more.
Captured live at TivoliVredenburg's Ronda on Friday, 12 November during Le Guess Who? 2021.
Musicians on stage:
Pink Oculus - main vocals, kalimba
Jeremiah Owusu Ansah - drums, sequencer
Robert Pronk - bas Yannick Hiwat - viool, synth
Natascha Brouwer - backing vocal
Jefferson Da Veiga - backing vocal
Direction: Dammes Kieft
Camera: Anaïs Saebu, Claudia Rison, Jonathan Sipkema, Nicky Pajkić, Rikash Gobardhan, Yuma Eekman, Dammes Kieft
Production: Claudia Rison
Montage: Dammes Kieft
Audio recording: Marc Broer & Ruben Kieftenbelt
Audio mix: Patrick Andries
Photography: Melanie Marsman