King Khan & Michael Eaton present The Black Power Tarot at Le Guess Who? 2017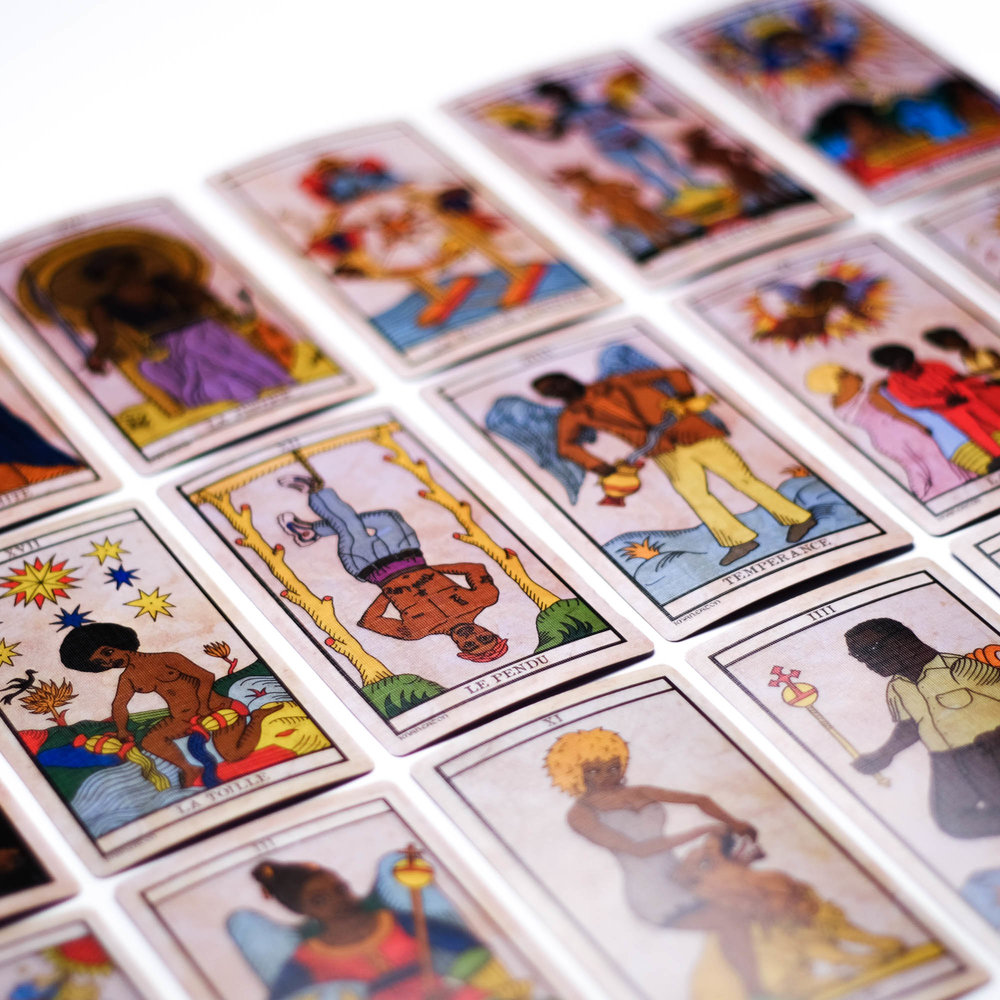 If you're a regular Le Guess Who? attendant, then surely you know musician/producer/writer/artist Arish Ahmad Khan, known by the stage name of King Khan. The artist also played the festival back in 2013, when Ty Segall curated his own stage. One of his personal interests involves the reading and interpreting of tarot cards: something he developed through a series of dreams and visions he had while working on the film score for 'The Invaders' – a documentary about the rise of a Memphis Black Power Group in 1967.
Together with Michael James Eaton (designer for Game of Thrones) and with surrealist film maker Alejandro Jodorowksy as spiritual guru, 'The Black Power Tarot' was created: 22 Tarot cards displaying prominent African American personalities: mostly musicians, but also magicians, comedians, authors and activists, including Richard Pryor, Nina Simone, Howling Wolf, Tupac, Curtis Mayfield, Alice Coltrane, Sun Ra and Erykah Badu. During Le Guess Who?, these cards will be exhibited on maximum scale. Additionally, King Khan will also read Tarot cards for visitors during the festival.
"Until now, representations of these archetypes have mostly been white. With this in mind, King decided to collaborate with Chilean avant-garde filmmaker Alejandro Jodorowsky and Belfast-based designer Michael Eaton to create the Black Power Tarot. Each card is inspired by a real-life figure that King Khan believed was able to follow the path of enlightenment" –
VICE
Le Guess Who? also screens 'The Invaders': the documentary that sparked Khan's idea for the project. The film talks about a generation of civil rights activists who originated from Memphis in 1967, consisting of students, Vietnam veterans, musicians and intellectuals who were inspired by black leaders like Malcolm X and Stokely Carmichael. The documentary highlights the history and meaning behind this oft-overlooked group, as well as the surprising involvement with Dr. Martin Luther King, Jr. in the pivotal days leading up to his assassination. The screening includes an interview with Arish Ahmed Khan and John B. Smith, one of the founding members of The Invaders.
"Arriving after several much-publicized police shootings of black youths, nationwide Black Lives Matter protests and a divisive presidential election that represents, in part, a referendum on the legacy of America's first black president, "The Invaders" offers a particularly timely history lesson about an organization that sought social justice "with a target on its back" –
The Commercial Appeal