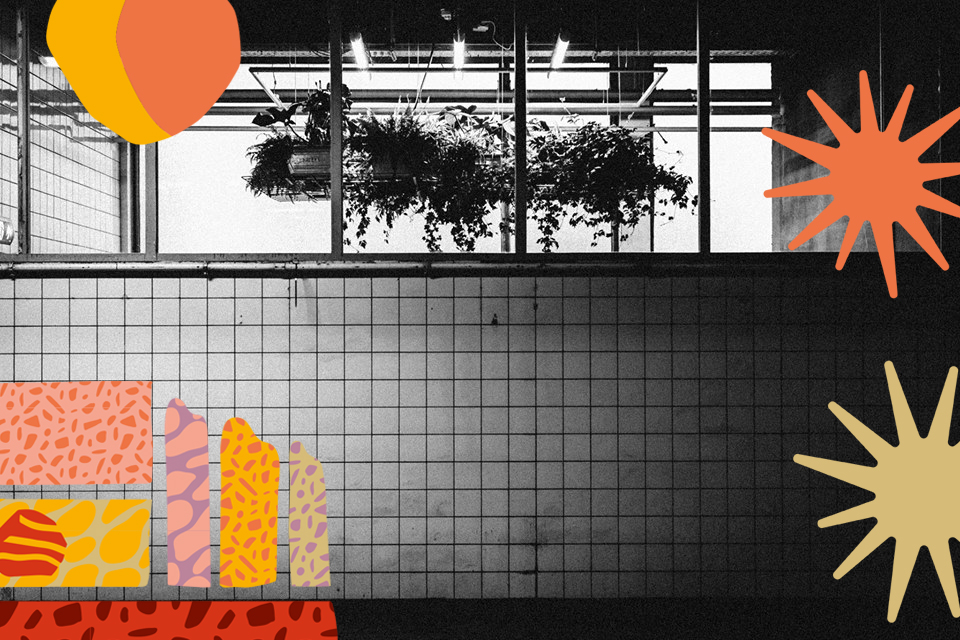 Introducing: WAS. - from a raving punk celebration to stunning club beats
Monday Oct 22nd 2018
This year, Le Guess Who? will feature three new venues for the official music program: WAS., BASIS, and Poema. All of them are part of Utrecht's buzzing nightlife and are among the most prominent clubs in town. In this feature, we introduce you to the pop-up nightclub of WAS.; a place where many electronic music freaks are assured to be able to spend some memorable nights.
Opened in September 2017, WAS. is a pop-up nightclub situated in the laundry room of an old warehouse. The club opens just a handful times each month and its programming varies between house, techno, disco, electro and everything around and in between. Indeed, there's plenty of room for new electronic music to be heard and discovered, and to fully immerse yourself in the artist and his or her music.
"WAS. is a space where visitors can dive into themselves, rinse off their stress and drift without resistance."
Saturday: electronic artists from far away & nearby
This year, WAS. is part of our official program for the very first time. For this special occasion, they will host a smashing club night on Saturday, featuring electronic artists from places both far away as well as nearby.
Deeply embedded in the local music scene, Utrecht-based deejay Luke Cohlen will kick-off this party with his fast-paced mixing skills and lively, genre-defying blends. Hereafter, we'll delve into the "pleasingly naive yet emotionally resonant" sounds of Soichi Terada. Taking subtle cues from 80s and 90s New York, this bastion of Japanese soothing house music is packed with stirring melodies, soulful character and life-affirming humor.
"Despite his humility, 50-year-old Terada is one of Japan's most original electronic music maestros, best known for the soundtracks for beloved video games like Ape Escape. In 1989, Terada founded Tokyo-based label Far East Recording, putting his distinctively cheerful, proto-chiptunes stamp on the deep house sound nurtured by New York imprints like Strictly Rhythm and Nu Grooves." -
thump
To round up the evening, WAS. invited the guys of Dekmantel Soundsystem to share their musical treasure troves with you. Ranging from rare soul to their own house and techno favorites, these bangers will boost your evening to dazzling heights.
Sunday: celebrating 30 years of Mudhoney
From these stunning club beats on Saturday, we'll (stage) dive deep down into the depths of punk, new-wave and blood pounding rock 'n roll on Sunday afternoon. Together with long time festival venue dB's, WAS. will set the stage for a raving punk party featuring upcoming artist like Fornet, Lice and Crack Cloud.
Also performing are Seattle icons Mudhoney, who are widely regarded as trailblazers of the grunge movement, and are celebrating their 30th Anniversary this year, and Czech Republic psych rockers Please The Trees. Together with the decade-spanning return of American post-hardcore five-piece Hot Snakes, WAS. will definitely be the to-go place for all guitar-loving festivalgoers on Sunday afternoon.
"The iconic Seattle rock band, Mudhoney, has achieved something many groups don't: a career spanning four decades and 10 records in the books. With the throaty, charged singing of frontman, Mark Thomas McLaughlin (aka Mark Arm), Mudhoney has been a major part of the "grunge" pastiche in the Emerald City, helping to inspire the massive groups that followed." -
KEXP
Located in the northwest of Utrecht, WAS. is within walking distance from festival location dB's. To reach these venues, you could very easily take a train from Utrecht Central Station to Utrecht Zuilen (you can check schedules here), which is only a 10-minute walk from WAS. Several buses also depart this way (bus schedules here).