Explore Grouper's curated program for Le Guess Who? 2017
Tuesday Sep 26th 2017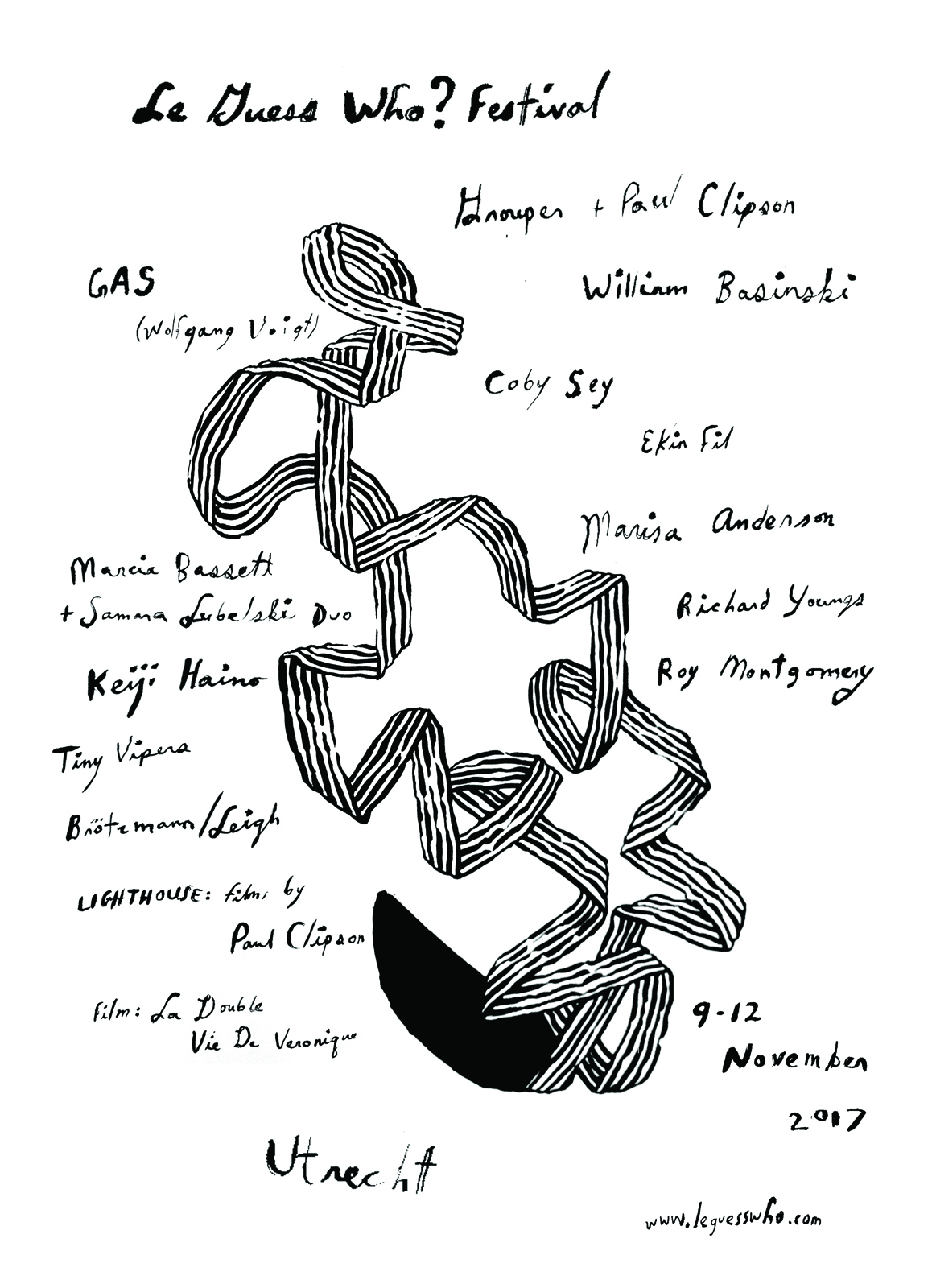 (artwork by Grouper's Liz Harris)
Liz Harris aka Grouper is one of the most prominent and inspiring musicians exploring the space between sound and song. While mostly ambient based, her compositions are also very intimate and personal. The fact that she manages this with such basic resources: a voice and an instrument, together with the ambience of her surroundings, is all the more baffling.
"It's a fitting soundtrack for the social networked age, where it can seem more natural to broadcast your private thoughts to a hundreds-strong follower list than to open up to a close friend" -
FACT on Grouper's last album 'Ruins'
Grouper's curated program for Le Guess Who? 2017 is also aimed at artists exploring the boundaries of ambient and drone music, ranging from mainstay artists like William Basinski and GAS (Wolfgang Voigt) to newer acts, like London DJ/producer Coby Sey and Istanbul's Ekin Fil. But her curated program also shows Liz Harris' interest and inspirations range farther then we might expect, with performances from free-jazz duo Brötzmann/Leigh and Japanese avant-garde icon Keiji Haino. Above all: most of the artists performing are close friends of Liz, and between all the artists involved, collaboration is often the norm.
The venues where Grouper's performances take place are quite important for her. In a recent interview, Liz states: "Somewhere with history, with windows, where one can hear the cars passing or a train roll by, with wide and reverberant acoustics, an audience who came to listen, conditions that allow the audience to listen comfortably, a graveyard, a chapel, a house or an art space, seems a kind of poetic residue that adds to this music."
Grouper's performance takes place on the opening night of Le Guess Who? in the iconic Domkerk, featuring immersive visuals by film artist Paul Clipson. Earlier on, the two collaborated on a project called 'Hypnosis Display' with 16mm visuals by Clipson, and live audio from Liz:
The rest of Grouper's curated program takes place on Friday, 10 November, in the area surrounding concert venue De Helling. Utrecht may be not known for its industrial heritage, but it does have some. Just around the corner at De Helling lies LE:EN, an Asian restaurant in an formerly welding and construction factory with a separate, more intimate room for smaller/solo acts. In this case, Marisa Anderson's dreamy dustbowl fingerpicking, sonic shapeshifter Richard Youngs, and the ambient compositions of Istanbul's Ekin Fil.
Next to LE:EN, you'll find the Pastoefabriek. This former furniture-factory stems from 1750, and now hosts the visual arts department of University of the Arts Utrecht. With these two brand new (or actually old, depending how you look at it) Le Guess Who? locations, the curated program will cover a unique part of Utrecht.
One of the first artists performing on Friday is Roy Montgomery. This kiwi musician, known for his minimalist songs with characteristic baritone, rarely performs live (although at LGW17, he'll actually perform twice; with also a special performance at our 12-Hour Drone on Sunday). In 2009, Liz and Roy released a split EP called that you can stream in full below. The same goes for Tiny Vipers' Jesse Fortino, with whom Liz recorded music under the moniker of Mirrorring in 2012. In an interview with The Quietus, Liz said: "We definitely had an instant friendship, Synergy, and we're both fans of each other's music".
This collaborative spirit, and the fact that many artists within Liz's program inspire each other seems to be a red thread. There's the collaborative performance between guitarist Marcia Bassett and violinist Samara Lubelski, but another fine example is of the newer, more upcoming artists is Londoner Coby Sey, also known for his work as an NTS Radio DJ. Last year, Coby Sey wove his own songs between the music of pedal steel player Heather Leigh (as well as other LGW acts like The Bug, Klein and Hieroglyphic Being).
"Like the braying of two warhorns, the tenor sax of Peter Brötzmann and Heather Leigh's pedal steel guitar surge forwards from the opening second of the single-track Sex Tape, their conjoined holler a storm of fury that sweeps all before it. If you don't like free jazz, you might not be able to stop yourself from being carried along on such molten momentum, and if you do it will be like being swallowed whole by a truly visceral vortex." -
The Quietus
Brötzmann/Leigh might be the last missing link in the program. You might expect Peter Brötzmann to perform as part of Han Bennink's program (you guessed right; he also is), but as a longtime collaborator with Keiji Haino, it's fitting to see him in this wonderful company as well. Heather Leigh often opened for Grouper, and played in Jandek's band together with Richard Youngs, who often toured with Marisa Anderson... The circle is complete.
(Liz Harris with William Basinski / Liz Harris & Coby Sey)
Ready to explore Grouper's program further? Dive into this special Spotify playlist featuring key tracks from the performing artists: