COSMOS: Behind the Scenes in Palestine
Following their broadcast during Le Guess Who? 2022 as part of COSMOS, we talk to brothers Elias and Youssef Anatas, the people behind Radio Alhara, about creating a new form of public space and bringing people from different parts of the world together.
Words by Beatriz Negreiros

During the time most were shut at home remembering connection, architect brothers Elias and Youssef Anatas were busy creating it. In the spring of 2020, together with friends, they founded Radio Alhara. From the West Bank to the world, the Bethlehem-based online radio station quickly amassed a worldwide cult following, spanning from Japan to Colombia, and, of course, across Palestine. But they describe it simply as an 'attempt'. Elias and Youssef use the same phrasing to describe their COSMOS collaboration, which they define as an 'orchestration, not a curation'.
In it, we are engulfed by space and sound, two separate practices whisked together to create something altogether unknown. A result, they stress, is yet to be discovered; much like Radio Alhara, it spills beyond the limited confines of screen and frequency and onto a future brimming with more possibilities for experimenting.
Throughout our conversation, we discover LGW Embassy: Palestine is neither a beginning nor an end, but, rather, a flowing piece in a sequence of territory-spanning, border-crossing orchestrations of the sort Elias and Youssef hope to continue to make real - virtually, and physically.
Unlike others in this series, LGW Embassy: Palestine is wordless; there are no interviews with the artists or the collaboration's facilitators, leaving only the crossover arranged to unravel, context-free. Yet, on close observation, there is much to be drawn out from the collaboration captured on film, unprecedented in nature. Beirut-based multi-instrumentalist and puppeteer Yara Asmar, electronic musician Sary Moussa, and tenor of the Greek Orthodox chorus of the Nativity church Laurence Samour, from Bethlehem, meet each other through performance, even if territorial boundaries impeded them from being in the same room simultaneously. Asmar and Moussa each weave apart thoughtful sound showcases - hers, light and sparse, his, drenched in heaviness - within the confines of Brazilian architect Oscar Niemeyer's unfinished setting in Tripoli, Lebanon.
Samour then appears, fading into the room from The Church of the Nativity, in Palestine, his voice echoing across countries. As it all comes together, we watch and listen in awe, in the presence of a brand-new intersection of the 'sacred, mystical, and magical', as Youssef remembers.
As the performance reaches its inevitable end, we feel as if it carries on forever, continuously revealing other meanings with each new turn.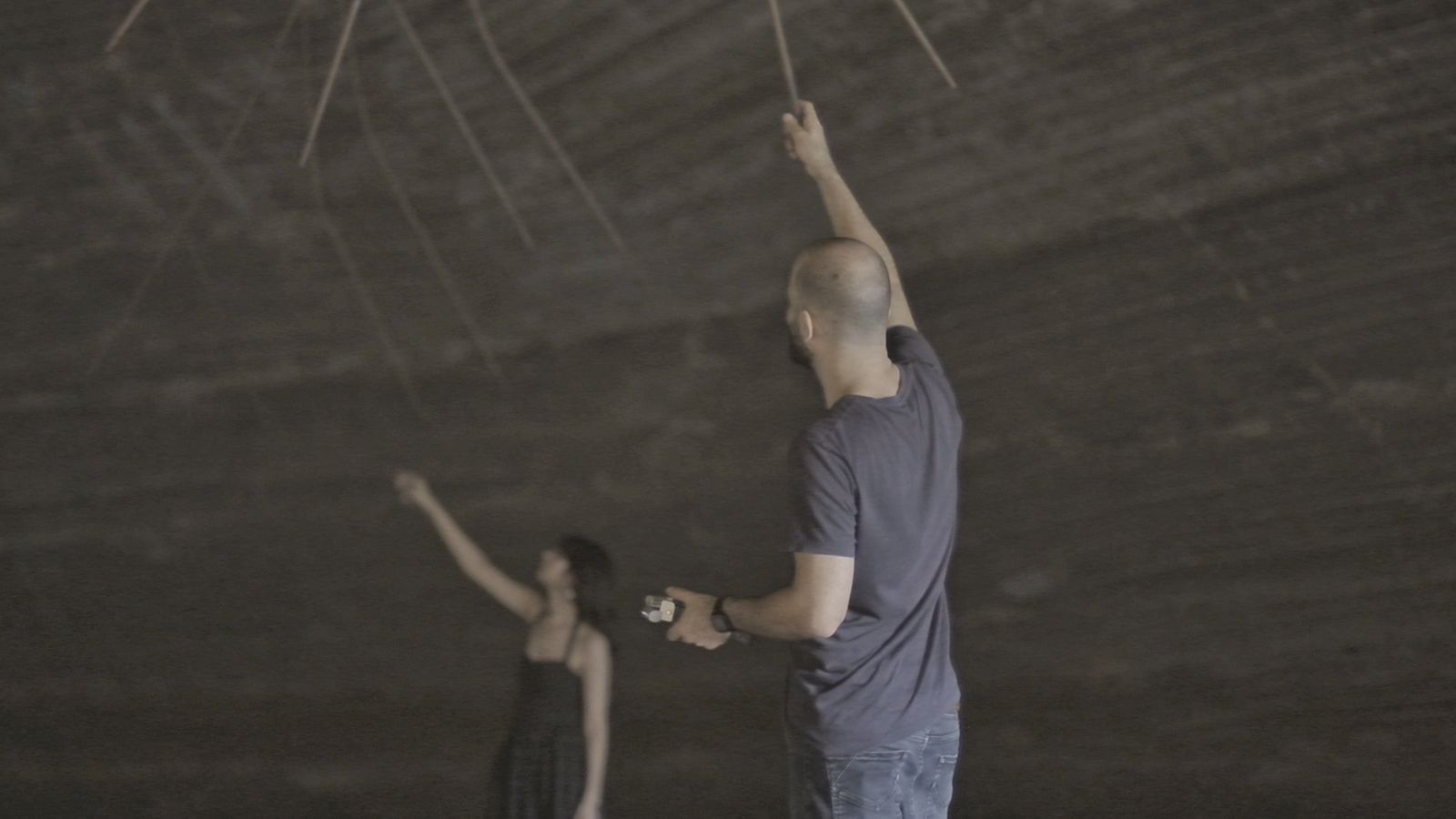 For Youssef, resonation played a key role in the piece. 'I think the space of the church had some resonance already', he recalls. Then, that resonance was amplified by the space in Lebanon, which 'resonates even more'. The collaboration's significance, it seems, is further magnified, louder even; another layer, he says, is added onto it. But, Elias adds, the pair did not expect this. In fact, they expected nothing. 'Nothing was created by us, and we did not expect any kind of result', he says.
'What was created is not a static material', says Youssef. 'It is not a finished product, but rather an attempt of creating collectively across territories, or even across different realms of sound practices'. Each artist's creative world contains multitudes, and their practice, oftentimes, is not only of sound; in Asmar's case, puppet-making, for instance, is a key component of her art.
And precisely to clear the way for these unfinished, limitless crossovers, is the brothers' goal - and also Radio Alhara's mission.
In the beginning, the radio was only an inventive way to stay in touch, and to tap into cyberspace - 'to create a new form of public space', they tell us. But, soon, it grew into something much larger than Youssef, Elias, and their select group of friends; 'an opportunity to question what is the future of cultural institutions', and what culture and art are created outside of those boxes, Elias explains. Broadcasting from Bethlehem, the station soon grew to encompass both listeners and creators from the four corners of the globe, all the while never letting go of their communal, close-knit environment (the name alhara actually stands for neighborhood). It extended, says Elias, thanks to its innate malleability; it can, and has, be bent to fit any shape of content the community wishes to see on it. This may range from music playlists to political roundtables, encompassing even a cooking show hosted early on.
'It responds to factors and conditions that we live under today, be it in Palestine or in other parts of the world, using the meaning of sound, and using the radio as a channel to convey messages and to bring people living in different parts of the world together', summarizes Elias.
In a previous conversation, with Dazed Digital's Günseli Yalcinkaya, the pair compared the 2020 lockdown to the curfews faced by Palestinians over the last decades. Their desire to seek out virtual connection during the pandemic stemmed from a newfound feeling of togetherness. 'It was the first time we didn't feel lonely - the whole world shared the lockdown with us', Youssef is quoted saying. During our own talk, they expand upon the sense of connection fueled by the radio. These days, they host 300 different resident collaborators, all drawn in by Radio Alhara's free-form philosophy. 'The idea that you can use this public space in a very direct way becomes less intimidating as a way of expression', rationalizes Youssef. Their goal was and continues to be to 'create a space that is as accessible as possible'. Besides broadcasting, many have also sought out new friends and communities in the radio's chatbox function. But the ever-expanding sonic neighborhood can also shape-shift once more to take on the form of a place for activism and political action when needed.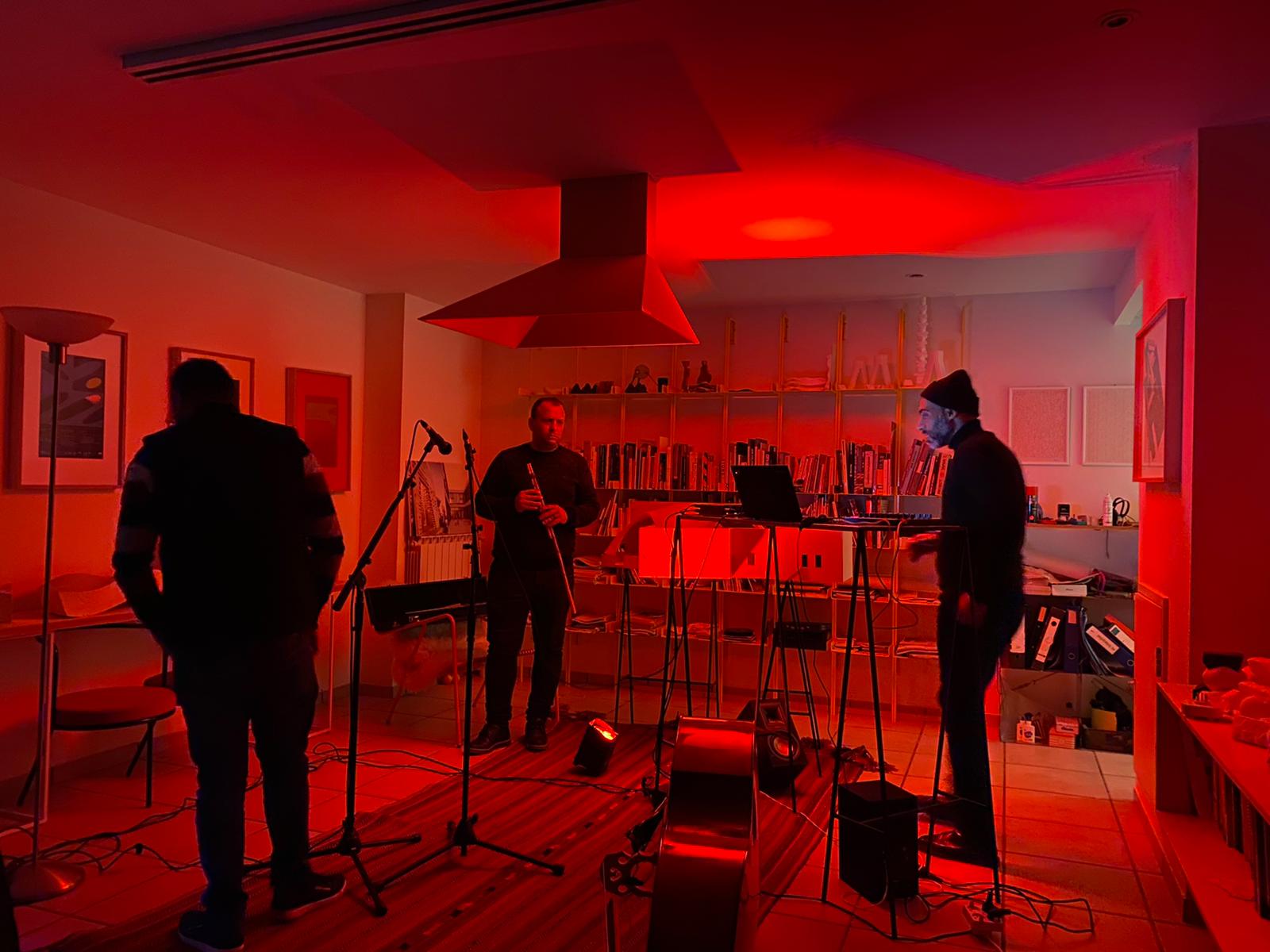 That was the case shortly after the radio's emergence. In the spring of 2020, Israeli president Benjamin Netanyahu announced his plan to annex parts of the West Bank during that summer, once a joint Israeli-US team completed mapping out the territory based on a map released by then US-president Donald Trump (that did not come to fruition, but Israeli government's target has not budged since). That same summer, Radio Alhara hosted a 72-hour anti-colonial, anti-racist broadcast, featuring sets from names such as Mykki Blanco, Kampire, Habibi Funk, and Nicolas Jaar (who debuted his latest record, Telas, during the event).
But, for Elias and Youssef, the conversations the radio is kick-starting reach far beyond Palestinian borders. 'People were talking about their own struggles', says Youssef. The radio's global protest gave way to an international 'web of solidarity'. That ever-expanding network of voices and stories is what lies at the heart of Radio Alhara, he says.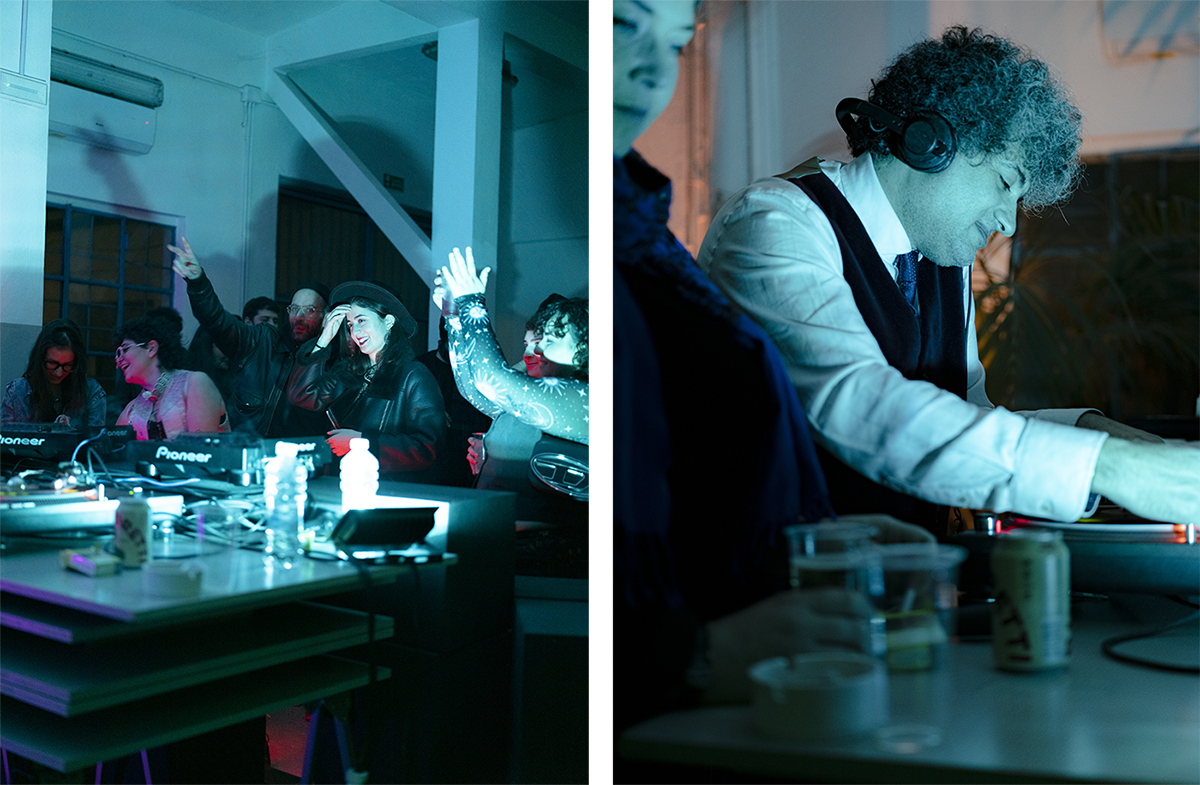 This spring, Radio Alhara is leaping from the screen onto the material world, as they are planning on opening a station at The Wonder Cabinet in Bethlehem. This is a not-for-profit organization and cultural center that can be described as an authentic creative melting pot. In it, Elias and Youssef tell us, hopeful creatives can find knowledge-sharing opportunities across disciplines, practices, and realms - from music to architecture to food. For the brothers, orchestrating these encounters is key. After all, their collaboration with Le Guess Who? follows in line with others they have kindled in the past, and which they intend to continue pursuing in the future.
For Youssef, their work is not too dissimilar from the festival, as 'to have a festival that is orchestrated, and not curated… That creates more surprises, and allows us to go to fields of experimenting that can influence a community in different ways'.
The postulate of giving themselves away, not meddling with the process, he says, creates an 'unexpected world of possibilities'. Stripped away of supervision, as was the case of the collaboration between COSMOS and Radio Alhara, something beautiful can flourish; a question, perhaps forever to stay unanswered.
This article is part of the COSMOS series 'Behind the Scenes', in which people from across the world discuss their local cultural scenes and their creative processes while creating films for the latest COSMOS installment. You can find more info about the series here.
Are you interested in collaborating with COSMOS to share your local cultural scene? Please let us know via cosmos@leguesswho.com.