Niger's Etran de L'A
ï

r share new single 'Toubouk Ine Chihoussay'

Friday Oct 1st 2021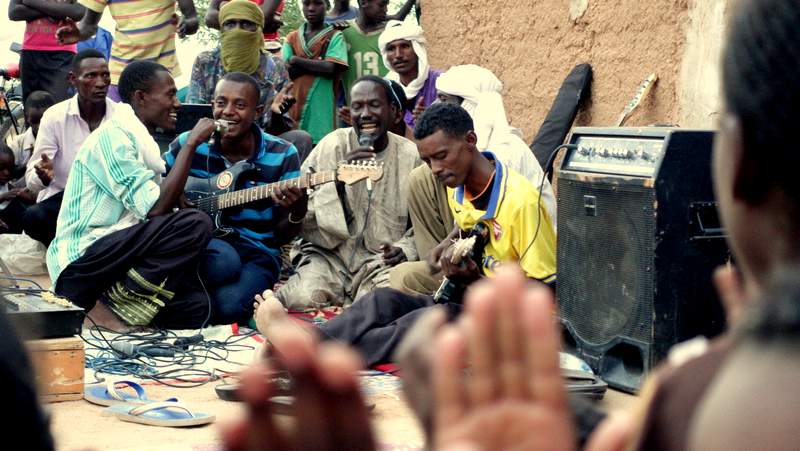 Hailing from the town of Agadez, which is known as "the gateway to the desert", Etran de L'Aïr capture the pulse of everyday life at weddings, baptisms, political events, outdoor soirees alike.
In 2020, The New Yorker's Amanda Petrusich picked the group's 'No. 1' as her favorite album of the year. The album was recorded on a cellphone and released through Sahel Sounds. Now, Etran de L'Aïr release the single 'Toubouk Ine Chihoussay', their first internationally released studio recording, in celebration of their first-ever tour, which also sees them performing at Le Guess Who? as part of Hidden Musics.
"Etran de L'Aïr, from central Niger, plays giddy and mesmeric rock songs; the band began as a trio of brothers, but these days there might be as many as nine family members involved. "No. 1" was recorded live, outside of the band's compound in the outskirts of Agadez, and it contains absolutely everything I have desperately missed about non-virtual concerts: heady, spontaneous grooves, the sound of people clapping, involuntarily loosed whoops. I put it on whenever I need to be reminded of what it feels like to be outside, among friends, happy, dissolving into sound" -
Amanda Petrusich
Etran de L'Aïr perform live at Le Guess Who? as part of the Hidden Musics project. Also performing at the festival are a.o Arooj Aftab, Siti Muharam, Mazaher, Mónika Lakatos, Ghalia Benali in Hadret Ishq, and many more.