Explore James Holden's curated program for Le Guess Who? 2017
Monday Oct 16th 2017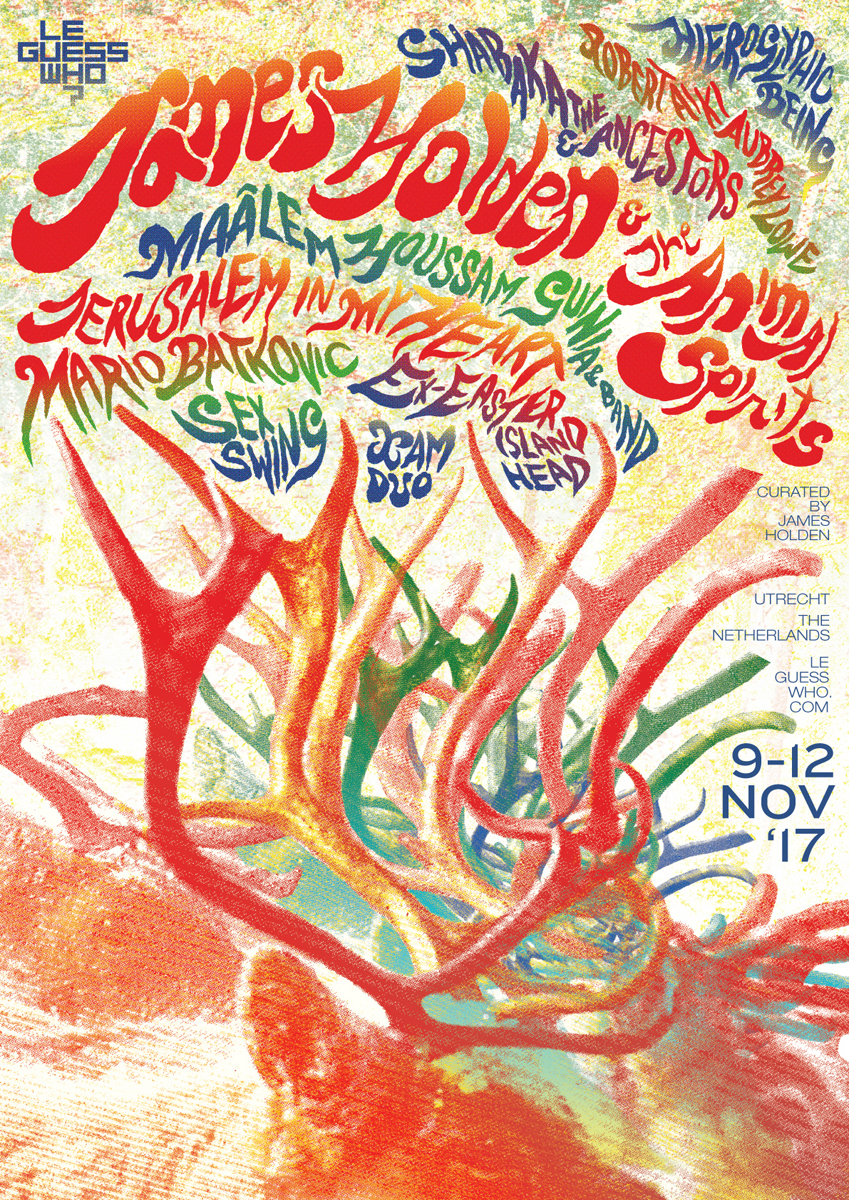 (Artwork by Raimund Wong)
Playing live following 'The Inheritors' was a complete new experience for James Holden; improvising with live drums, sax and synths opened a new world for Holden. During the making of his new album 'The Animal Spirits', Holden was listening to a lot of spiritual jazz, including Pharoah Sanders (also performing at the festival), which he feels has the same structure as his music. This was a big inspiration for his new record; watch James Holden discuss the making of the album in the video portrait we filmed in his London studio:
First single 'Pass Through The Fire' from the album, grew out of Holden's 2014 trip to Morocco to work with legend of Gnawa music Maalem Mahmoud Guinia. Gnawa is an extensive treasury of ceremonial folk, poetry and dancing. The deeply hypnotic, repetitive rhythms are said to have spiritual and healing powers. For 'Pass Through The Fire', Holden set about transmitting the distinctive Gnawa rhythm to drummer Tom Page, adding Etienne Jaumet's on-the-hop improvised sax contributions further down the line. Holden: "This was where I got the idea that songs are just backbones or seeds and the strong ones teach/reveal themselves to the players rather than the other way round."
James Holden - Pass Through The Fire:
Maalem Mahmoud Guinia, with whom James Holden collaborated in Morocco in 2014, regrettably passed away two years ago. His son, Maâlem Houssam Guinia, seeks to maintain the legend of his father, and to continue the intercultural adventure that he started; Holden now invites Houssam as part of his curated program at our festival. For Holden, Gnawa is very trance-inducing music, and trance music in the broadest sense has been the main theme for Holden's curated program at Le Guess Who? 2017.
Maâlem Mahmoud Guinia & Houssam Guinia in session for Bolier Room:
Even though Holden is exploring new ways to perform his music live, with a range of musicians, his modular synthesizer is still a very important element of his music. Hence a performance by Robert Aiki Aubrey Lowe fits his program perfectly. By using analogue modular synth echoes, Robert tries to bring the listener in a state of trance. Both of the musicians are inspired by the minimalist pioneer Terry Riley, who was one of the first to try to internalize electronica in electronic music.
Last year, Holden was invited to pay tribute for the 80th Birthday the minimal composer. He shared the bill with Ex-Easter Island Head, who carry Riley's spirit with their mix of polyrhythms and contemporary classical music. With prepared guitars and percussion, they explore the use of repetition, which results in highly hypnotic compositions.
Pharoah Sanders might of course have been included in Holden's wish list for his curated program, but we had already booked him as part of Shabazz Palaces' curation. Still, there is more (spiritual) jazz to discover here. Take XAM Duo. The duo of Matthew Ben (from Hookworms) on modular synth and drum computer, and Christoffer Duffing on a diverse range of saxophones, create jazz-inspired electronic soundscapes. And then there's Sex Swing who include pretty much all of the genres present in this curated program: noise, drone, and psych, as well as free jazz. Featuring members of Dead Neanderthals, Part Chimp, Bonnacons Of Doom, Dethscalator and Earth, this super group is a must see.
In the spiritual jazz tradition lies Shabaka & The Ancestors, who in the past has also collaborated with Sun Ra Arkestra. And there's more festival trivia: last year, Shabaka Hutchings recorded with Hieroglyphic Being, another performer curated by James Holden. They even made a song called Ashram, could that be a hint to the Sai Anantam Ashram Singers performing The ecstatic music of Alice Coltrane on Sunday?
As one of our visitors mentioned on Facebook: 'curators curating curators, how meta'. True. Well actually, Jerusalem In My Heart was only curating his own program and not performing himself at first. But thanks to James Holden, we're very pleased having Radwan Ghazi Moumneh back, as we've started considering him as family throughout the years.
In the words of James Holden himself: "the whole idea of the curation was trance music that isn't trance". So this might give some insight into why a Moroccan Gnawa musician is performing next to a contemporary music trio as well as a drone metal band. But then, there is still one artist more to discuss: Mario Batkovic is an accordion maestro who brought us all intro a trance during his performance at the Janskerk last year, the curated by Savages. Musicians seems to like Batkovic, and it's not difficult to see why.
Ready to explore James Holden's program further? Dive into this special Spotify playlist featuring tracks from the performing artists - we've also included two collaborative tracks between Holden and Mahmoud Guinia, in loving memory of the Gnawa master:
James Holden & Maâlem Houssam Guinia.