COSMOS: Behind the Scenes in Slemani, Kurdistan-Iraq
Following their broadcast during Le Guess Who? 2022 as part of COSMOS, we talk to Space21's Hardi Kurda about the concept of illegality; the musical cacophony of Slemani; the US-led invasion of Iraq, which happened twenty years ago, and also how it led to surprising musical discoveries for some.
Words by Beatriz Negreiros
Photography by Niga Salam

When composer, sound artist, improviser, researcher, and curator Hardi Kurda was a little boy growing up in Slemani, the mountain-wrapped city in the east of the Kurdistan region of Iraq, he would often play in his brother's radio repair shop.
Even as a child, listening struck him as something powerful and intense; the radio, he found, was a 'gate' into other worlds, through the way of frequencies.
When he arrived in Sweden in 2002 as a refugee, his practice broadened; initially focused on classical and traditional music, he found himself gradually drawn by experimental music's gravitational pull. He also became fascinated with audiences - what they think, how they feel, and, most importantly, how they hear. To this day, the practice of listening is at the crux of all Hardi does. Such is the case for Space21, a project that he began in 2017 when he returned to Kurdistan-Iraq to find it was lacking a push for cultural and experimental music-centered initiatives. And so is LGW Embassy: Slemani, Kurdistan-Iraq, in which Hardi introduces the Le Guess Who? audiences to the artful cacophony of Slemani, as he seizes the sound of music, war, hope, and his own sonic explorations.
Two things become clear when speaking to Hardi. The first is that he is an academic through and through, a teacher and student of sound and music, unafraid to think deeply about it. Following his studies in music and the violin in Slemani, Hardi obtained degrees in composition in Leipzig, Germany, and Gothenburg, Sweden. Now, his time is split between being a curator, a sound artist, a visiting lecturer at The University of Winchester, and a Ph.D. candidate at Goldsmiths, University of London. The second is that, despite his academic accolades, he is not sealed in an ivory tower, uninterested by the real world's public. He actually strives for interaction with those who watch and listen, and describes his practice as 'interactive sound art'; 'I try to discover the line between artist and audience, which is more focused on how listening creates a platform that we call an experience', he explains.
Assuming, then, we are meant to be only onlookers when it comes to his COSMOS collaboration is a mistake. In it, we are fully immersed in the Slemani local music scene, as not only musical instruments invade our senses - but also the sound of people, places, and things. We are in it.
We are immediately enraptured by Ramal Amanj's beautiful playing of the oud, a Persian short-neck, pear-shaped, fretless stringed lute-like instrument. Standing outdoors, he muses on the practice. 'I wonder if Hassan Zirek was an oud player, and he was brought up the way I was, how he would play that piece?'. For a musician like Ramal, to walk on Slemani's ground is to continuously touch the tracks left by many of the Kurdish cultural icons that came before - names like poets Nalî and Mahwi, writer Piramerd, and, of course, folk singer-songwriter Hassan Zirek. More than four decades after his passing, his name still hangs from Ramal's lips. He confesses, 'whether I want it or not, there is the impact of where you live on the music'. For others, the Kurdistan-Iraq experience sways their sound in different ways and directions. Such is the case of the trash-death metal band Dark Phantom.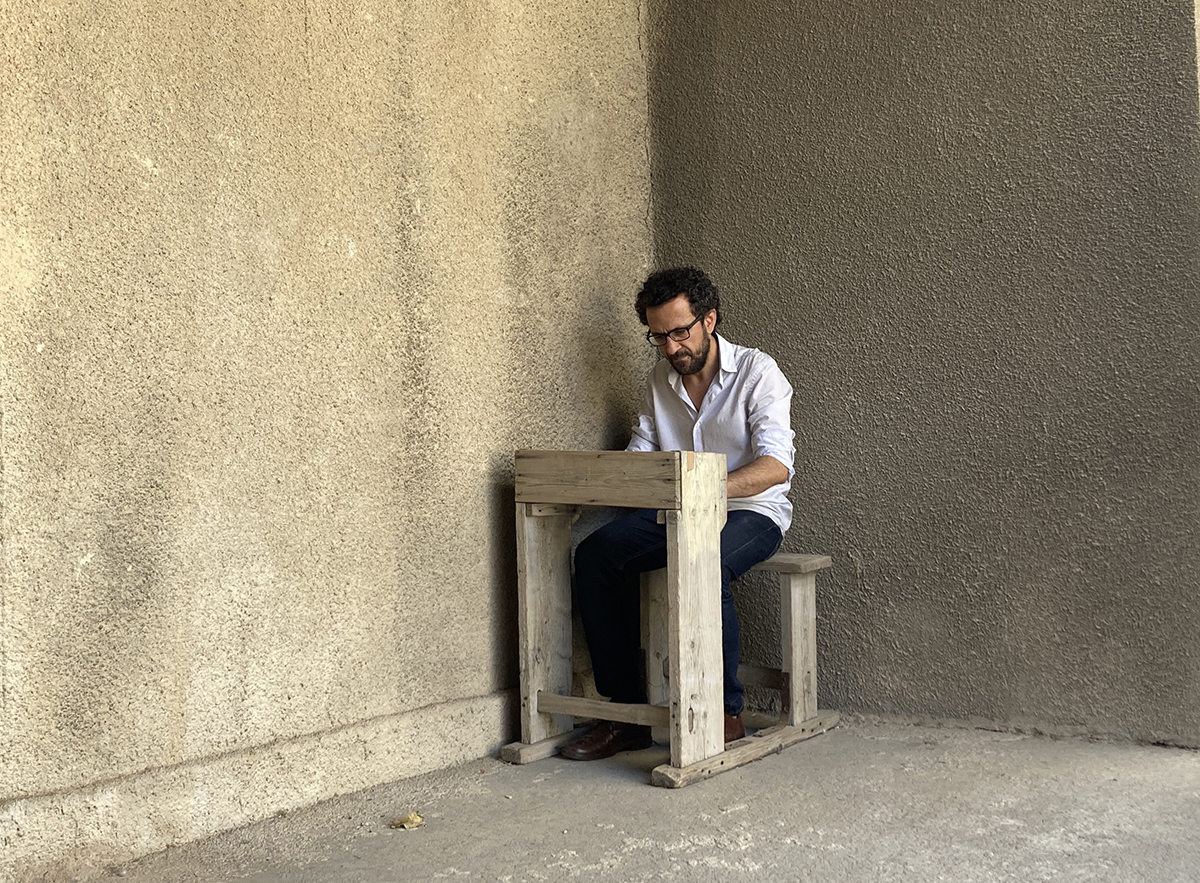 The band's founder, Murad Khalid, explains, walking down a busy Slemani street, that the US-led invasion of Iraq, which happened twenty years ago, led to surprising musical discoveries. 'After the war, when we were around 15 or 16, we talked to the Americans, and they were giving people stuff', he says in the film. They presented Murad with a metal music CD, and he was transfixed.
The genre's anger soundtracked his war-torn surroundings better than love songs. Chasing catharsis, he picked up an electric guitar and began making it himself. But Dark Phantom's music is not angry without a cause; as Murad explains, they explore themes of corruption in their lyrics, both governmental and religious. Each of the band's members hails from a distinct ethnicity. Together, they are a mosaic of languages, cultures, and religions - much like Iraq itself. 'You feel like you are in a small Iraq', Murad happily describes.
For experimental cello improviser Khabat Abas, the war that loomed over the country for the greater part of this century's first decade has made a dent in Slemani's music and culture.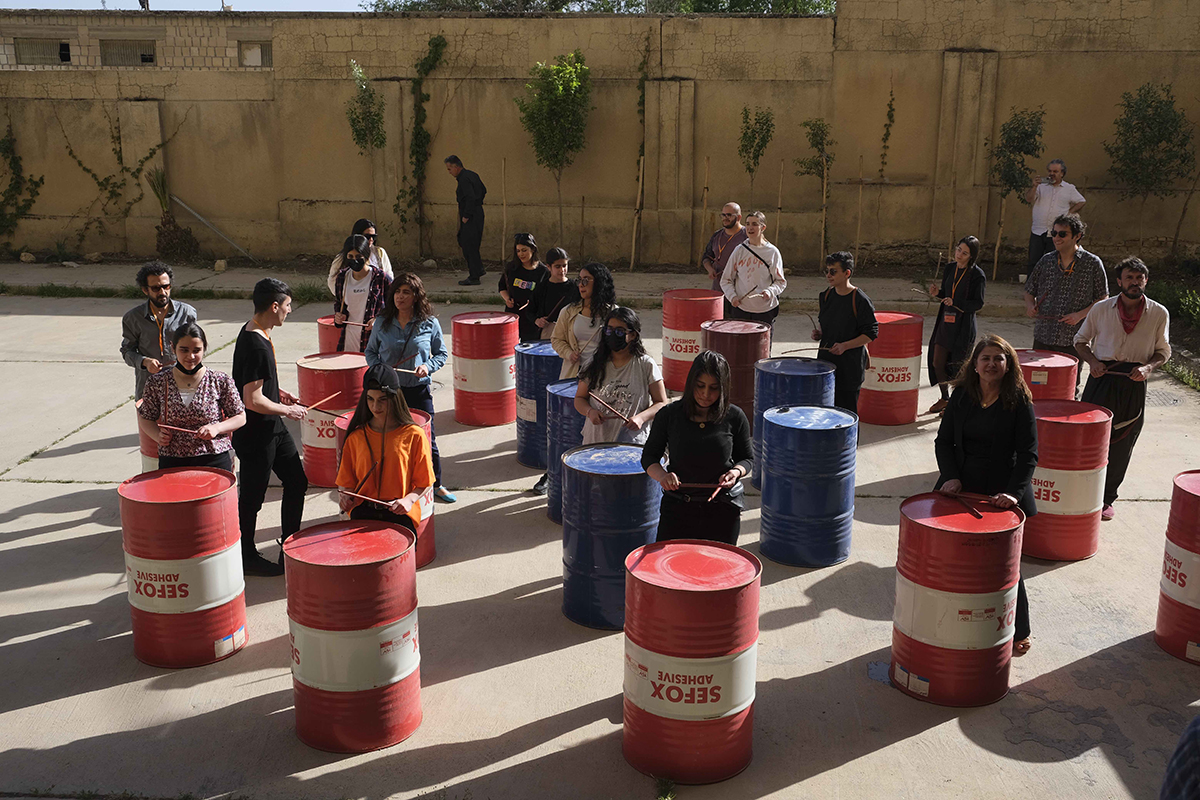 Her instrument's sound is ever-changing, much, she says, like their 'daily lives'. When Hardi describes his city's local music scene to us, he too speaks on the impossibility of mapping out your future too neatly. But, what for many would be a source of vexation, to Hardi is an opportunity for freedom.
'It may seem a bit chaotic', he says, recalling times in which artists he brought over were surprised by sudden changes in dates or venues. 'But for us, as artists, this is the good sort of chaos', he clarifies. They take it as an advantage, an opportunity to be creative. So does Khabat, whose practice relies on transformation. Her instrument is constantly evolving; such as when she made the SkinCello, which consisted of a combination of a cello and a Kurdish percussion instrument, the daf. Like Hardi, she too has made more explicit references to the war in her music, as seen in another mutation of hers, BombCello. 'There are many questions, not just changing the material, but many cultural questions', she says. She speaks of a society that has 'always been full of war'. In concert, Khabat turns all of her probings into screaming notes from an instrument that is no longer a cello, but a new creation all her own.
We finish Space21's COSMOS collaboration by stepping inside an enclosed space with Hardi himself, and we see him, backdropped by the city, manipulating his make-shift, violin-bound radio. As a child, Hardi grew curious to 'see and hear what's inside' the object; inside the radio, he discovered a new world, albeit filled with mystery. For a man who arrived in Europe as a refugee, the concept of illegality is one of them. 'I see this through the radio's frequency, who decides which frequency goes to whom, and why we are allowed to listen to some and not others…', he says. There is yearning in his art, yes, but first, ire; he questions how the powerful decide what we do or don't, and how that power extends to controlling our listening experiences.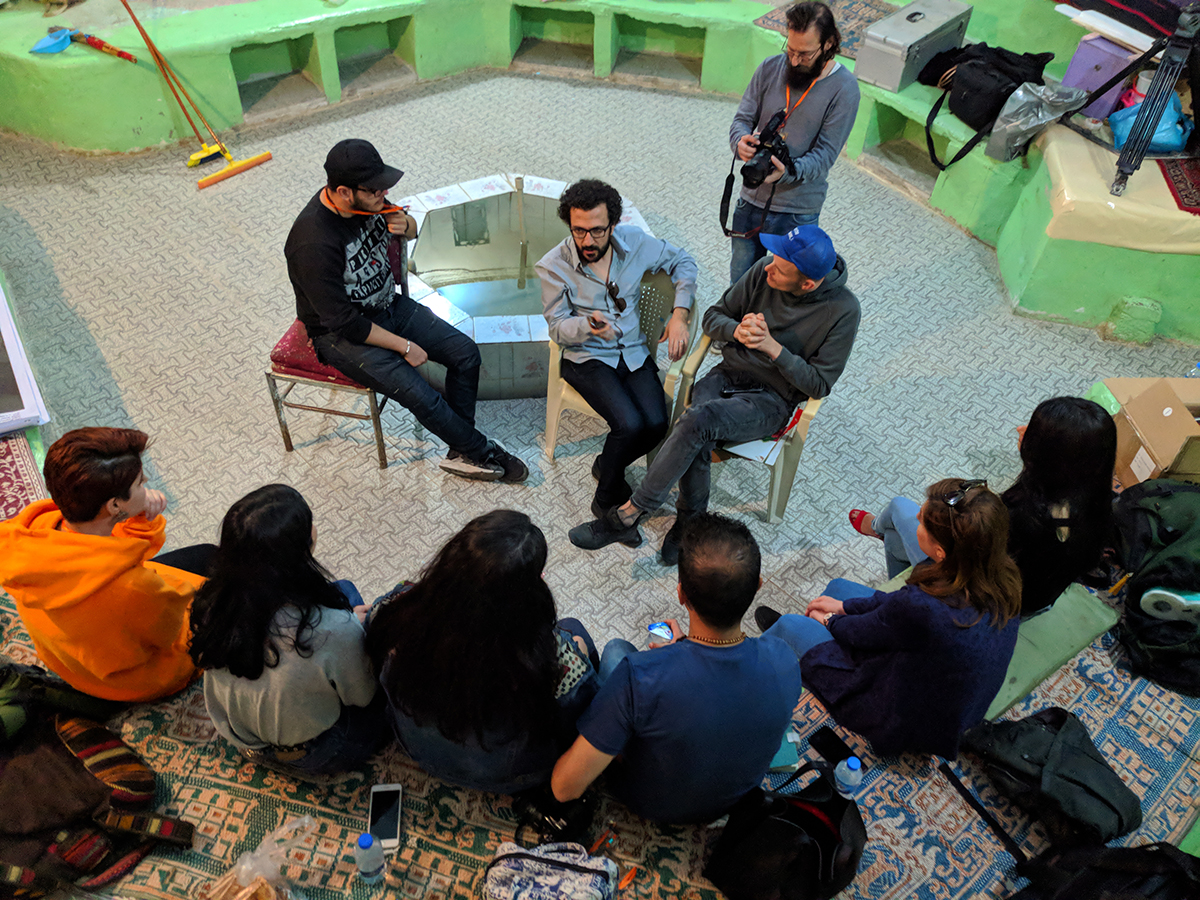 But, Hardi says, Slemani is slowly but surely liberating itself from conscious and unconscious constraints, as initiatives such as Space21 continue being embraced by the listening audience. A new generation of music-makers and music listeners, eager and curious, are ready to turn Kurdistan-Iraq around, culturally speaking.
For Hardi, recording and sharing what is already being done by him and others in the city, as he did for COSMOS and hopes to do for other upcoming Space21 collaborations - such as with Sonorities Festival Belfast - is of the utmost importance. He wants it to reach not only those in Kurdistan but the worldwide diaspora too. For him, 'it works like a portal' - much like radio did for him, all those years ago, in Slemani.
This article is part of the COSMOS series 'Behind the Scenes', in which people from across the world discuss their local cultural scenes and their creative processes while creating films for the latest COSMOS installment. You can find more info about the series here.
Are you interested in collaborating with COSMOS to share your local cultural scene? Please let us know via cosmos@leguesswho.com.