COSMOS: Behind the Scenes in Pernambuco, Brazil
Following their broadcast during Le Guess Who? 2022 as part of COSMOS, we talk to Ana Garcia and Benke, the people behind Coquetel Molotov to discuss the local music scene in the city of Caruaru; how their involvement in COSMOS became Coquetel Molotov's first musical incubator; and diversity as a guiding principle.
Words by Beatriz Negreiros
Photography by Tiago B. Beltrão
Ana Garcia may have been the first woman to lead an alternative music festival in Brazil, she says. But, for her, walking in her mother's footsteps came easily.
The daughter of a classical music festival's programmer, Ana set her sights on something else early on; to platform what is new, exciting, and, most of all, unheard of in Pernambuco.
Despite its rich musical tradition, Pernambuco is rarely mentioned alongside Rio de Janeiro, São Paulo, and Bahia, which tend to dominate the cultural conversation in Brazil. Twenty years ago, Ana created the Coquetel Molotov festival in Recife, the state's capital. A decade later, Benke Ferraz, better known for playing in the Goiânia rock band Boogarins, joined her. Today, they are married and expecting a baby boy 'anytime soon', they giddily tell us. From Benke's hand came Coquetel Molotov's first musical incubator, or incubadora, made with incentive from Funcultura, a governmental fund for cultural projects in Pernambuco. We bear witness to incubadora in LGW Embassy: Pernambuco, Brazil, through which we get to know some of the state's most exciting upcoming new acts, all bubbling under the mainstream with an effervescence that leaps through the screen.
When Benke's band first played Coquetel Molotov, the musician was shaken by the discovery such a festival even existed. Becoming part of the festival's team was even more enlightening. 'It was eye-opening to see how many different artistic collectives embraced the festival - and were embraced by it in return'. For Ana, being ahead of the curve is the only way Coquetel Molotov can continue to be what it is, two decades on. 'Music has changed', she observes. 'But we are always part of the discussion worldwide'. The same principle anchored the musical incubator developed last year, in which they recruited ten different musicians for the opportunity to play and record their tracks, and have them professionally produced by Benke. But what we see on film is not all that transpired. According to Benke, all those featured in incubadora came away with new insights on distribution, touring, and marketing, thanks to the mentorships provided by Coquetel Molotov. 'Throughout this process, we saw these artists truly blossom', he says. As he worked away at subtitling the film, Benke was oftentimes moved. 'I have these stories in my mind', he declares.
Through their COSMOS collaboration, we meet the ten incubadora-featured artists, on and off stage. Their diversity is staggering - another of Coquetel Molotov's guiding principles, as we come to learn.
We see not only different ethnicities, gender expressions, regional identities, and walks of life represented on screen, but also a bountiful abundance of musical styles.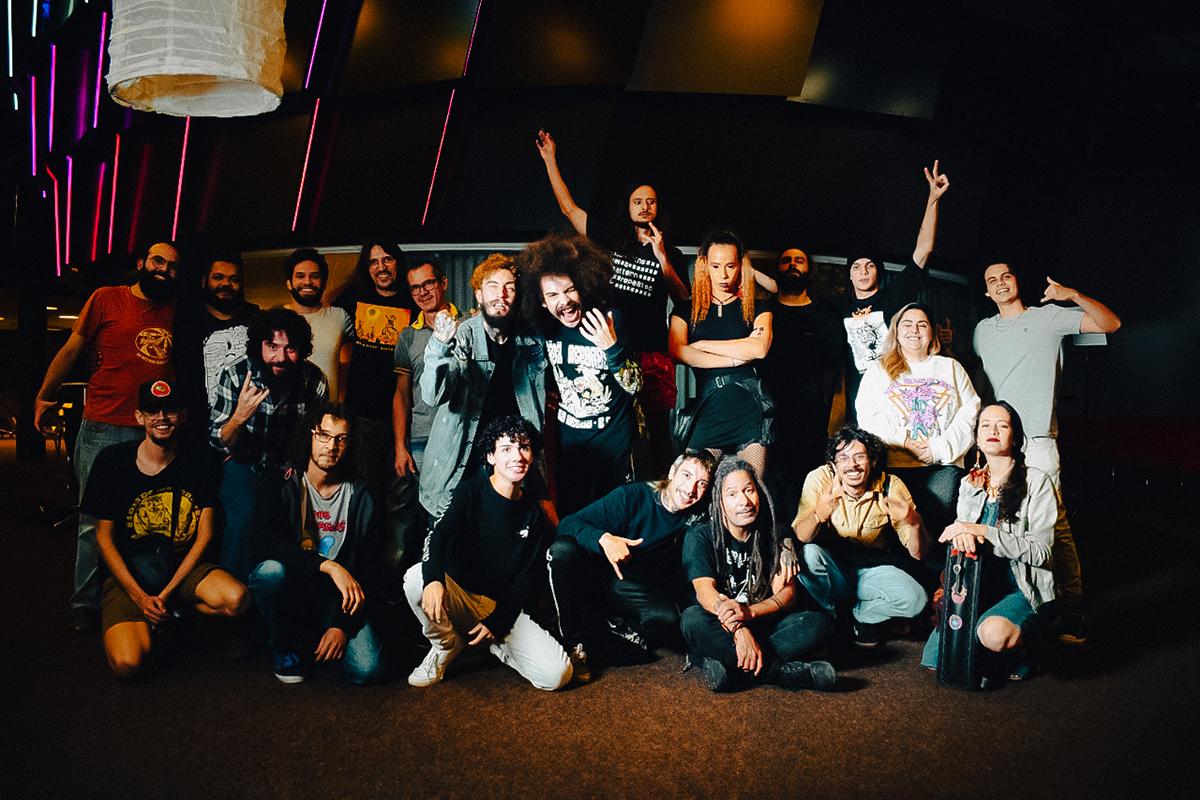 There is As Fulô, a three-part all-women band who play 'authentic forró' - Northeast's staple genre of music, a joyous concoction of accordion, zabumba, and a metal triangle. There is singer-songwriter Thaiis, who, still at the beginning of her career, is eager to tap into yet unexplored ideas. There is the ferocious Mun Há, who is reclaiming the oftentimes ridiculed subgenre of brega (namely, brega funk and brega rock) through their non-binary gender identity. There is Caio Omena, a smooth-voiced singer-songwriter. There is Jotta Maciell, a young pop singer who got his start singing about his feelings in his bedroom. There is Vitória do Pife, raised in the tradition of Northeast's 'pife bands', but who has since gone on to link her wind instrument to indigenous music, dance, and ritualistic practice. There is indigenous, LGBT+ artist Fykya, meaning chameleon, who, just as Vitória do Pife, centers nature - and, particularly, animals' revolt against humans - in their song (unsurprisingly, Vitória plays the flute in it). There is Maeve, who duets with Mun Há, singing about a Medusa-like woman, which she relates to the perception of black womanhood in Brazil. There is Instituto Darkwave, whose industrial-like sound seamlessly meshes hip-hop with accordion-layered instrumentals, which calls to mind something much more traditional, not dissimilar to As Fulô. And there is also the trash punk band Junkie Brodis, who ferociously call out political corruption, violence, and misery across the country and continent.
Originally meant to be a 15-minute mini-documentary, the initiative steadily grew into the 44-minute audiovisual Le Guess Who? collaboration. This was partly because of the artists' 'hunger', as Benke puts it, to play - together and apart. We see many of them hop on each others' tracks, such as Junkie Brodis and Fykya. Through Benke's words, we are transported into the recording process, and his testimony is infused with the same agitated creative enthusiasm we can only imagine to have existed in Armazém da Criatividade, the hub in which the film was shot, in Caruaru. 'They didn't have a rehearsal, there was no time for that', Benke recalls. 'It was just like, let's do this song, and then you come in… And when we saw what happened, we thought; this should be filmed'. Luckily, trusty cameraman Heleno Florentino was there to capture it all.
For Ana, stirring up this inter-artist crossover is crucial, but so is linking them with opportunities such as recording with a seasoned producer like Benke. The history of the city of Caruaru is overflowing with music, a cornerstone of the region's animated street fairs. However, not all are welcome to participate - unlike in incubadora and Coquetel Molotov.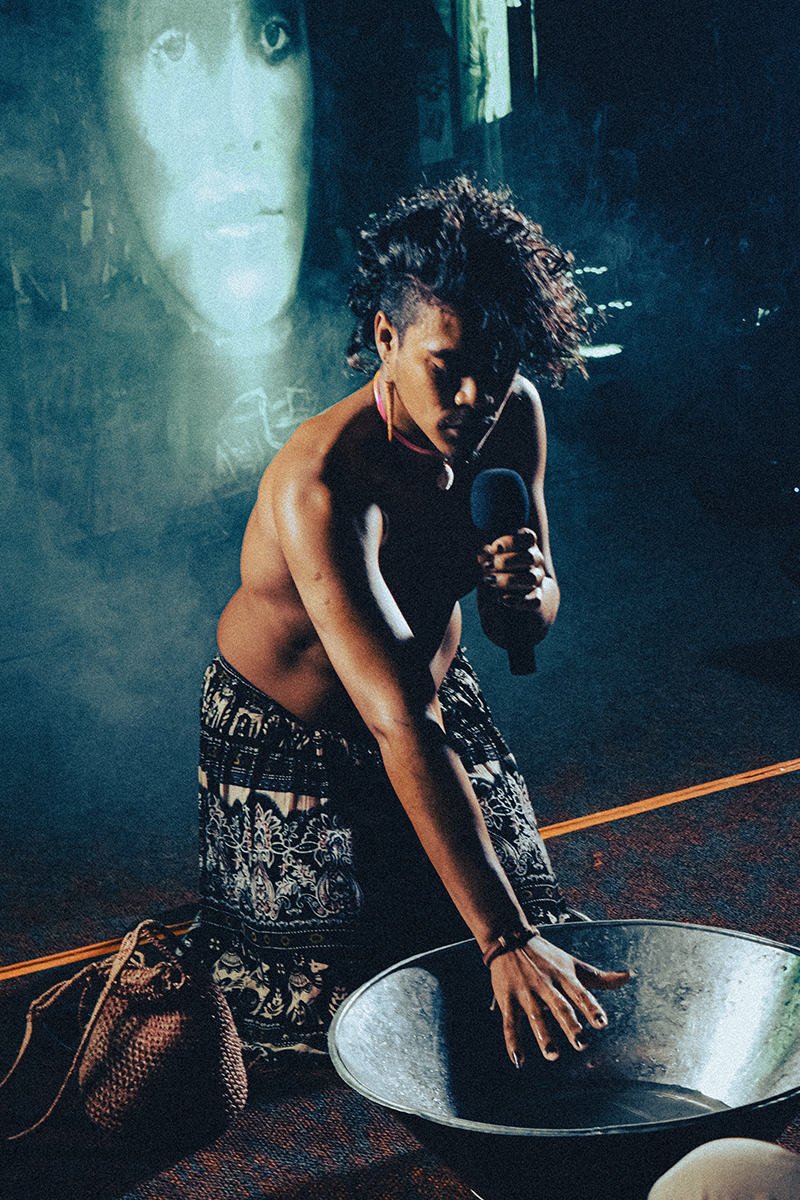 Ana is forever driven to flaunt those who are seldomly platformed and seen; artists who lack the privilege that comes with being cosmopolitan, white, straight, and cisgender. 'Whatever is on the border', Benke explains. '… Or that doesn't have access', settles Ana. 'There are too many artists here that do not have opportunities'.
Indeed, in Brazil, difficulties still abound for minorities - particularly, indigenous people and those part of the LGBT+ community. According to Transgender Europe (TGEU), for instance, Brazil continues to lead the list for the largest number of transgender and queer people murdered in the world. As for indigenous rights, communities in the Amazon are continuously violently beleaguered by deforestation and illegal mining as they struggle to recover from the pandemic, which was particularly and especially devastating for them.
For Ana, it was not always apparent music could speak to such grievances. 'I just couldn't see it', she admits. 'I just saw it as art being art'.
Coquetel Molotov, however, evolved alongside her political awakening. Nowadays, they strive to lead the way for representation in Brazilian festivals - even when they, naturally, make mistakes. 'Expectations for us are very high', she says. 'Six years ago we were almost sued because our festival wasn't accessible enough. But no other festival was accessible at the time!' However, always one to listen and evolve, the festival not only considered the potential plaintiff's criticism but also brought them on the team to ask, 'we hear you - what can we do?'. This willingness to listen is what has allowed Coquetel Molotov to not only evolve with the times but, oftentimes, to lead said evolution. Even when challenged by setbacks, such as lacking sponsors (as Benke says, 'it's hard doing a big festival in a conscious way'), they preserve their exercise of compassion, no matter how many times it's tested.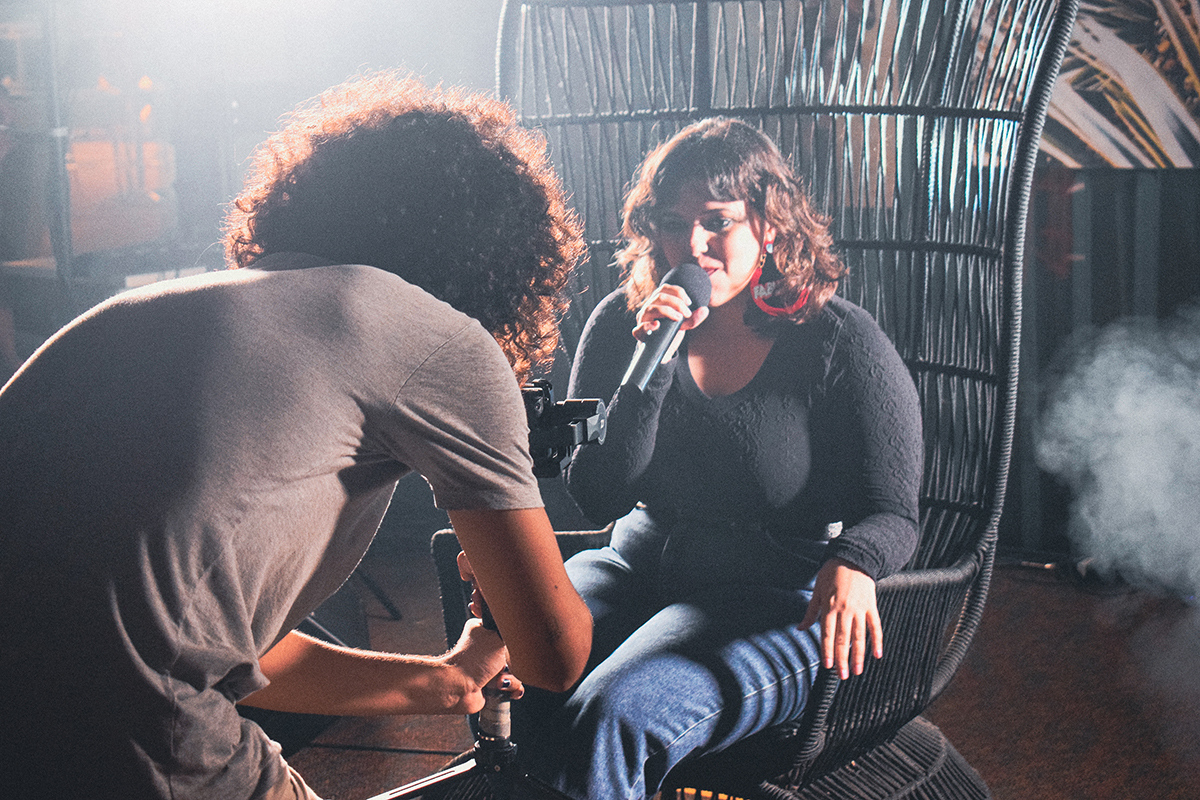 But, despite all the difficulties that come from keeping up a festival like Coquetel Molotov, especially following a pandemic and a four-year governance that literally rendered the Ministry of Culture extinct, Ana and Benke remain optimistic.
Starting the year off with Lula da Silva as Brazil's head of state once again is already a reason for celebration. 'We are living through a moment of rebuilding in Brazil', explains Ana.
Coquetel Molotov will be a pivotal agent of change. This year, the festival is gearing up for a twenty-year anniversary edition - and Ana and Benke seem set on twenty more. 'For us to exist for all this time is because we were positive, otherwise we had given up already', laughs Ana. After all, as the couple reminds us, culture is always last, no matter who is in charge. But, still, they keep on at it, insistently and happily. 'I'm always positive', Ana finishes with a big smile.
This article is part of the COSMOS series 'Behind the Scenes', in which people from across the world discuss their local cultural scenes and their creative processes while creating films for the latest COSMOS installment. You can find more info about the series here.
Are you interested in collaborating with COSMOS to share your local cultural scene? Please let us know via cosmos@leguesswho.com.