Watch Shabazz Palaces' Tiny Desk Concert for NPR
Monday Oct 23rd 2017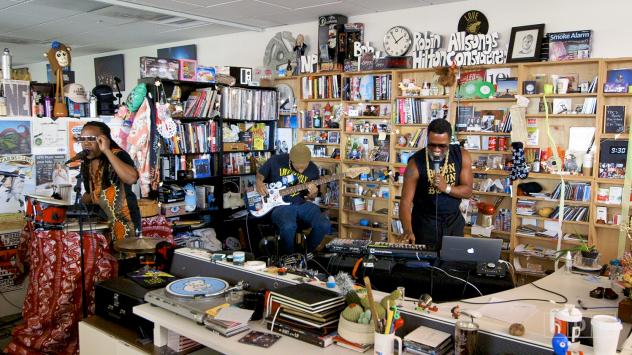 Seattle-based hip hop voyagers Shabazz Palaces produce transcendental albums from an intuitive frame of mind. Following the release of their two new 'Quazarz'-albums, Ishmael Butler, Tendai Maraire, and Otis Calvin (OCnotes) visited the NPR offices to record a new Tiny Desk Concert. Watch below, featuring the songs 'Colluding Oligarchs', 'They Come In Gold', and 'Shine A Light'.
"Leave it to hip-hop's unorthodox lot to conceive an ambitious pairing that launches the narrative's protagonist on an interstellar journey far from home. It's the perfect proxy for the growing sense of alienation we're all suffering, to some degree or another, in today's space and time" - NPR
Shabazz Palaces is one of our guest curators for Le Guess Who? 2017; their program features jazz icon Pharoah Sanders, Gonjasufi, OCnotes, Fhloston Paradigm, and Natasha Kmeto.