Watch: Efterklang debut new album 'Altid Sammen' live at the iconic Elbphilharmonie concert hall
Tuesday Oct 1st 2019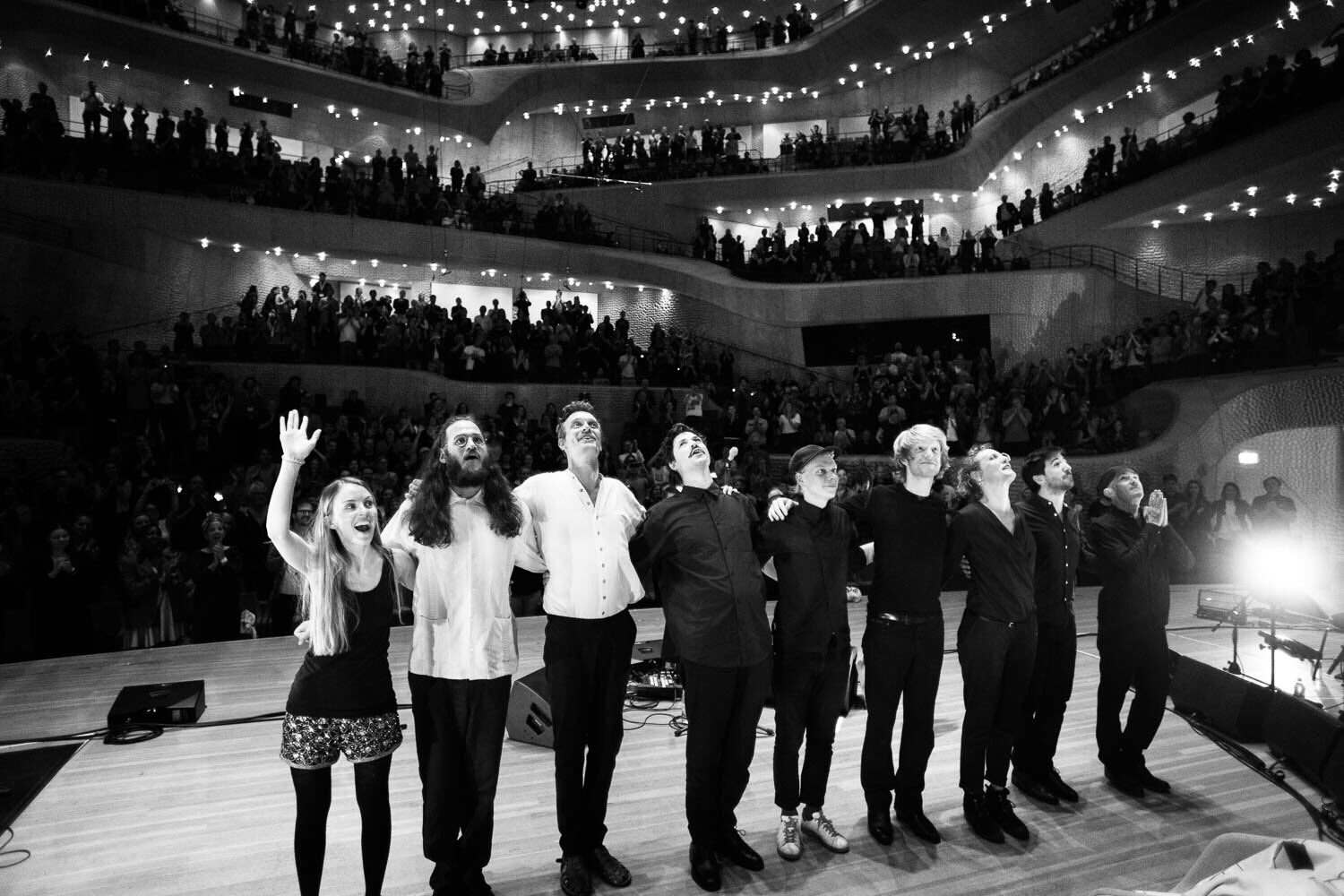 Recently, Danish pop adventurers Efterklang released their fifth studio album 'Altid Sammen'. The day after the release, they debuted the record live in its entirety at the iconic Elbphilharmonie concert hall in Hamburg during this year's Reeperbahn Festival. The trio was joined on stage by Øyunn on drums, Simon Toldam on piano and members of B.O.X, the Belgian Baroque ensemble who has played a significant role in the making of the new record. For the song 'Hold mine hænder' they asked the staff of the Elbphilharmonie to form a choir and join them on stage, to show respect and appreciation to the many amazing people behind the scenes making it possible for the band to perform their music.
'Altid Sammen' is Efterklang's first release in seven years. It's a record full of sonic experimentation, which the trio are known for, and examines the relationships that connect us from nature to death and much more in between. Watch the debut show at the Elbhilharmonie in its entirety below.
"Altid Sammen sees the band strip-back and explore their core elements; at the centre of many of these tracks is simplicity. This seems to be what Efterklang have taken from their time off and their work with others; less instruments doesn't mean less interesting. However, it's not sparse by any stretch of the imagination (...) This is easily their most mature album to date, as it drifts into more natural territories and away from the build-up and break cycle of the poppier output." -
The 405
The Altid Sammen Tour continues with their 7-piece live band featuring Øyunn on drums and vocal, Bert Cools on guitar, Indrė Jurgelevičiūtė on kankles, flute and vocal and Christian Balvig or Simon Toldam on piano and synths.
Efterklang performs at Le Guess Who? 2019 on Thursday, 7 November, as part of Iris van Herpen & Salvador Breed's curated program. Also performing at the festival are a.o. Holly Herndon, Deerhunter, Cate Le Bon, Ustad Saami, Sarah Davachi, Gruff Rhys, Nivhek, Sudan Archives, Acid Mothers Temple, Jenny Hval, and many more.