Sudan Archives announces debut album, shares first single 'Confessions'
Thursday Aug 29th 2019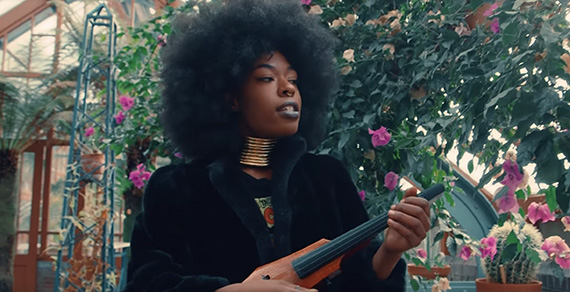 Violinist, singer, songwriter and producer Sudan Archives is one of the most exciting and distinctive musicians working today. Her unique songs fold in elements of R&B, violin playing inspired by Northeast African fiddlers, West African rhythms, and experimental electronic music.
Following last year's acclaimed 'Sink' EP, Sudan Archives now announces her debut album, to be released later this year via Stones Throw Records. She now also shares 'Confessions', the first single from the album. Produced with Wilma Archer, it details a "crisis of conscience". Listen below.
"On one hand, 'Confessions' sounds of a piece with the Sudan Archives aesthetic we've been getting to know for the past couple years. On another, it strikes me as one of the prettiest, most direct songs yet to come of the project. There's been no shortage of beautiful, infectious Sudan Archives songs thus far, but 'Confessions' features both one of her most memorable choruses and a string figure that feels like it's pulling you steadily forward through waves." -
Stereogum
In 2017, we also captured a La Blogotheque Take Away Show & a video portrait with Sudan Archives; watch both here.
Sudan Archives will perform at Le Guess Who? 2019 on Saturday, 9 November, as part of Moon Duo's curated program. Also performing at the festival are a.o. Asha Puthli, Yves Jarvis, Doug Hream Blunt, La Bruja de Texcoco, Nídia, OSHUN, Mala, ZONAL feat. Moor Mother & Nazamba, Lafawndah, and many more.