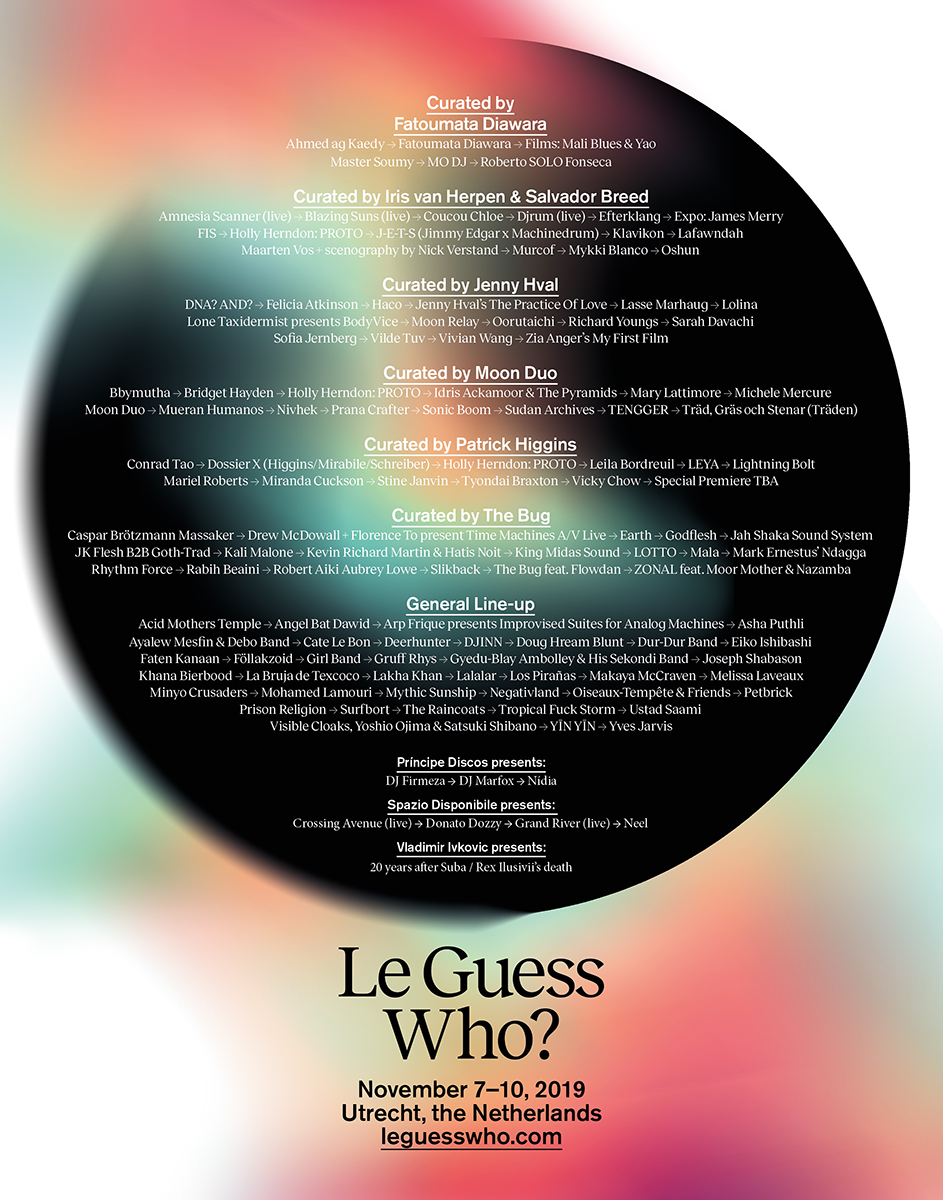 Full curated programs + various special projects announced for Le Guess Who? 2019
Wednesday Aug 28th 2019
Following our initial line-up announcement in May, we're now pleased to reveal the full curated programs by Fatoumata Diawara and Iris van Herpen & Salvador Breed for the festival, as well as new additions for Moon Duo, Patrick Higgins, and The Bug curations. We're also announcing Príncipe Discos and Spazio Disponibile label nights, and a special performance by DJ/producer Vladimir Ivkovic.
4-Day Festival Passes and Day Tickets for Le Guess Who? 2019 are on sale now.
Curated by Fatoumata Diawara
Grammy-nominated Malian musician Fatoumata Diawara's curation focuses on artists related to afrocubism - a cross-pollination of Malian and Cuban music - and afrofuturism. She will host a solo performance by Cuban jazz pianist Roberto Fonseca, who previously performed in the legendary Buena Vista Social Club; rapper Master Soumy, the voice of a new generation in Mali, who addresses topics like migration, education, and freedom of religion; and nomadic Tuareg artist Ahmed Ag Kaedy, whose music evokes the bare remnants left of the Kidal region, where he is banished from. Diawara herself will also perform at the festival, and will also screen two films: Mali Blues and Yao.
Curated by Iris van Herpen & Salvador Breed
Radical Dutch fashion designer Iris van Herpen and her partner, sound artist Salvador Breed, curate a program symbolizing their highly intertwined aesthetics. They invite a.o. Danish pop adventurers Efterklang; Berlin-based duo Amnesia Scanner and their outlandish take on club music; J-E-T-S, the collaboration between Jimmy Edgar and Machinedrum's Travis Stewart; American rapper, performance artist, poet and activist Mykki Blanco; and singular DJ/producer Djrum, who has been at the cutting edge of UK bass for almost a decade. Van Herpen and Breed will also host an exhibition by hand embroidery artist James Merry.
Additions to curated programs, including Holly Herndon: PROTO
Holly Herndon presents her pioneering new album 'PROTO' live at Le Guess Who?. Featuring grandiose orchestration and created together with an A.I.-entity, the album marries organic and artificial elements into music that is immediate, innovative and alive. Her performance is curated by Iris van Herpen & Salvador Breed, as well as Moon Duo and Patrick Higgins, who all featured Herndon on their wish lists.
Other additions to curated programs include Sudan Archives, who offers audiences a hypnotic glimpse of where pop music can go next; and, Berlin-based Argentinian duo Mueran Humanos, whose music is a fascinating mix of noise, post-punk and industrial. Both performances are curated by Moon Duo. Patrick Higgins has added Lightning Bolt's hailstorm of noise, as well as multi-disciplinary performance Dossier X. The Bug invites Stockholm-based minimalist Kali Malone for a special organ performance and has added a personal performance featuring grime MC Flowdan.
Príncipe Discos and Spazio Disponibile label nights

Le Guess Who? presents two label nights during the festival. Portugal's Príncipe Discos is dedicated to releasing contemporary dance music of Lisbon, from its suburbs to its outskirts, and will present performances by DJ Marfox, DJ Firmeza, and Nídia.
Hailing from Goa, Rome, Spazio Disponibile is a bastion of experimental techno. The label will present performances by Donato Dozzy, Neel, Grand River, and Crossing Avenue.
Vladimir Ivkovic presents: 20 years after Suba / Rex Ilusivii's death

In 1995, Serbian producer Mitar Subotić – also known as Suba and Rex Illusivii – created the visionary album Wayang. Twenty years after his untimely death, this lost classic remains a crowning moment in experimental electronic music, combining polyrhythms, archived sound, industrial atmospherics, and vocal chanting into baffling, cinematic music. Belgrade-based DJ Vladimir Ivkovic will present a deep listening session with unreleased and exclusive Suba / Rex Ilusivii material that isn't available to listen to anywhere else, to remember Subotić after his death, 20 years ago.
All newly confirmed artists for Le Guess Who? 2019:
curated by Fatoumata Diawara
Ahmed ag Kaedy
Fatoumata Diawara
Films: Mali Blues & Yao
Master Soumy
MO DJ
Roberto SOLO Fonseca
curated by Iris van Herpen & Salvador Breed
Amnesia Scanner (live)
Blazing Suns (live)
Coucou Chloe
Djrum (live)
Efterklang
Expo: James Merry
FIS
Holly Herndon: PROTO
J-E-T-S (Jimmy Edgar x Machinedrum)
Klavikon
Lafawndah
Maarten Vos + scenography by Nick Verstand
Murcof
Mykki Blanco
OSHUN
curated by Moon Duo
Holly Herndon: PROTO
Mueran Humanos
Sudan Archives
curated by Patrick Higgins
Dossier X (Higgins/Mirabile/Schreiber)
Holly Herndon: PROTO
Lightning Bolt
curated by The Bug
Kali Malone
The Bug feat. Flowdan
Spazio Disponibile presents
Crossing Avenue (live)
Donato Dozzy
Grand River (live)
Neel
Príncipe Discos presents
DJ Firmeza
DJ Marfox
Nídia
Vladimir Ivkovic presents: 20 years after Suba / Rex Ilusivii's death
Le Guess Who? 2019 Tickets
4-Day Festival Passes and Day Tickets for Le Guess Who? 2019 are on sale now. Tickets for the Thursday program are €43; tickets for Friday, Saturday and Sunday are €48. 4-Day Festival Passes are available for €148. All prices include service costs.
Le Guess Who? cooperates with The Dutch Council for Refugees for the 'Grant an Entry' initiative, which gives visitors the option to buy an additional day ticket for a refugee residing in The Netherlands who would like to visit Le Guess Who? but does not have the financial means to do so.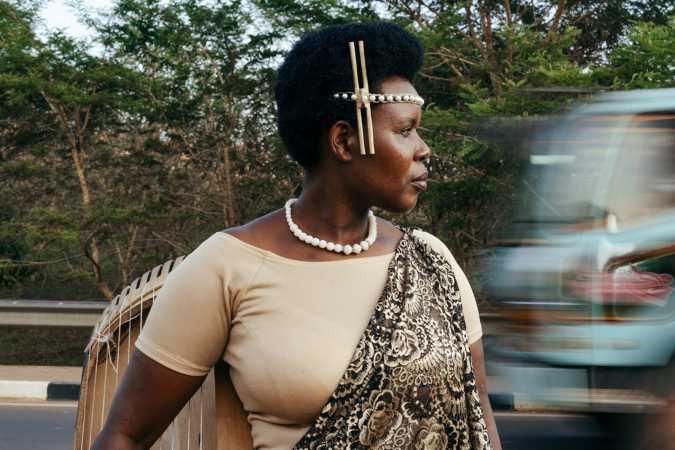 Sunday Nov 26th 2023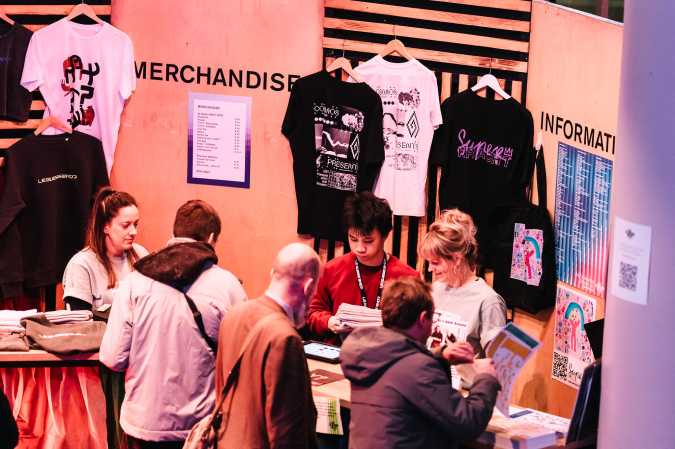 Thursday Nov 16th 2023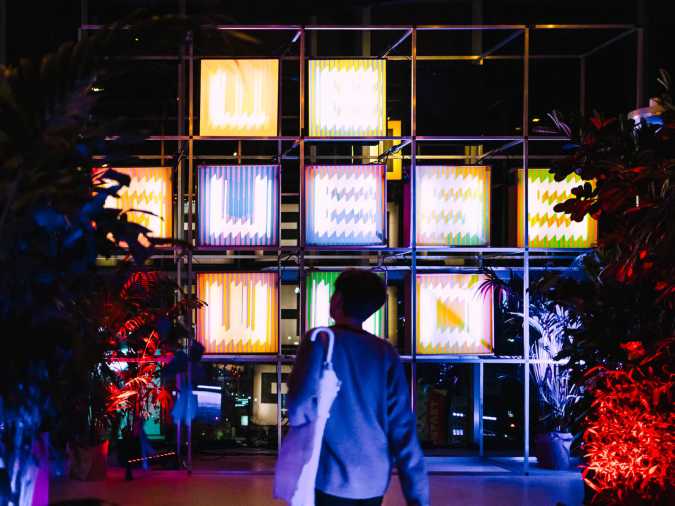 Saturday Nov 11th 2023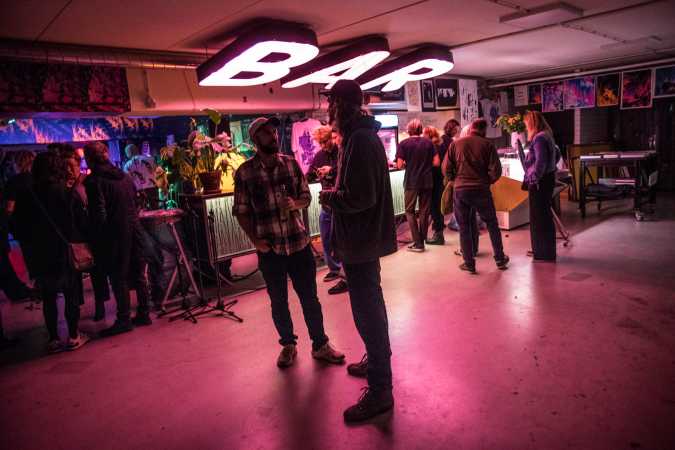 Monday Nov 6th 2023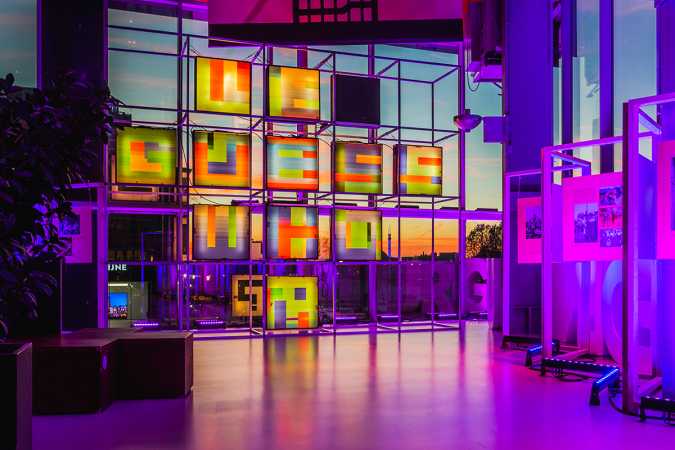 Thursday Nov 2nd 2023