Bulgarian women's choir Le Mystère des Voix Bulgares, curated by Perfume Genius for Le Guess Who? 2017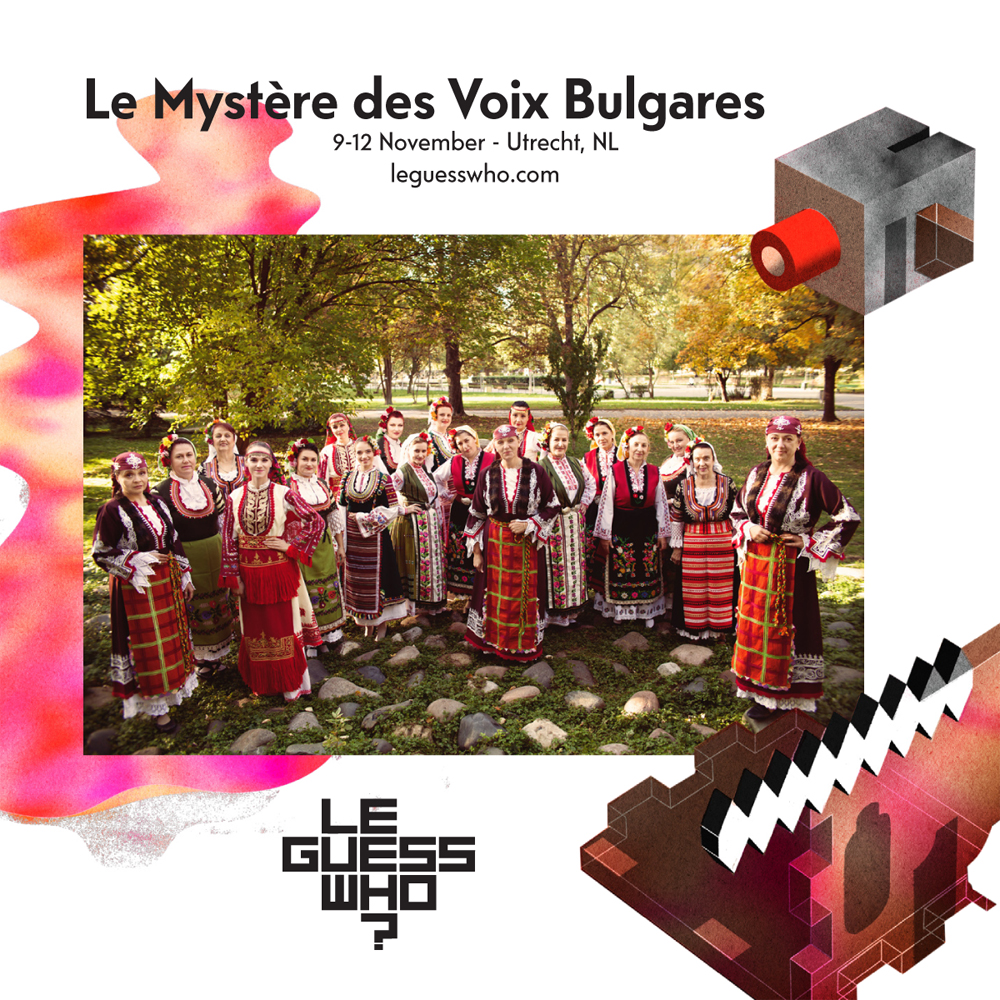 The famous Bulgarian women's choir Le Mystère des Voix Bulgares ('Mystery of the Bulgarian Voices') is comprised of 22 members, all dressed in traditional national costumes. The varying voices of the choir weave together in incredible ways: sometimes calming and serene, while at other moments forming cunningly complex arrangements. The ensemble originated in 1952 (as 'The Bulgarian State Television Female Vocal Choir'), and their impact has remained as strong ever since, delivering ancient as well as modern Bulgarian folk songs which - thanks to the innovative vocal use - take you across time and space.
The music of Le Mystère des Voix Bulgares has been released by a.o. 4AD (known for releases such as Cocteau Twins, Pixies, St. Vincent, and Bon Iver) and Nonesuch (who have also released music by David Byrne, Björk, Wilco, and Junun: the closing act of Le Guess Who? 2016). With their 'Volume 2' album (1988, 4AD), the ensemble received a Grammy Award in 1989, in the category of Best Traditional Folk Recording.
"The 'mystery' is in just how they combine diaphonic singing and dissonant harmonies to produce a breathtaking, otherworldly sound somewhere between the Muslim call to prayer and the Beach Boys." - The Guardian
Live performances by the choir are of unearthly beauty, and receive joyous response and praise, wherever they take place. The choir's secret weapon is its harmonies that break your heart. To Western ears, the intervals and blended notes are unusual and even dissonant. Their microtonal harmonies provide a distinctive, glorious drone. In the words of artistic director and conductor Dora Hristova:
"It is a natural, piercing sound for the outdoors, to carry across the fields or from hilltop to hilltop. The sound is created in the larynx, and it resonates in the chest. It requires great pressure of the breath to create the sound and you must be very strong to sing in this fashion."
We feel honored to have the choir at Le Guess Who? for our eleventh edition: it has been a wish long cherished by the organization, with a performance also gracing the wishlist of our 2016 curator Julia Holter; unfortunately, a performance wasn't possible that year. But thanks to Perfume Genius' Mike Hadreas curating, we are finally able to bring Le Mystère des Voix Bulgares to Utrecht.
"Their tangled lines, ornamented with micro tone flourishes are as intricate as Arabic calligraphy. At times the air seems to shiver as if the huge colorful windows behind the singer were about to shatter" - The New York Post
Stream the Grammy Award-winning album 'Volume 2' in full: