COSMOS: Behind the Scenes in Cairo, Egypt
We speak to former LGW artist Yunis and B-62's Khaled Bargona about their highly creative film produced for the latest COSMOS edition. Here, we learn more about Cairo's post-revolution music scene; how the artists that are featured in the film are creating a space for themselves in Cairo's busy street life; and the rise in popularity of mahraganat, Egypt's response to Western hip-hop.
Words by Beatriz Negreiros

When we gather around our laptops to discuss LGW Embassy: Cairo, Egypt over a conference call, Ahmed Yunis and Khaled Bargona do not join us from the same room. Rather, the two Egyptian creatives meet us from diametrically distinct capitals. Yunis (who performed at Le Guess Who? in 2021) is now in Paris; he is busying himself with rehearsals for a music and dance piece set to be presented by late May, as is his new record. Khaled flips his screen to show us the Nile, which we can see from his balcony. He is in Cairo, the city in which he has been promoting local talent for years. Funnily enough, Khaled got his start behind the camera, making music videos, later graduating to spearhead the multidisciplinary collective B-62, through which he first met Yunis. For his COSMOS collaboration, he is back to filming, alongside his peer.
Yunis and Khaled present a bird's-eye view of Cairo's teeming post-revolution music scene. For the film, which is a one-hour-long visual and sonic journey, they had to leave half of the footage on the cutting room floor; it goes to show how much there is to say.
Their work has been viewed by thousands, many, says Khaled, in Cairo. The film's effect on musicians there, he says, was big.
It isn't the first time Khaled has pushed musicians to persevere. Yunis was one of them. Unlike Khaled, Yunis did not grow up in Egypt's capital; living in a city four hours away, he spent much of his young adulthood behind the wheel, driving back and forth between the two, aspiring to become a musician. If for those living in Cairo, where 'everything is happening', that dream is unlikely, for those from further away it is near-impossible, he says. Still, Yunis and his music-inclined friends kept at it, churning out records they didn't think would be heard in the capital. But, thanks to the pricked ears of listeners such as Khaled, they did. To this day, Yunis, whose music Kawa News describes as 'a modern and spiritual tribute to traditional Egyptian musical heritage', does not take his and his peers' success for granted. 'Starting as outsiders gave us power, a different point of view', he tells us.
That very same grit is tangible across LGW Embassy: Cairo, Egypt. In it, Yunis and Khaled speak to a number of up-and-coming Egyptian musicians and producers. They are Gelba, Zelzal, Konkar, Rossia, Abraxsophia, Meno Zein, Young Nada, Shah, 3assy, VII, Mohaimen, and Daud.
Together, they make up a creative tidal wave that rushed over the city and country in the last few years. Their music varies wildly, ranging from Gelba's electro-pop and chaabi blend to Meno Zein's auto-tune-drenched trap.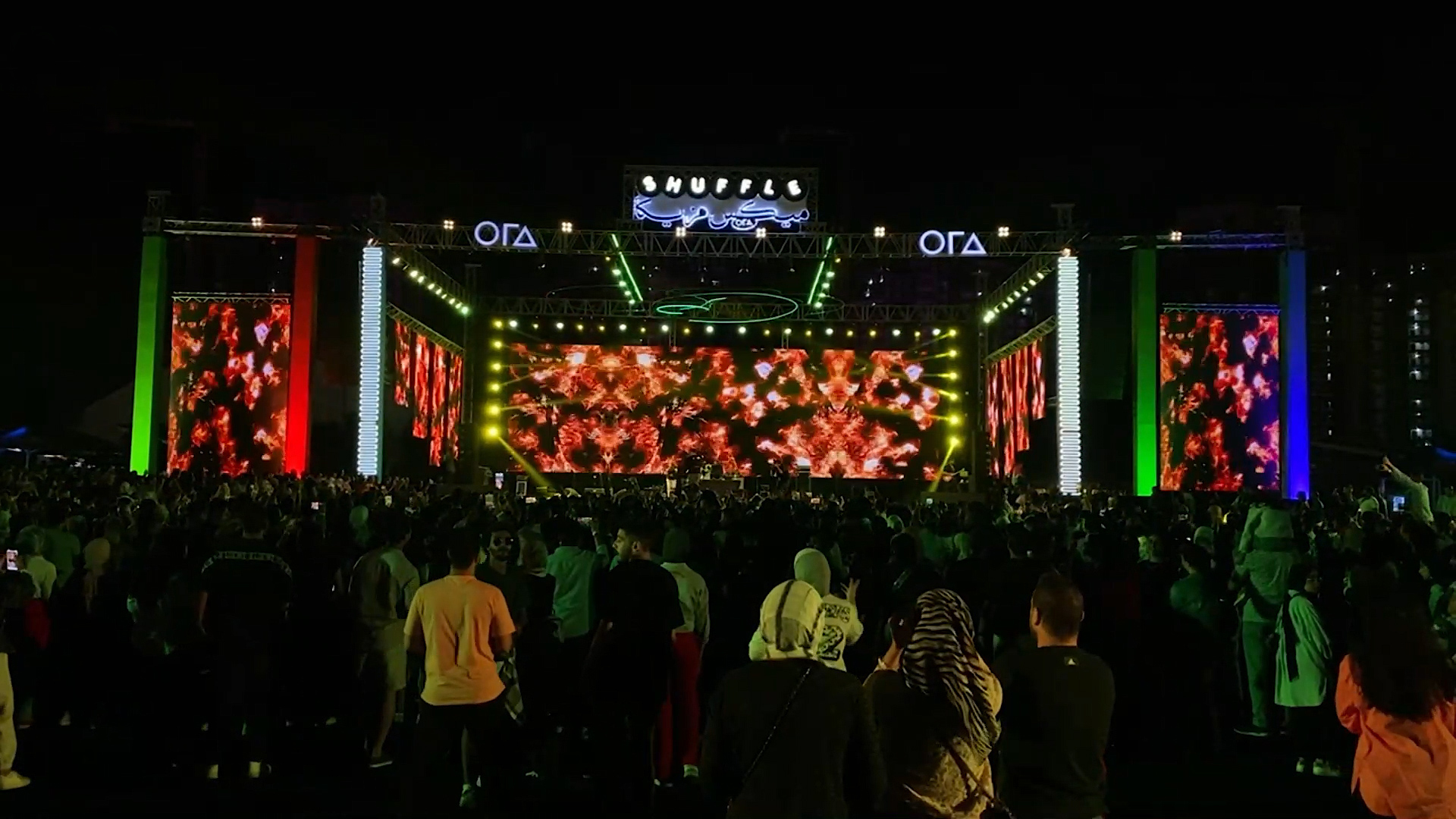 Some of it isn't even music; in the film, we are also introduced to the work of visual artist Young Nada, whose kaleidoscopic visuals often serve as the backdrop to her musical peers' performances. In common, says Yunis, they have one important thing; 'their own voice - a real one'. Their stories often intersect, too. 'We wanted to show how the Egyptian youth is connected, and they all have the same kind of stories', Khaled explains. In the film, we see them play, work, speak, and in what ways they are creating a space for themselves in Cairo's busy street life, which is as exciting as it is demanding.
Still, the film launches quietly. A black screen is soundtracked by Yunis' voice, as he starts, 'the artist is stifled by the narrow space. He feels his movement is restricted.'
He is alluding to the societal, economic, and cultural challenges holding back artists in Egypt, which he is familiar with too. However, he is quick to point out that, despite those, music in the country is blossoming.
'Recently, the Egyptian music scene witnessed a great breakthrough'. This comes after the market was long slumbering, in a 'state of repetition and seeking in safe areas'. New voices emerged, Yunis says; they are 'bold', capable of changing the game. More than maybe ever, rules are being rewritten, they say.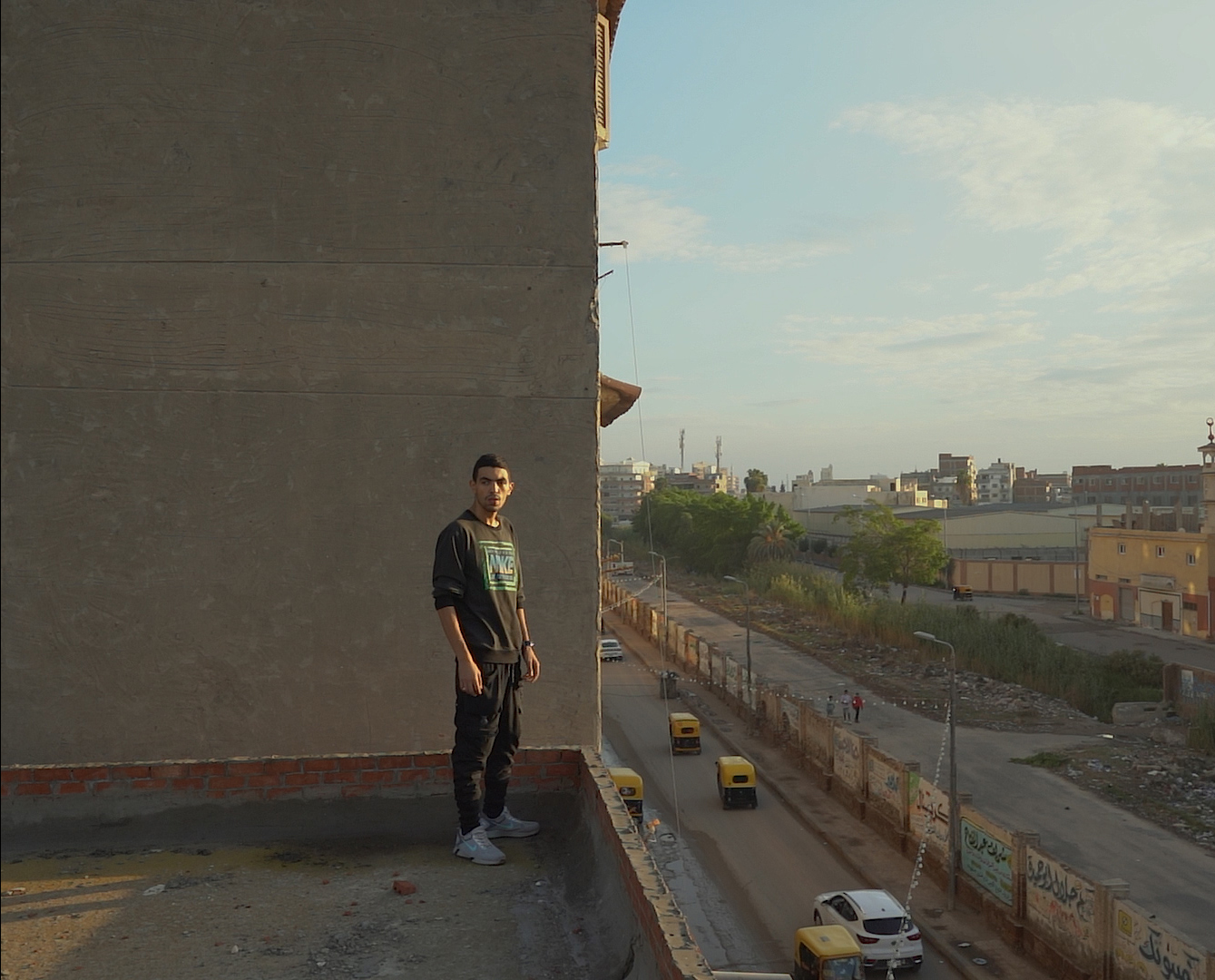 Contrary to what might be assumed, Cairo's music scene boom did not directly follow the 2011 revolution, which ousted Hosni Mubarak's long-time dictatorship and ushered in a new (albeit difficult) chapter in Arab and Egyptian history. 'The revolution gave a real push to the youth', recalls Khaled. 'But it was not about the revolution'.
According to him, the creative wave referenced at the head of their COSMOS collaboration came even before the revolution celebrated a decade - and on the cusp of the pandemic which would render the world silent. Particularly, Yunis and Khaled speak of the rise in popularity of mahraganat, which is Egypt's response to Western hip-hop, often mixing outside rap tropes with local sonorities and themes.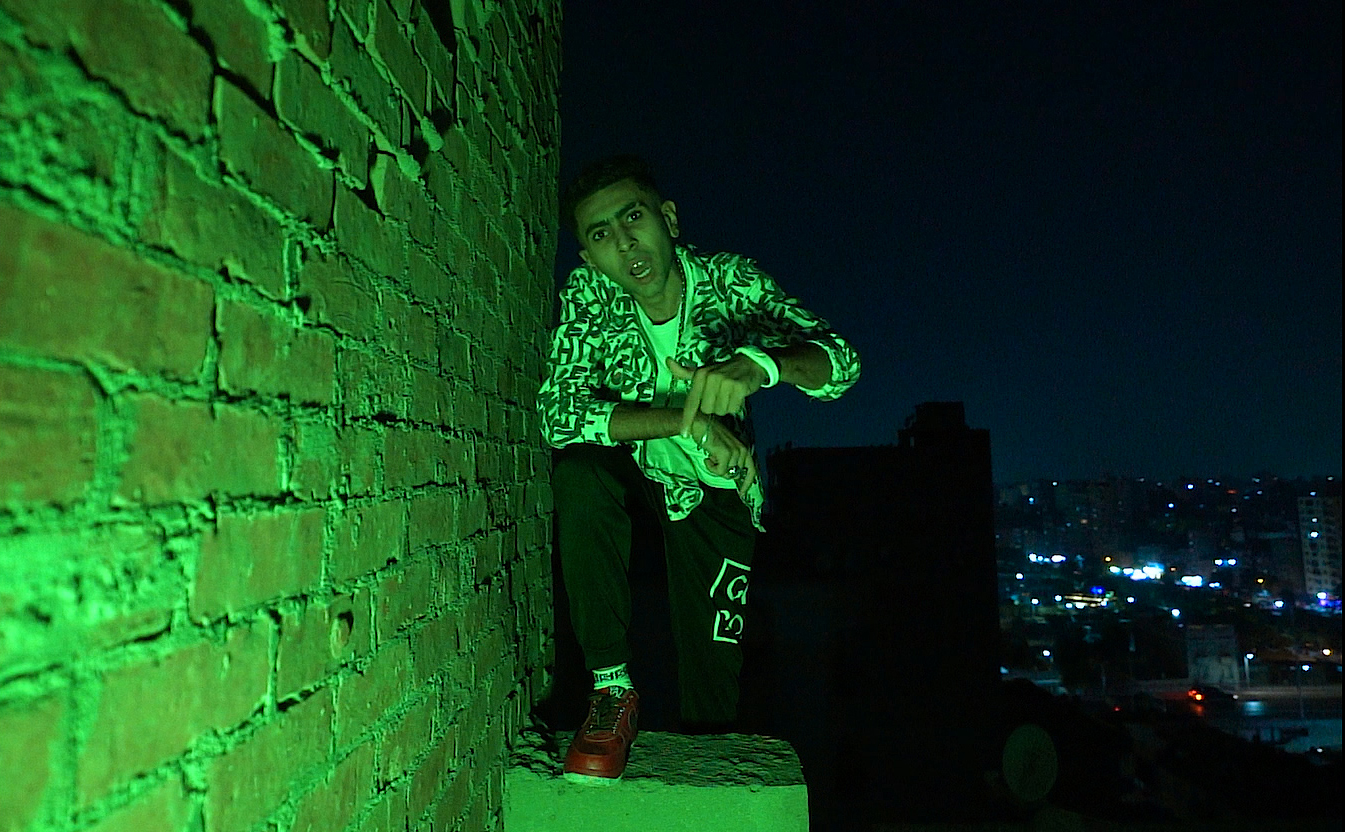 Since 2019, those more interested in emulating the sound of hip-hop artists from abroad (Khaled names Drake, Travis Scott, and Future as a few) and those making mahraganat joined forces. 'The sound started to evolve', explains Yunis. Their relationship is profoundly symbiotic, and the music to come out of their encounter is unique. Despite the understandable temptation of bending to commercial interests (since, as Yunis and Khaled explain, making music in Cairo is extremely hard, given the scarcity of music labels, venues, and overall opportunities), they resist and carry on smashing conventions of genre and style. Their rebellious streak is etched on film by Yunis and Khaled on LGW Embassy: Cairo, Egypt. For each of these artists, being a musician in Cairo means something altogether different, but fundamentally similar.
'We are now at a time in music in Egypt where everyone is doing good', says Gelba. For Rossia, becoming a musician was a no-go, or so he thought; 'this is not how he goes' - yet, here he is. For Omar, or Abraxsophia, there was a delayed awareness he even had a public. From there, he started thinking, 'music is good' - an actual possibility. For others, music is only made possible through community; a shared 'mindset', says Meno. For him, it was not easy finding those curious enough to listen to music from abroad where he is from, but he managed. Others resist labels, such as VII, who prefers to say he simply does music, whichever that may be. For Mohaimen, it is how he can best channel his feelings. And, for Daud, it is ever-changing.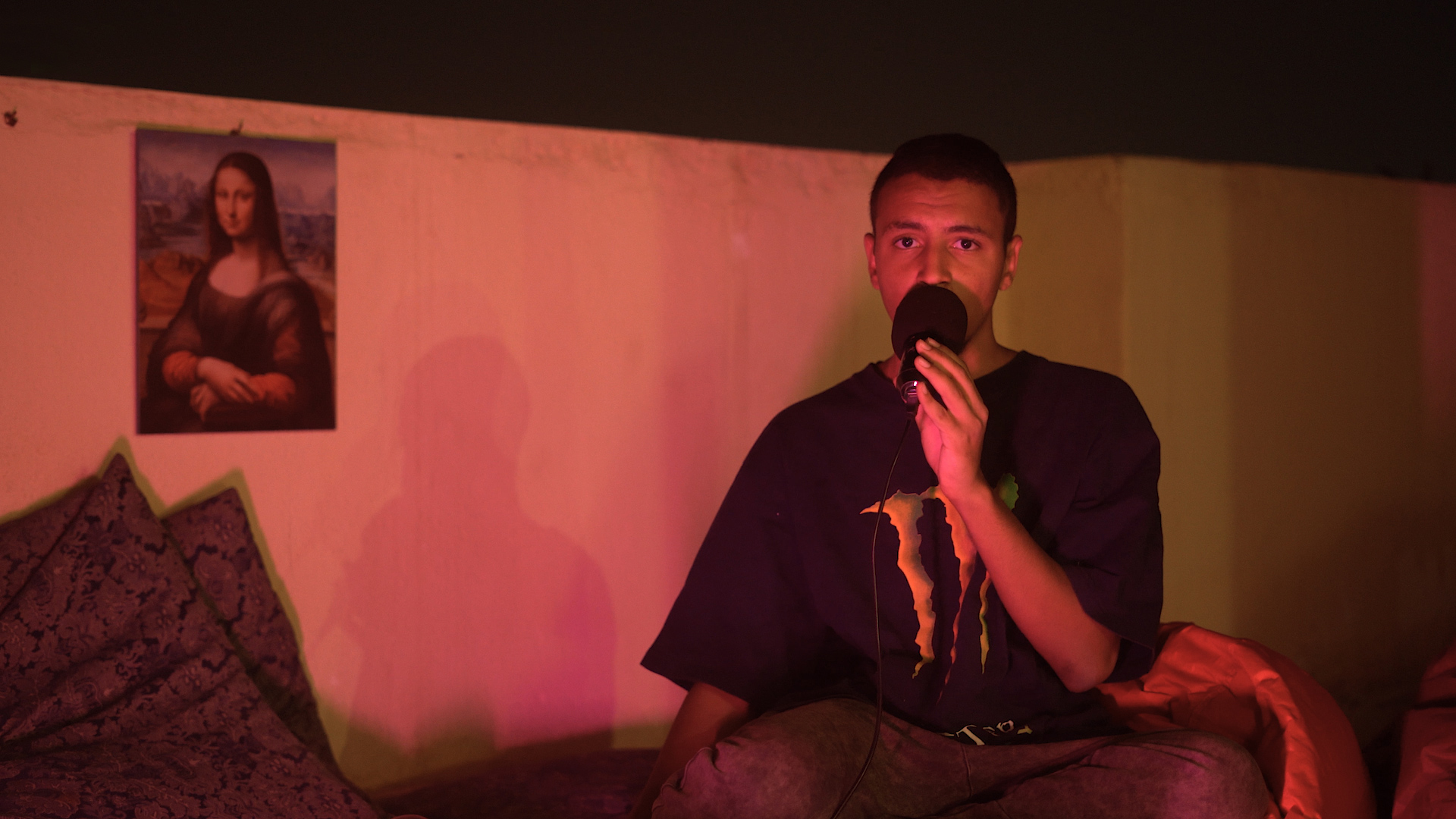 'I didn't want anyone to know that I made rap', he explains. He sang in an opera house. 'Singing?', exclaims the voice behind the camera. We see Daud singing in his room, a Mona Lisa print dangling on the wall. She watches him, with her coy smile, seemingly knowing as we now do that all the creatives we just watched contain multitudes.
For Yunis and Khaled, the only way to thrive in the Cairo music scene is to, just like all of the musicians featured in their COSMOS collaboration, set out to do something truly individual, and remain true to your sound - no matter how tempting it may be to twist it into a mainstream-shaped hole. With every step taken, recalls Yunis from his own experience, there are 'new limitations'. But, as he is quick to underline, 'those who make it don't follow - they lead'. For Khaled, Yunis himself is an inspiration for those with their heart set on making music in Egypt, even outside of Cairo. As B-62 grows, sprawling outside of the country's borders and welcoming collaborations with artists and collectives from Turkey, Tunisia, Sudan, and others, Yunis and Khaled's philosophy for making music remains decidedly Egyptian, as theirs is a discourse built on fiery endurance, come whatever may.
This article is part of the COSMOS series 'Behind the Scenes', in which people from across the world discuss their local cultural scenes and their creative processes while creating films for the latest COSMOS installment. You can find more info about the series here.
Are you interested in collaborating with COSMOS to share your local cultural scene? Please let us know via cosmos@leguesswho.com.