"Angel Bat Dawid taps into the root of all black music": Chicago Reader discusses spiritual jazz album 'The Oracle'
Tuesday Jul 2nd 2019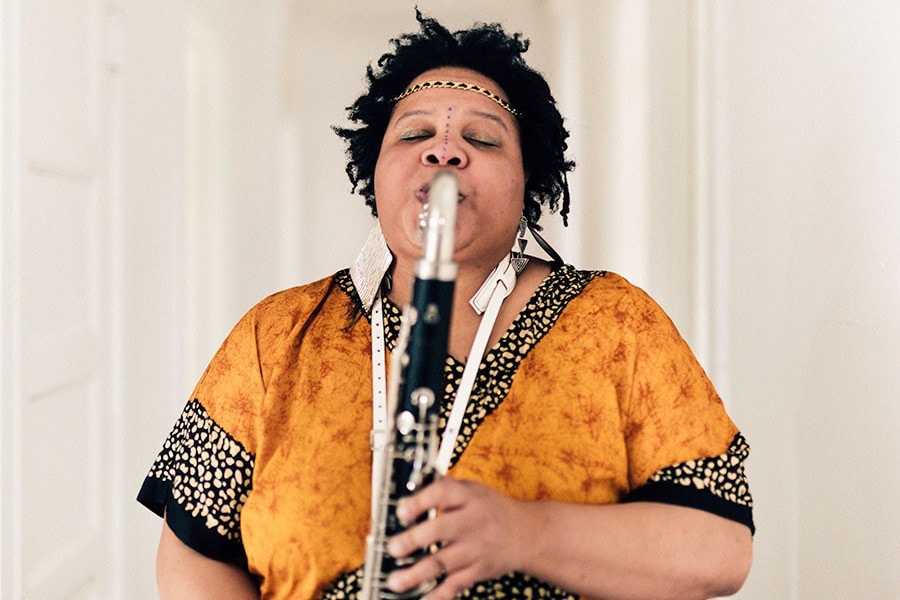 At the age of 34, Chicago-based Angel Elmore quit her job selling high-end lingerie and pursued her childhood dream to become a musician. Now, as Angel Bat Dawid, she sings, composes, and plays keyboard and clarinet, which led to the release of her spiritual jazz album 'The Oracle' earlier this year. She recorded it over a period of more than a year, producing the album mainly on her cell phone as she trekked across the globe.
In an interview with Chicago Reader, Angel Bat Dawid talks about 'The Oracle' being inspired by space jazz icons Sun Ra and Pharaoh Sanders, African spirituality traditions and gqom music, the Chicago music scene, and the discipline that is needed to work as a fulltime musician. You can read the full interview here and listen to 'The Oracle' below.
"You know what they say luck is—preparation meets opportunity. Being ready for the opportunity means you have to be disciplined: you gotta play music every day, it's got to be the most important thing you do, you've gotta believe in yourself more than anyone, you can't be iffy and insecure. If you don't believe it, no one will believe it. I don't care if anybody ever heard any of those songs; I like them. They're from my heart. If it was just me listening to them on my headphones, I'd be fine with that too. I like the album, and I think because I like it, others like it—because they can hear me, they can really hear my true authentic self. That's me being Angel for real—I wasn't making that for no one but me." -
Angel Bat Dawid in conversation with Chicago Reader
Angel Bat Dawid & The Brothahood will perform at Le Guess Who? 2019 on Sunday, 10 November. Also performing at the festival are a.o. Makaya McCraven, Asha Puthli, Ayalew Mesfin & Debo Band, Idris Ackamoor & The Pyramids, Ustad Saami, Gyedu-Blay Ambolley & His Sekondi Band, DJINN, Dur-Dur Band, Yves Jarvis, and many more.