Following the release of our initial line-up for 2023, and our Special Projects, we now announces the world premiere of The Harvest Time Project: A Tribute to Pharoah Sanders, which celebrates the legacy of Pharoah Sanders and his seminal composition, Harvest Time (1977).
The Harvest Time Project is an ever-evolving concert which will happen around the world, featuring a selection of different musical ensembles who will come together in different iterations to reinterpret Harvest Time. Each performance will diverge from the others as much as Pharoah's own wildly different live performances.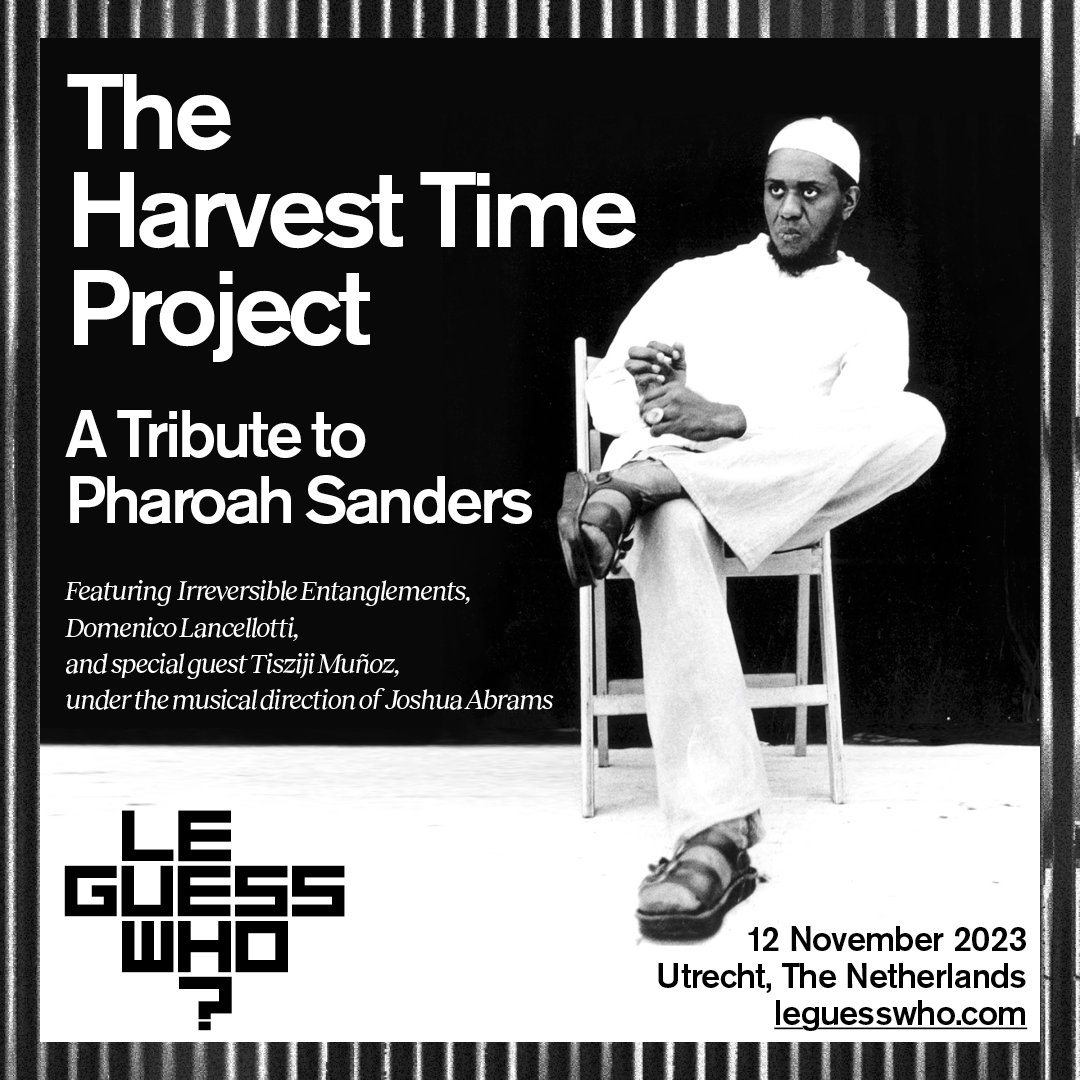 The world premiere of The Harvest Time Project on Sunday 12 November at Le Guess Who? 2023 will feature Irreversible Entanglements, Domenico Lancellotti, and special guest (and original Pharoah guitarist) Tisziji Muñoz, under the musical direction of Joshua Abrams (Natural Information Society, original member of The Roots, etc.).
On 15 September, Luaka Bop will reissue the 1977 album Pharoah, which features Harvest Time: a radical departure from Sanders' earlier work. The re-issue will be accompanied by never-before-heard live recordings, archival material and extensive liner notes and photography. Misunderstood upon its release, the album has long been a holy grail and has been bootlegged for years. It will now be presented in its definitive, remastered version.
About Pharoah Sanders
Pharoah Sanders was an icon of spiritual jazz. He was handpicked by John Coltrane to play on his late-career masterpieces, and thereafter released a string of expansive recordings under his own name for the Impulse! label, which have been cited as a pivotal influence by everyone from Prince to Iggy Pop to Marvin Gaye. With Coltrane, Sanders recorded some of the most revered — and controversial — albums in jazz history, embracing a wild, anarchic sound that would reverberate across genres for decades to come. Sanders' subsequent solo output was similarly bold and influential, and eventually won him a GRAMMY in the late 1980s.
In 2016, the National Endowment for the Arts bestowed him with its prestigious Jazz Master title, the genre's highest honor. In 2017, Pharoah Sanders performed at Le Guess Who? as part of the program curated by Shabazz Palaces. His last album Promises, released in 2021 with Floating Points and the London Symphony Orchestra, was heralded as "a late-career masterpiece," and was awarded Album of The Year in several national newspapers around the world, as well as TIME Magazine and The New York Times. Pharoah Sanders passed away on September 24, 2022.
Photography: Pharoah Sanders at Jazz Middelheim, 1977 - by Rob Miseur / Courtesy of Centro Studi A. Polillo - Siena Jazz.