Ahead of its 15th Anniversary Edition, Cheri Percy speaks to the co-founders of forward-thinking festival Le Guess Who? about its evolution from a two-man team to an award-winning movement. Boundary-breaking artists and former guest curators Camae Ayewa (Moor Mother) and Radwan Ghazi Moumneh (Jerusalem In My Heart) also weigh in alongside local figureheads Margriet van Kraats and Marlies Timmermans to explain why Utrecht's annual music event has since become home to music fans across the globe.
You can also listen to this story – below or via your favorite podcast app.
In The Beginning
It's 2007. The world is barrelling headfirst into the most serious financial crisis since the Great Depression. As exports and profits plummet across the globe, business investments are in huge decline. It's not exactly the traditional setting for launching a new music venture. But then the founders of Le Guess Who?, Bob van Heur and Johan Gijsen, have never been ones for conforming. Childhood friends, they both grew up in neighbouring towns of Limburg, the southernmost province of the Netherlands.
In his teenage years, Johan was rifling through the crate racks at record shops and pouring over indie releases with Bob's elder brother, Bas, in tow or sneaking into the only local bar that played "alternative" acts over the loudspeakers. A few years younger than Johan, Bob was more of a late bloomer when it came to music. Instead, he spent his after-school hours out on the fields having a kick about. A self-proclaimed "maximalist", when Bob embraced a new hobby, he was known to go hard. So, at the end of high school and with his interest waning in sports, he hung up his trainers and threw himself onto a different kind of path. One that he'd already noticed Johan exploring at the local youth centre. With parallel visions, they both began promoting live shows and, slowly, a friendship that would go on to span decades was formed.
Like a lot of creatives who've grown up away from the capital though, the call of the city was strong. After finishing high school, Bob went to study at the University of Utrecht while Johan was snapped up as a programmer for Tivoli, a concert venue and nightclub in an old monastery, located along the old canal in the city centre of Utrecht. But despite being miles from Limburg, the twosome still gravitated towards each other, picking up their old habits from home - grabbing a few beers and catching some live music (with particularly fond memories of a late 1990s Melkweg set from Stateside fuzz-folk rockers Neutral Milk Hotel).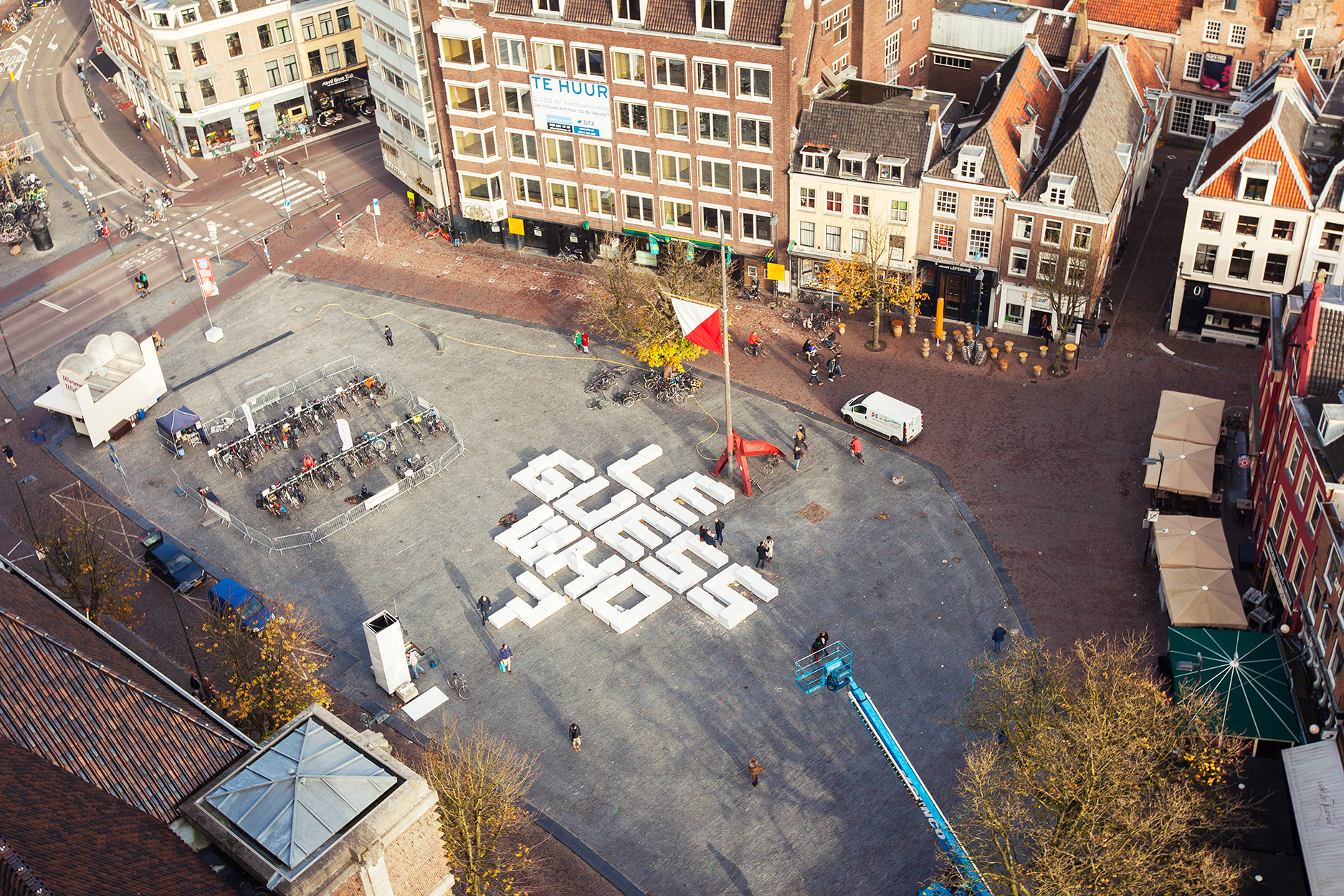 By this time, Bob had transformed an early internship at an indie concert promoter, Belmont Bookings, into a full-time gig. Or, to paraphrase his thoughts at the time, he'd put aside his ambition of being on stage and instead used his brief days in a band to organise great shows for other people. Continuing the maximalist spirit though, he was already keen to shake up Belmont's listings as he explains over our video call. Now in his early forties, his beard is flecked with the smallest wisps of grey picked up against his plain white T shirt. "I was very ambitious," he begins, recalling the years that led up to this moment. "One of the first bands I brought in was Animal Collective, who were extremely experimental at that point."
Johan was equally determined with his programming at Tivoli, famously bringing a very fresh-faced White Stripes to its stage. But, after six years in the post, he was starting to feel like he'd reached its limits, a sentiment that his then-Artistic Manager, Margriet Van Kraats, also sensed. "He was unhappy," she admits, from her studious-looking home office. Its walls lined with shelves of paperbacks in rainbow shades behind her. "I thought, as his manager, I have a brilliant programmer. I have a brilliant colleague. I need to keep him.'" When Margriet took the position, she and her family had just relocated from Rotterdam where she'd worked for many years as a club manager. Even in those circles, Johan's reputation as the "young talented programmer" in Tivoli preceded him. The proposal was fairly straightforward then. "I said, 'Now, I'm going to give you 50,000 euros. You have to organise a festival and you're allowed to spend 50k without revenues.'"
The proposition landed at a time when both Johan and Bob had already been contemplating an alliance, as the former reflects from Le Guess Who?'s offices in Utrecht, an abstract painting hangs to the left of his shoulder in tropical shades of orange and pink. "We were both energetic to start something new, to enthuse a wider audience for this avant-garde pop music but we didn't know how to make it concrete." It turns out laying down their own roots as a household name in Holland would need to take inspiration from an international instigator, as Margriet picks up.
"Johan was talking with Bob about the Canadian scene for months. Maybe for longer so I told them to go there," she says, enthusiastically. The pair flew out to Quebec's annual music festival Pop Montreal and began speaking to the organisers to figure out how it all worked. Bob was in his late twenties and Johan had just turned thirty. And while a Canadian caper might sound lightyears away from the output of Le Guess Who? we know and love today, the bedrock remained the same, as Bob reasons. "There was something special going on. It felt like a community rather than just being single bands."
This community became the crux of the very first edition of Le Guess Who? hosted back in Utrecht in the summer of 2007. The duo's first weekender welcomed a cohort of purely Canadian artists. As is customary with this pairing though, we're not talking niche nobodies from the Great White North. For Bob , the set up was equally satisfying. "If you look at the lineup now, I'm always quite proud because a lot of the names are massive like Caribou…" The soaring pop anthems of the Canadian composer were complimented by psychedelic heavyweights Black Mountain and Sub Pop signees (and indie disco mainstays) Hot Hot Heat. The focus didn't go unnoticed by the natives though as Radwan Ghazi Moumneh, founder of Jerusalem In My Heart and house producer at the celebrated Montreal recording studio Hotel2Tango, explains. "It was very weird as people who live here were like 'Oh, this festival in...how do you even pronounce that town? What the hell is that?'"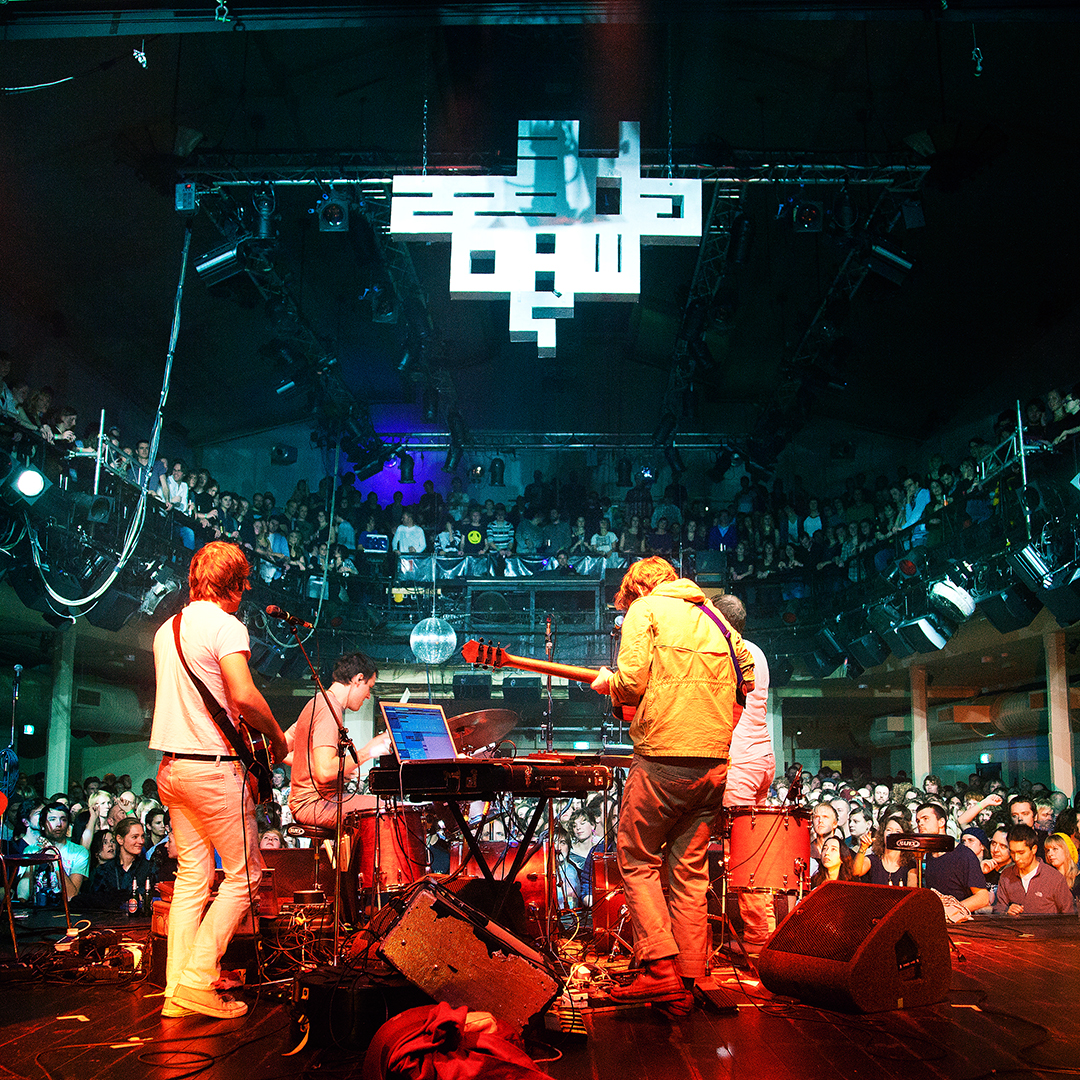 The following year was equally aspirational, welcoming instrumentalists Shalabi Effect and ex-Hole/Smashing Pumpkins bassist Melissa Auf der Maur with new material from her then-unreleased OOOM EP. But, already noticeably branching out from the original Canadian clan, with the inclusion of Baltimore's Beach House who had just put out their sophomore record, Devotion. Johan confirms there was some strategic thinking around this deviation. "In the first few years, people thought we were a punk rock festival so it was pretty hard to get other venues, like local churches, involved. We had some years with Ty Segall and The Black Angels. When you scroll through our Spotify, it sounds like this psychedelic experience [but] we wanted to attract people for adventurous music. Not just for Canadian music."
So, after two years, Bob and Johan moved away from Canadian culture and into a far nobler vision. Elsewhere across the Netherlands, annual music events like the Pentecost weekender Pinkpop and multi-genre giant Lowlands were making it their mission to monetise the festival experience by showcasing some of the biggest names in the business. Closer to home, the venues in neighbouring Amsterdam were also beginning to shift from their individual outlooks and into a muddy mix of overlap. Johan remembers the shift vividly. "In the 1990s, I felt that Dutch venues really had their own profile, program-wise. Nowadays, there seems to be less of a distinction. We were afraid that the music scene would become a monoculture. We wanted to present something different."
Before the end of the decade then, Le Guess Who?'s programming began to look far beyond Western chart-toppers. Instead, the 2009 lineup welcomed European counterparts Crystal Fighters, an English-Spanish electronica act, Congolese street musicians Staff Benda Bilili and a special pair of VIPs who really shook up proceedings. "My mum came with my dad," recalls Bob. "And for my mum [Staff Benda Bilili] were the headliner. She did some research and was like, 'Oh, I really want to see that band' and that triggered me to think 'Okay, for her, this is the headliner because the rest is completely unknown.'"
Now, of course, Le Guess Who? is famed for its
eclectic and probing
programme continuing to provide a platform for acts that span genres and nationalities. But in the late aughts, this was quite the curveball to the longstanding art of festival lineups. It was a new-age approach that Bob was immediately encouraged by. "We figured out quickly enough, 'Let's do something that the others aren't doing, instead of looking at the others.' That's the problem with the summer festivals. Many of them are like, 'Oh, they have this band, I want that too.'" Instead, with a whole heap of enthusiasm and two waves of the weekender under their belts, the pair began building their own ecosystem in a way that turned out to be far more sustainable in the long run.
"Maybe I was naive. I had the luck that we had financial backing and I have to say, I could not put on Le Guess Who? now and have the same impact. The timing and everything were perfect," Bob continues. "But it's also about having a little bit more confidence in your own story instead of trying what these five big guys at the top are telling you. That's the problem of our whole world. People actually want to have something with a deeper meaning."
Pushing for progress doesn't come without its hurdles though. The first two editions of the festival hadn't exactly been lucrative for its host at Tivoli, as is the story with most start-up businesses. According to Forbes, few make any profit in their first year and need around 18-24 months to reach profitability. A more stark stat would be that 25% of all new businesses actually fail in the first year, according to Small Business Administration. Ever the cheerleader for the teenage friends though, Margriet wasn't phased by the festival's future.
"Le Guess Who? would not have existed without Margriet," Bob admits stoically. "She let us lose money for a couple of years in a row because she felt you have to do something at least three times to see if it's successful or not. That gave us the possibility to continue doing it." The theory behind Margriet's motto? She picks up the thought. "You always have to do it at least three times because the first time, you don't know what you're doing. You think you're very smart and experienced but you don't know if it's gonna work. [In] the second year, you've got lessons learned but if you say, 'we're not going to do it anymore.' It's all wasted. All the effort, all the love. Everything is gone. With [a festival] it's all concentrated in one weekend. If you run a venue or club, you have 360 days and you can try something else if it's not gonna work."
Thankfully for us, this was just the beginning of Le Guess Who? as the founders pushed past the terrible twos and embedded something entirely new in its place. Something that even Bob may have underestimated. "After the first edition, I thought it was great, but I'm 100% sure for none of us it felt like 'Oh, this is something that we're going to do for the rest of our lives.'"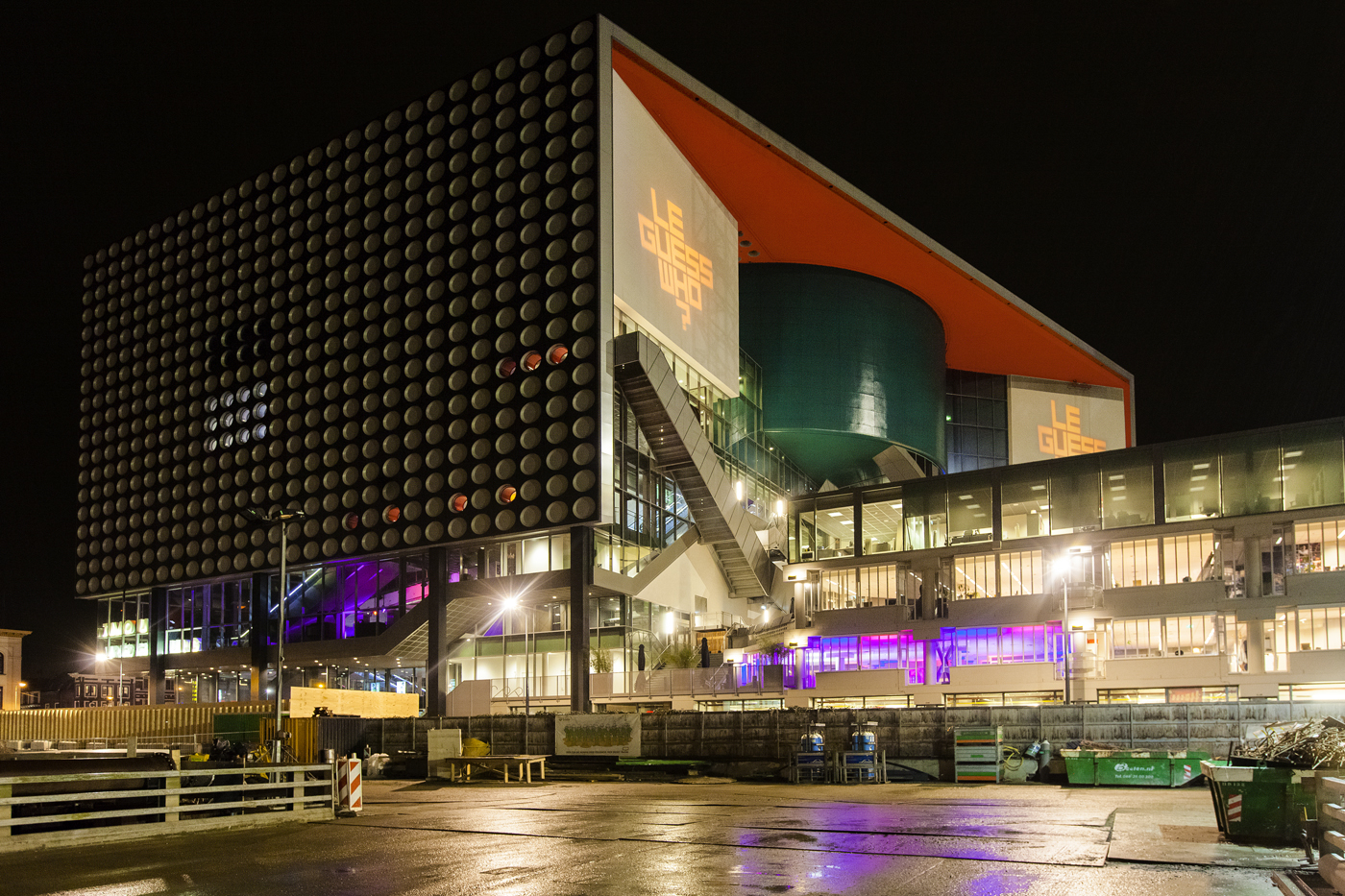 We Built This City on Rock and Roll
In the years that followed, Le Guess Who? transitioned from a charming local initiative and ever closer to the shapeshifting city-wide festival we've come to know and love today. Utrecht's City Promotion Department had begun to see an influx of international visitors coming in for the festival and reasoned the weekender was a safe bet for investment. This funding meant founders Bob and Johan were presented with the possibility of bringing their bookings out of Tivoli and into the various venues across the tree-lined city.
In 2009, progressive pop hall, exhibition space and cafe EKKO was the first site to join as a partner venue establishing Le Guess Who? as a multi-venue weekender. For Marlies Timmermans, Managing Director at EKKO and Le Guess Who? board member from 2014 to 2020, the moment marked an evolution in the space's audience demographic too, as she explains dialing in from her kitchen table. "EKKO's visitors are not so international but that grew throughout the first few years." No stranger to diversification, Marlies is a mainstay in the music industry, previously positioned at the long-running Eindhoven venue, Effenaar. This feeling of growth mirrors Bob's own feelings about the festival's development at the time. "Johan and I definitely started to feel that we were working on something concrete. More than just having a nice hobby project on the side. We were building something special."
While the international arm of Le Guess Who? was being praised by the local Council for its far-flung footfall, Bob and Johan were working hard to integrate locals into the festival as well. Originally seen as a more up-and-coming area of the city, in the early 2010s, Voorstraat had recently welcomed in trendy new roastery and hangout, Village Coffee, and the Utrecht brand of Plato Records. Ever the entrepreneurs, the duo saw these developments as an opportunity to host some more grass-roots shows complementing its ticketed three-dayer, as Bob shares. "That was the start of the local thing. There were a lot of people who initially didn't really care about what we were doing but eventually, as with the festival, you just keep doing it, keep doing it and eventually, more and more people want to join because they feel like something's happening."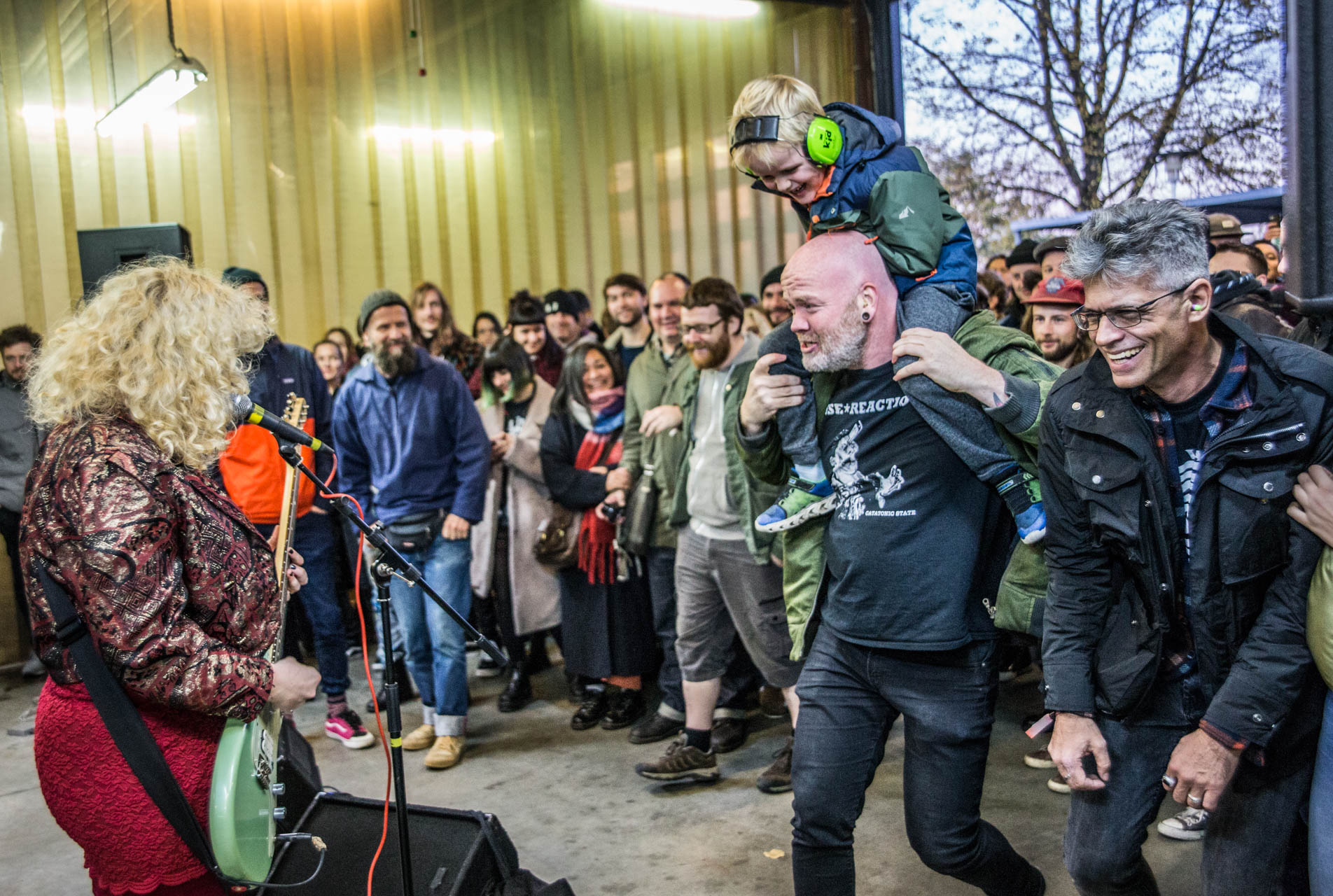 And so, in 2011, Le Mini Who? was born, a spin-off festival that turns the studios, cafes and art spaces of Utrecht into improvised venues. With a focus on (largely) Dutch underground acts, attendees jostle for position in low-to mid-capacity locations to catch a thirty-minute set by one of a host of promising bands. But if the expansion into off-kilter cafes and warehouses to lure in the locals felt like Le Guess Who? shaking up its offering, it was nothing compared to the opening of TivoliVredenburg, now famed for its role as the central hub and home of the festival.
"2014 was really a big year for us," admits Bob. "We had to book the whole festival without knowing what the venues would look like in the new building because it wasn't going to be finished until the end of June." The contemporary music complex was part of an urban redevelopment project for the city of Utrecht designed by Dutch architect and Royal British Architects' Gold Medalist, Herman Hertzeberger. The venue consists of five halls designed acoustically for a specific music genre, from the rock and roll underbelly of Ronda to the dizzy DJ decks of Cloud Nine on the top floor. It wasn't just the expanse of venue space that excited Bob though, there was also the infrastructure of such a colossal, well-staffed machine. Suddenly, not even time restrictions and last orders could curb his enthusiasm. The event in question was 24-Hour Drone, a day-long immersive and all-encompassing experience featuring musicians and sound artists experimenting with the spectrum of drone conjured up between Bob with returning performer and longtime friend, Melissa Auf der Maur.
"We kept talking for years and years [about it] because we love drone music. Melissa's a very drone-loving person. The idea was that we were going to do it at the Basilica but I got impatient!" he trails off with a laugh. In future iterations that followed, De Maur's reclaimed 19th-century factory on the banks of the Hudson River would eventually co-host the experience as the drone project roved across borders but, at the time, being able to pull off such an intense exploration into sound felt revelationary. It was a testament to the festival's newfound home according to Bob. "Keeping TivoliVredenburg open for 24 hours involved a lot of people. It's not just a venue. It's the whole building. The willingness from them to do that definitely set a marker for how it functions as a venue as well." Margriet van Kraats, now Programme Director at TivoliVredenburg agrees. "When is TivoliVredenburg international at its best? During Le Guess Who?"
With such a wide array of performance spaces, this new-age destination in the Netherlands suits the festival's ambitions to bring a breadth of genres and styles to the stage. Those looking to see a full-band bonanza can grab a pew in the stalls of the Grote Zaal. Looking for a more intimate experience? Hertz's panelled surrounds and plush armchairs provide a captivating view regardless of your seat. Having attended multiple iterations of the festival in full flow, Radwan Ghazi Moumneh is equally complimentary of his time in TivoliVredenburg. "It's the only festival I've ever been to that has this core central building," he begins. "It's like you're in this kids' play house of a venue. You go wandering up and down on these escalators. You can really easily go from one spot to the other. Already that physicality makes it very pleasant to be in."
On British shores, you might liken the experience to the Southbank's 11-acre site including the Royal Festival Hall, the Hayward Gallery, Queen Elizabeth Hall, the Purcell Room and multitudes of common and open-air spaces. But whereas London occupies thousands of kilometers as the UK's capital city, Utrecht conjures all this culture up in a sixth of the size. No wonder Marlies is so passionate about the merits of an initiative like Le Guess Who? in the Dutch city as its relationship with EKKO strengthens into a new decade. "Everybody feels the role of Le Guess Who? It's as important for the local community as it is for the national and, throughout the years, the international community."
Past attendees only support that theory. In their last iteration of the festival pre-pandemic in 2019, Le Guess Who? welcomed visitors from over 60 countries. That's what makes Utrecht so integral to the whole experience. Consider its Dutch counterpart and the country's capital Euro destination Amsterdam. Every day, there are reams of events ongoing throughout the city. But in Utrecht, when Le Guess Who? sets up for another year, everybody is brought along for the ride. Suddenly, locals are hearing Italian, Spanish and Germanic voices rising up from its streets, in the outdoor terraces of its bars, and down at the front of its mosh pits. For a festival that prides itself on abolishing the idea of your traditional headliner (more on that momentarily), could it be that the top-tier performer of the whole experience is actually Utrecht? Marlies believes there's some merit in the idea. "Utrecht is our headliner. This couldn't have worked out in Amsterdam or Rotterdam the same way because it's too large. [Utrecht] is sort of like a village still. You feel the connection and that's important when you're asking people to go out of their boundaries. It has to be still comfortable and safe and that's what Utrecht does."
In its fifteen years of programming, Le Guess Who? has dedicated itself to delivering boundary-crossing arts, music and culture from around the world, all distilled into one community for the weekend. Bob's adamant the experience should feel like a home from home. "[The festival] is made for artists. I want them to have this break in their tour called Le Guess Who? where they feel like, 'Okay, this is actually a festival we want to go to!'"
Elsewhere, traditional heavyweight indie festivals continue to welcome the same acts to their stages across the summer while Le Guess Who? provides a platform for underrepresented sounds and unearths non-Western bastions in their own indie scenes. As Bob himself says in jest, "If you go to a festival for 60,000 people, you need to have a certain level of artist [but] there's only so many Red Hot Chilli Peppers on this planet!" He's not the first straight-talking promoter on a mission to transcend corporate sponsors and bullshit band egos. There's a reason that Le Guess Who? feels more akin to All Tomorrow's Parties (ATP), the longstanding legacy of Barry Hogan which sadly went from an anti-corporate utopia to a debt-stricken disaster. Now more notorious in the headlines for its last-minute cancellations leaving fans and musicians out of pocket, Hogan's original aspirations were far more earnest, promising a festival "without the shit bands and Ticketmaster".
Hoping to emanate a similarly visionary approach, Bob certainly felt Hogan's impact across the sector. "Whatever people think about Barry, he deserves way more respect for how he has changed music perception. [Festivals like] Primavera would never have been able to build lineups like that without Barry Hogan's thinking." While ATP eventually went into administration in 2016, leaving a trail of angry artists and legal threats in its wake, Le Guess Who?'s taken the glimmering shards of what made that festival so special and cut them into their own. Most significantly, the idea of a curated lineup from someone other than the festival team, figuring out very early on that there are no headliners, rather seeing the concept as an industry-fabricated product of an ill-functioning and archaic system.
Instead for the last seven years, the programming team at Le Guess Who? have handed over the reins to a swathe of different guest curators. By deconstructing the traditional pyramid formation of a festival weekend, the lineup and level of artists across the event are instantly wide open, not to mention removing the lack of pressure posed by last-minute cancellations. The weekender becomes less about hearing one dude's personal picks and more like a cosmic exploration into new realms of audio and imagination. And it's this innate trust in something bigger than ourselves, the letting go of preconceptions and our inhibitions, that make a moment like Le Guess Who? so special in our calendars.
For EKKO's Marlies Timmermans, it's a quality she finds particularly admirable given the difficulties she often faces in risk-taking vs remuneration at an independent venue with a certain clientele. "It's sometimes difficult to promote those kinds of acts successfully. You need volume, and you need context to do that. A festival setup, especially the curator approach, is perfect to push people's boundaries." But casting the net for bookings across borders also throws up its own set of logistical issues. There's most likely a reason why Manic Street Preachers end up topping the bill at Green Man Festival when it's a welcome home show for them. Meanwhile, Le Guess Who?'s programming team is grappling with the visa offices the day before an international artist is set to be arriving. But Bob prides its team for their persistence to push past the seemingly impossible for the greater good of the gig. "Getting visas for someone from Zanzibar to fly in is always a win. Almost every year," he says defiantly.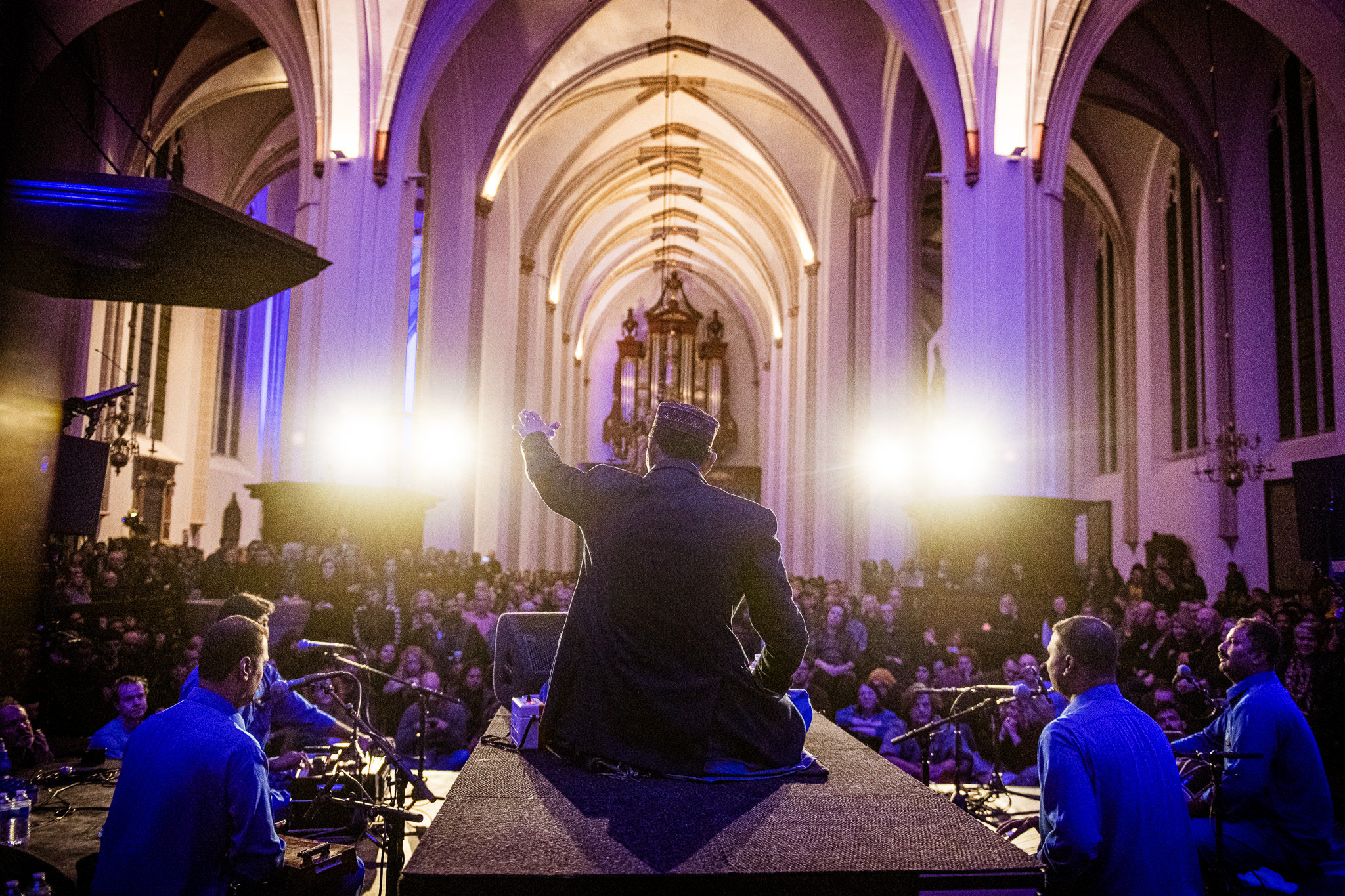 Curation Is A Discipline
By 2014, Le Guess Who? was safely settled into its new home of TivoliVredenburg, tripling the attendance and size of the festival. A whole new vision was needed. With the onus moving away from traditional tiered headliners, Le Guess Who? turned to its greatest asset to help them produce an eclectic array of new music and leftfield legends: its artists. Tapping into, as Bob reasons, the one very important common strand between the programming team and those performing. "We're just a bunch of nerds who really love music and we want to know more like, 'Tell me, tell me, tell me!' Most bands are a bunch of music nerds as well who really dig deep."
New York experimentalists Swans, who had previously disbanded back in 2007, were touring their third record after an empowered return to form and new-look line-up. And Bob was leading the Netherlands bookings for the group. Mesmerised by their visceral live shows, he saw a synergy between the band's revival and the festival's own renaissance into its new home. The reunion sparked something not seen before for the band, expanding their audience to an unprecedented degree. Frontman and principal songwriter Michael Gira was leaning back into his legacy with the demand for new material from the group never greater.
Le Guess Who? co-founder, Bob, had his own aspirations to diversify the annual event into this bigger and bolder beast given its new surroundings. With over four decades of music-making under his belt, who better to shake up the sonic experience of the festival than a man who's been crafting experimental outpourings since he was in underground-rock fixtures in the 1980s? The Swans' songwriter then became the first person to sit at the helm of a curated Le Guess Who? weekend. Something Bob puts down to his, and the team's, receptive nature and keenness to learn. "We've always really opened up our ears for input from others," he says, "that comes back to our endless curiosity for music."
Since Gira stepped into the role nearly a decade ago, Le Guess Who? has gone on to receive nearly thirty different curators and their ideas for artists and experiences to champion and challenge the festival. From Dutch fashion designer Iris van Herpen's surprise welcome of Björk to the Cloud Nine DJ decks to that big, boisterous Rajasthani brass from Junun's headline performance, the curators go above and beyond to make lifechanging moments happen throughout the weekend event, constantly seeking forefathers to a movement or the new names of a rising sound. Or, as Margriet van Kraats so poetically puts it, "it's like going to an old library where you try to find books from old writers who would inspire you for your next book to write yourself or to read."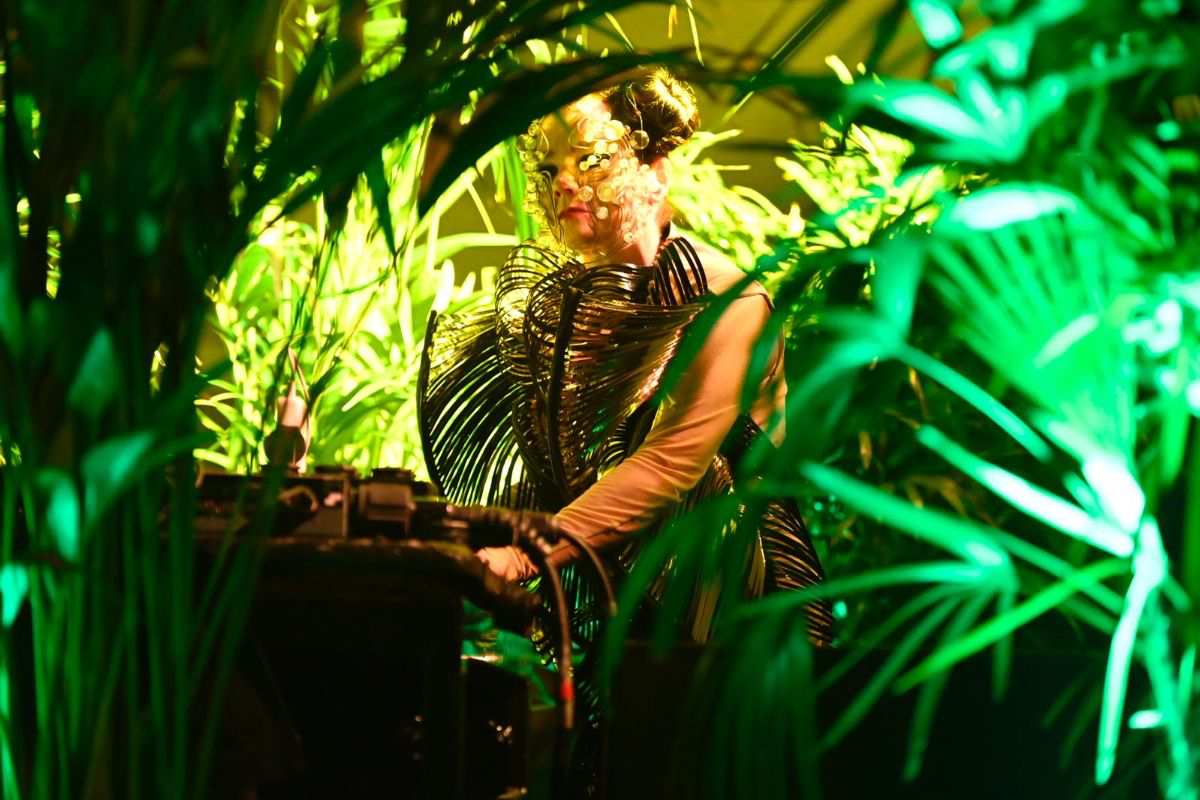 But not every artist that makes it onto the annual billing for Le Guess Who? is some kind of vanguard. Far from it. Instead, the festival is one of the few across the globe that will present a lineup with only a handful of names that you might recognise. And a lot of that has to be down to the inherent level of trust that Le Guess Who? has crafted within its community over the last fifteen years. Every year, the festival is reinvigorated with the vision of a new mind, rather than a wish list of acts that you could catch at any of the events across the summer season. And, in some ways, that gives Le Guess Who? the opportunity to make statements about far wider issues at play. For Jerusalem In My Heart's Radwan Ghazi Moumneh, the role of the curator was a precious mantle to carry that required a certain discipline. "I was like, 'Let's genuinely do something that leaves its mark,'" he recalls, decked out in his signature palette of black and dark shades in his home in Montreal. "If I'm going to do this, it has to be something that if I saw that at a festival, I'd be like, 'Oh, fuck, I'm gonna get on the train and go to that festival, this is worth it. By the end of it, I was like, 'Wow, this is really exhausting!'"
One act that might have depleted some of Radwan's reserve was Abenaki American Canadian filmmaker, singer and activist Alanis Obomsawin. Now 86, Alanis is an integral figure of Canada's cultural output, having been named the Grand Office of the National Order of Quebec (much like Leonard Cohen) in 2016. The Le Guess Who? performance marked her first since the 1980s. But securing the multi-skilled musician wasn't exactly an easy feat. Radwan met Alanis several times during her film festival tours before she accepted his invitation. "She was like 'I don't do this. What are you doing? Who's this guy who keeps hounding me coming along to all these events that I'm speaking at?'" Eventually, Obomsawin relented and invited Radwan to her house although, flexing her clear leadership skills, the requirements were very strict. "She said 'This is the date. You have to come on this day," he admits, recalling the bewilderment.
It was unfortunate timing really given Radwan was actually in the depths of a recording session for an artist at Hotel2Tango. But Alanis Obomsawin has always been a woman who commands the situation. Ever the entrepreneur, he thought on his feet and presented an emergency that meant he had to leave the session to snatch two hours with his hopeful highlight for his programme. Hopping into his car, he raced over to Obomsawin's house and received a surprising welcome. "I walk into her house and she's like, 'Sit down. Gin and tonic?' I was like 'What! It's the middle of the day. It's a Sunday.' 'Well, gin and tonic or get out of here.' And I was like, a gin and tonic it is, I guess!"
The pair began trading stories over their afternoon tipples but it quickly became clear that Obomsawin's involvement was tied to one pre-requisite: she would perform at the festival but only if Radwan was in the band and led the whole operation. "I was like, 'it's not about me, I really don't want to make this about me. This is for you. I don't want to do this.'" But Obomsawin flexed that directorial vision again and, days later, Radwan found himself working alongside Bob to assemble a band of Dutch musicians who would accompany them on stage.
Renowned in her home country for her activist filmmaking, Bush Lady was the only record ever made by Obomsawin and has since risen to cult status after a re-issue of the rare and long out-of-print album of the mid-1980s. The record is an invaluable example of contemporary First Nations music blending traditional folkways with avant-garde composition, a sound that was crafted in a very experimental way at the time making the reimagining of it for Utrecht's keen crowd even more challenging. "A lot of the album was very much improvised in the studio," explains Radwan. "So we had to take an improvised record that she made and recorded in the 1980s and somehow reimagine it to make sense now and get the musicians to understand that." After a few swift rehearsals once Radwan was finally in the same timezone as the assembled band, and forty years since its release, Obomsawin took to the stage as Bush Lady. The performance brought the crowd to tears and saw them blearily rising to their feet across the stalls for a standing ovation.
Radwan wasn't the only curator taking the post very seriously. After a blinding show as part of Radwan's curation in 2017, Moor Mother, the Philly-based noise project of Camae Ayewa, was approached by Bob to curate the following year. Buoyed up by the live experience already, Camae remembers feeling fearless towards the task. "I was already feeling good from performing my show so I was like, 'Oh, my gosh!' Of course, I tried to bring Public Enemy!" she trails off with a laugh. As a key connector within her community back home in Philadelphia, the role of the curator immediately felt familiar to Camae. "That's what I'd been doing before I became a professional musician. A festival like Le Guess Who? understands that I have a whole world around my work and they let me bring that and my ideas. That's why it's one of my favourite festivals."
For Camae, much like Radwan's approach, the task of curation was centered around reconnecting with artists she hadn't seen in a long time or those who weren't even touring. One such artist was cult musician Beverly Glenn Copeland who brought his Keyboard Fantasies - the time-traveling tale of the mystical musician and vocalist - for a very rare performance ahead of embarking on his first international tour at the age of 74. A spiritual transgender ambient artist finally being recognised for his trailblazing music, it was a milestone that Camae felt a deep resonance with. "Bringing in Beverly Glenn Copeland, who then went on to tour and make a documentary, I like to just say that I was a little bit of a part of that."
The role of the curator isn't just tied to carving out connections but also facilitating timeless collaborations. Another cherished experience as part of Camae's 2018 programme was joining American jazz flautist and composer Nicole Mitchell on stage, a moment that would go on to be immortalised in the live recording Offering. Intended as a solo performance in the intimate wood-panelled hall of Hertz, the possibility of tracking the team up to tape never occurred to Camae who recalls feeling the pressure. "I remember freaking out a little bit. Like, 'Oh, my God, I'm playing with Nicole Mitchell and I just went too loud with the noise. I look at her and she's smiling at me. And I'm like, 'This feels like I'm back home in Philly, in the basement.' She's a living legend. She can play with noise. She perfectly complimented me," she says with such obvious pleasure. "I don't remember smiling so hard during a performance!" The opportune appearance has gone on to forge a long-standing friendship as Camae admits she's heading to Lisbon to perform with Mitchell as a duo, a kinship she's eternally grateful to the festival for. "That came out of Le Guess Who? We have so many things to say to each other in the sonic communication."
It's Getting Better All The Time
As the curators were busy expanding the breadth of showcased artists across boundaries and borders alike, Bob and Johan were making plans to expand out from the walls of TivoliVredenburg and into the streets of Utrecht. Located within walking distance of Central Station, the Lombok district is arguably the city's multi-cultural heart. Its central shopping street, the colorful Kanaalstraat, is lined with exotic supermarkets bursting with tropical fruits and the go-to for special ingredients from all corners of the world - from Arabic delicacies to handpainted North African earthenware.
In 2015, the Ulu Mosque was completed on its Mosque Square, the first square or street in the Netherlands named after an Islamic religious building. Honouring the new influx of communities, Le Guess Who? launched Lombok festival, the first of its satellite events to celebrate the diversity of the city's district, initiated in collaboration with various locations, key figures and residents of Lombok. For Bob, the importance of inclusion was integral to its inception. "These traditionally Turkish/Moroccan neighbourhoods were really changing with rich white people buying apartments up so Lombok was a festival made with the locals there." Alongside live music, gallery spaces offer innovative art exhibitions, poets perform readings and troupes of dancers dazzle crowds. Visitors are encouraged to enter the Ulu Mosque through the festival food market which pops up on the square outside, with home chefs preparing national dishes for the masses.
Throughout the next few years, Le Guess Who? continued to bring homelands together through a rising influx of guest curators and global visitors. But in 2020, the COVID-19 pandemic brought the whole world to a standstill. Like the backdrop of the festival's birth though (economic crisis and severe lack of funding), Bob and Johan weren't prepared for the situation to slow down their aspirations. Instead, Le Guess Who? pivoted and launched an entirely new prospect moving into the online universe to connect with its fans, friends and followers. COSMOS evolved from Le Guess Who?'s successful pilot LGW TV, which presented a digital alternative to the physical festival and was viewed in nearly 200 countries. For Johan, the reception proved the interconnected ecosystem the festival has created over the last decade. "When after 15 years this horrible situation comes, you can come back from it because your audience knows and feels years of commitment. It goes both ways - from artist to audience. From audience to organisation. Organisation to artist."
Consistently innovating even with the world in flux, a hybrid version of the festival ran the year after and welcomed another new proposition for its locals and international audience: the participative and freely accessible day program of U? Building on the success of Lombok, the festival's performances would now expand into a wider remit of neighbourhoods including 2e (Trey-da) Daalsebuurt, Werkspoorkwartier and Cartesius. It also marked the first time to touch down in Transwijk where the annual Liberation Festival takes place. In these neighborhoods, the programs are made with, or even fully by, local initiatives, entrepreneurs, social institutions and community centers. This expansion into the suburbs of the city was built on Le Guess Who?'s continued ethos to be so much more than a music festival. Take the time that, a week out from the event, they received requests from the ambassadors of Yemen, Iraq, Morocco and Iran to attend a show in a church. Three of the four countries in conflict, nestled in the front row of the nave alongside the Director of Amnesty International in the Netherlands. It was a defining moment for Johan, as he reflects.
"Afterward, [the director] said that he was so happy that he finally found a space to speak with the Ambassadors about human rights because whenever he had these talks ordinarily, he had to go to the Hague and it was always a very difficult meeting," he admits proudly. "Now, they're sitting shoulder to shoulder in the first row. That was for me like, 'Okay, now we are more than just a music festival. It was a confirmation.' Like a mirror for me; a realisation that there are more things going on nowadays than just music and audience."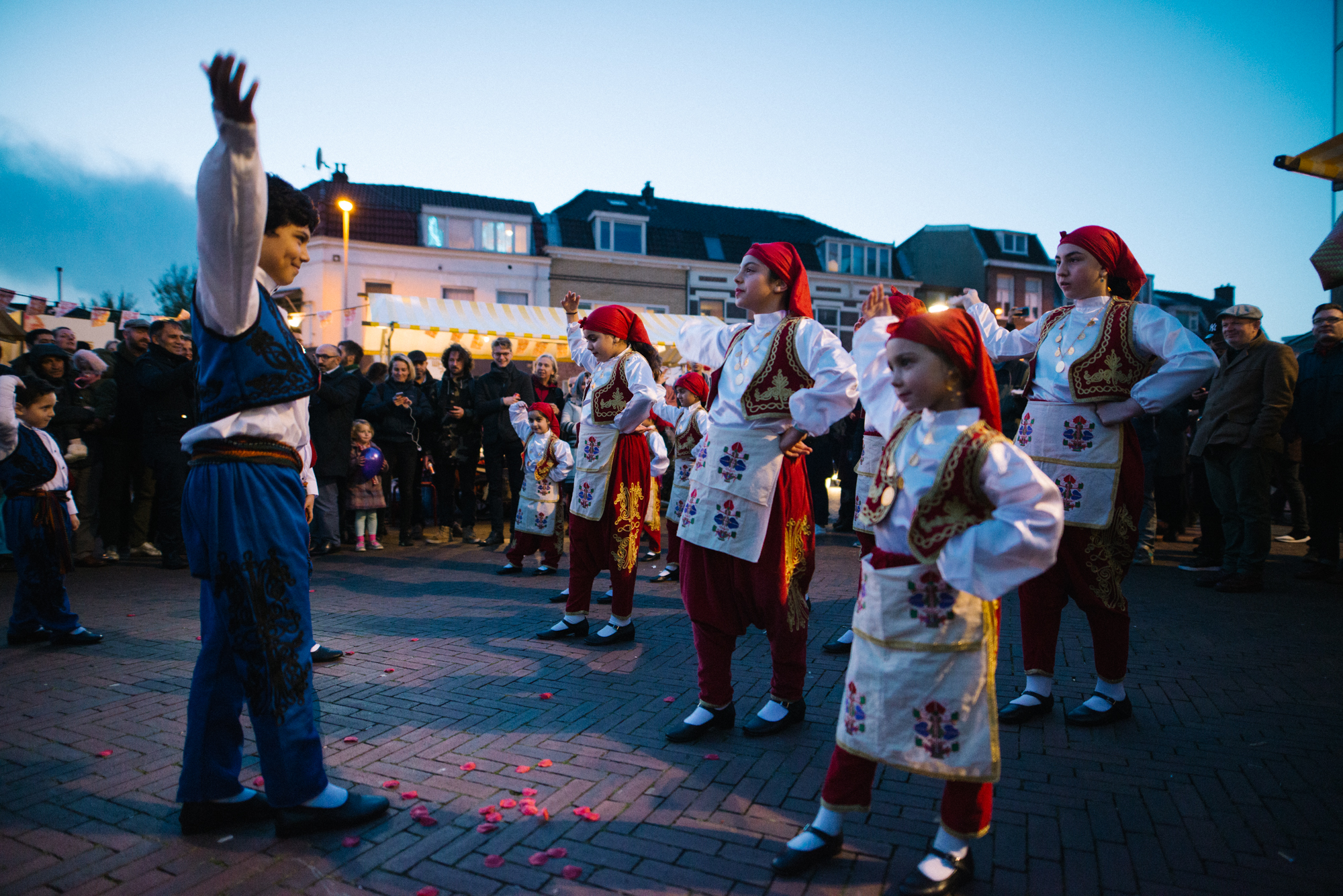 A Golden Future
If there's one silver lining to come out of the COVID-19 pandemic, it has to be the heightened importance of community, as a surge of support for local vendors and businesses has blossomed over the last 18 months. According to a report from Pollinate, a cloud-based platform for banking systems, over half of consumers globally (53%) believe it is more important to shop with local businesses now than it was before the pandemic. The principal driver behind this? Consumers want to support local businesses including reinvesting in local economies (45%), keeping money in their community (44%), and driving job growth (43%).
For regular Le Guess Who? attendees, the festival is a home from home. Many reconnect with fellow returning guests. They stay at the same small hotels. They head to shows at their much-loved venues throughout the city. But for all its familiarity, they also know that each year there's something new for them built with their best interests at heart. "That's also the success of Le Guess Who?, that we brought these layers together and it's become a really solid foundation," reflects Johan before adding how "that's a team effort." As he jokes, it's not "the Bob and Johan festival anymore." The team - which now stands at 24 people strong - works tirelessly to realise a fresh festival experience, not just for the new faces but for those who have consistently returned to Utrecht year on year. Like, the annual pilgrimage home for Christmas.
EKKO Managing Director Marlies Timmermans agrees there's a homely feel to that arrangement. "We feel as if Le Guess Who? is family. [In fact], some of Le Guess Who?'s team members were at EKKO before, like Jacob (Hagelaars, Head of Program at LGW) and now Sam (Heegstra, who's responsible for the U? programme). Plus, Bob has always been an important agent for the EKKO shows. Throughout the whole year, Johan is an important sparring partner." But like any well-oiled family dynamic, there is push and pull; yin and yang. Relationships evolve and new traditions present themselves.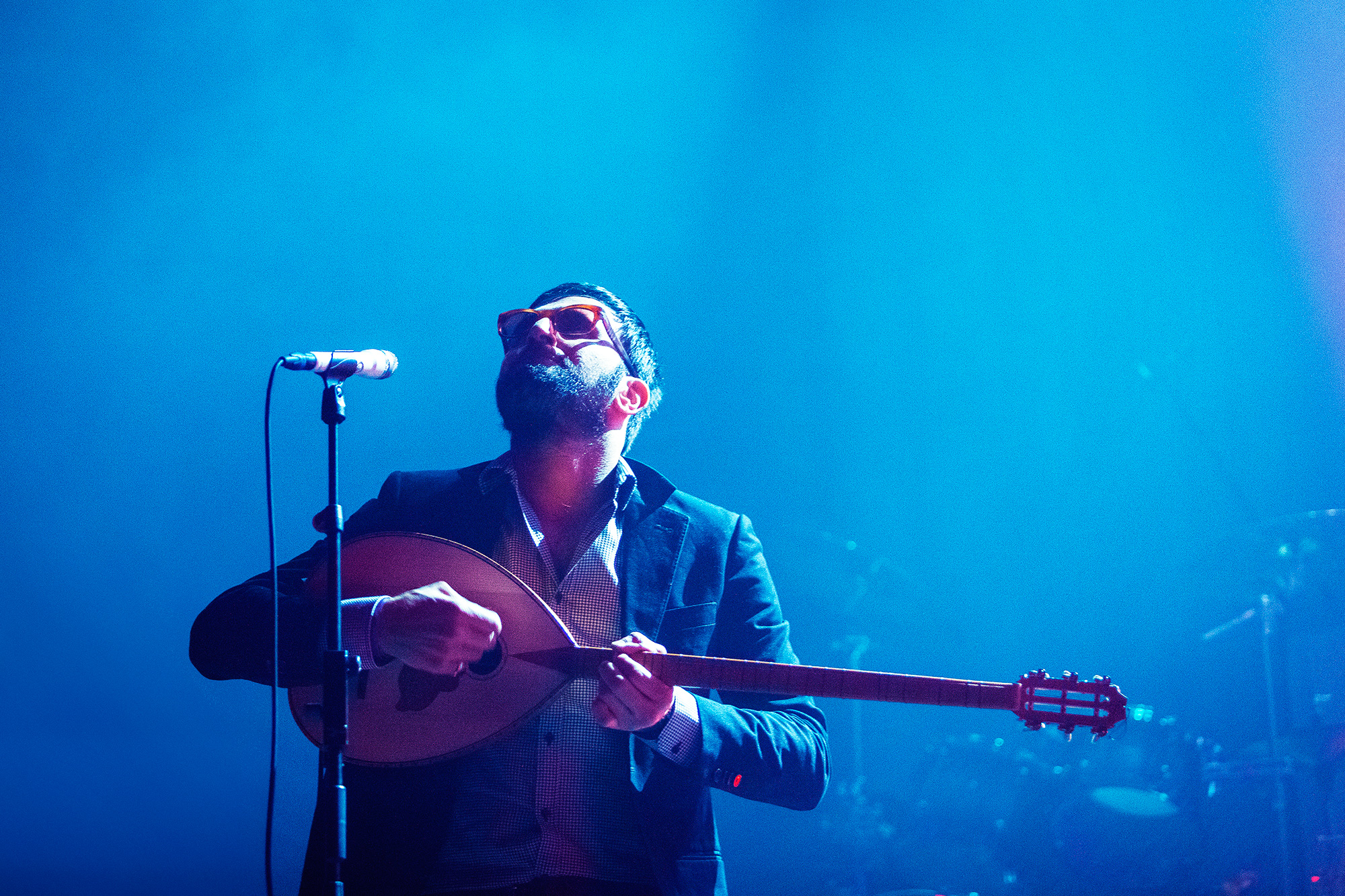 Early in September 2022, Johan announced that he would be moving on from the festival organisation. Yet while the Roggel native might be turning his focus to new horizons, his passion remains. It's his focus and drive that has propelled Le Guess Who? into a beloved bastion of the local Dutch community. A household name in Holland built from the kernel of an idea alongside co-founder Bob some 16 years ago. As a young pop trio once sang, you have so many relationships in your life, only one or two will last. For Johan, that's not just with his team but also with the loyal community that now surrounds him like family. "I truly believe that our audience is emotionally connected with the festival. And I think that's normal with a festival and audience, but I think at Le Guess Who? it's different," he says proudly.
Alongside the newfound respect for what's on our doorstep, post-pandemic there's a unifying appreciation for the collective experience and being back in the throng of a sweaty gig venue. While many sectors pivoted to offer online formats, replicating the in-person live music experience virtually is a hard one to land. Instead, festivals like Le Guess Who? were ready to embrace the pent-up demand when national lockdown ended across many countries. For Marlies, she believes the festival taps into something more inherently personal. "It's a way for people to not only discover new music but also to rediscover themselves and their own music consumption without ever feeling uncomfortable," she explains. "Sharing this experience with other people is so uplifting [and] exactly what we missed during the pandemic. While the [rest of the] music business has to deal with poor ticket sales, for Le Guess Who?, it's the other way around because of what they present as a whole and how it moves people."
Indeed, new research from the Royal Philharmonic Orchestra (RPO) reveals a significant rise in the number of people who post-pandemic want to broaden their horizons and learn about new genres of music - up from 62% to 78% since 2018. The research contrasts current views to life before the pandemic - and the results suggest the period of lockdown and restrictions has fuelled a new sense of adventure with music, previously unmatched. Le Guess Who? is perfectly placed to realise this goal by presenting its notoriously broad and border-crossing select of artists each year, a feat only further commended by winning the prestigious European Jazz Network award for Adventurous Programming, becoming the first non-jazz festival to do so.
Radwan Ghazi Moumneh recognised this unabashed approach to programming and equally applauds the style. "This is the one festival that goes stubbornly out of its way to present amazing work. If I'm so deep in music and I don't recognise half of the lineup or a third of the lineup, I can only imagine somebody that's just a music fan. You can go see a ton of things that you don't like, but you can appreciate it. That's totally golden. Everybody I know who's there buys their pass way before the lineup's announced." While a lot of that conviction is built on trust, there's also a certain level of doe-eyed imagination. For Bob, it's always been about surmounting the seemingly insurmountable and believing in yourself. "How many times have we heard 'This is not possible. This is not possible.' I don't see a reason why it's not possible."
From its humble roots in the mid-aughts, Le Guess Who? has always worked to fill the gap between the arts and cultural worlds and popular music. Pushing past an economic crisis whilst other art institutions have faltered, Le Guess Who?, despite its name, has never been clearer in its intentions: to present something that has not been seen by the general masses to an international audience. With increasing technological developments, people are presented new music more readily than ever. But an algorithm won't serve you the Turkish community throwing flowers at 73-year-old protest singer Selda Bağcan. A streaming platform won't facilitate a live collaboration between homegrown talent Terrie Hessels (The Ex), Sonic Youth's Thurston Moore and legendary Dutch percussionist Han Bennink. Nor will your iTunes library bring to the mainstage Oslo-based collective DNA? AND?, a cast of rotating adult musicians who work with special needs children to create a sonic spectacle. Le Guess Who? then has grown over the last 15 years from a modest music festival to a global movement. And that's something that hasn't passed Bob by when thinking of its future.
"I hope that there will be more Le Guess Who?'s. Not organised by us but by others. Festivals that have a less typical way of billing than for the programmer's ego, building something that's more accessible for everyone." A Dutch doyen in its field and beyond, Le Guess Who?'s presence will be felt for years to come. But none more so than in the city of Utrecht, the annual headliner of the event, as Johan adds with an air of deep appreciation. "Nowadays, people say Utrecht is famous because of Miffy, the Dom Church, and Le Guess Who?"
Le Guess Who? returns 10-13 November 2022 for its 15th Anniversary Edition.
Words & audio: Cheri Percy
Music (live at Le Guess Who?): Minyo Crusaders, Suuns, Makaya McCraven, Beverly Copeland, Alabaster dePlume, Selda Bağcan
Main photo: Jelmer de Haas
Thanks to Camae Ayewa, Radwan Ghazi Moumneh, Margriet van Kraats and Marlies Timmermans