Sun Ra Arkestra - Live at Le Guess Who? 2017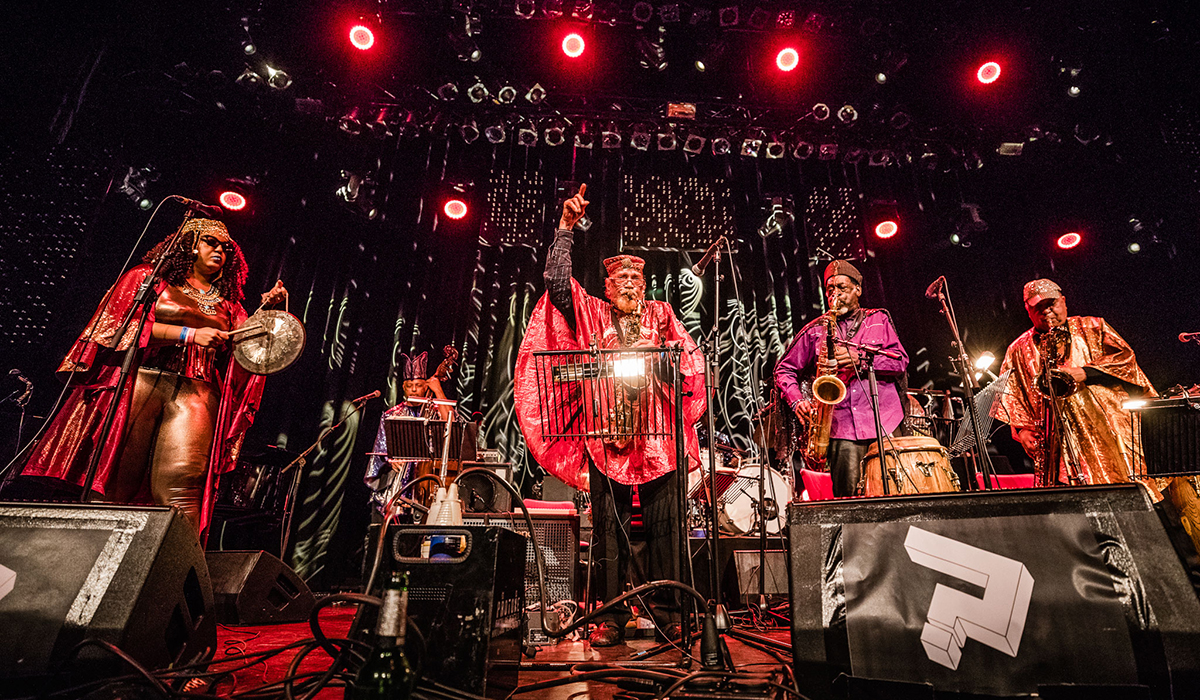 With their cosmic jazz celebration, Sun Ra Arkestra was one of the closing acts of Le Guess Who? 2017. We're pleased to now bring you the full recording of this show, spanning decades of the Sun Ra legacy. The song 'Discipline 27-II' features a special guest appearance by King Khan.
Read on below for the astonishing story 'Sun Ra Arkestra & The Missing Saxophone', about how the show was saved by a rare saxophone we had to hunt down last-minute.
Sun Ra Arkestra & The Missing Saxophone

On Sunday, 12 November, one of the final performances at Le Guess Who? would be the legendary Sun Ra Arkestra. That afternoon, the crew of TivoliVredenburg – the venue where the Arkestra was set to perform – was waiting at Utrecht Central Station. All musicians would arrive there, and the crew would escort them directly to the venue, just a couple of hours before they were set to perform.
Finally on stage for the soundcheck, we found out that the wrong baritone sax had been delivered to us. It was different from the sax we had rented by request of the band. Seeing it was Sunday, there was no use calling the rental company.
With just a couple of hours to go till the performance, we started making calls to musicians we knew in and around Utrecht. The first round of calls didn't have any effect: it was a specific model of a baritone saxophone, not an instrument somebody would just have lying around. One person we hadn't called yet, however, was Jan Dekker, who plays saxophone for Blaudzun. We could hardly believe it, but yes, he did have that specific model at home.
Wary at first, Jan asked us if we knew how expensive the instrument is, explaining that he doesn't lend it to just anyone… And of course, the sax would need to be insured.
'So, who needs it anyway?', he asked.
- It's Sun Ra Arkestra, we tell him.
It goes quiet on the other end of the line. 'Are you serious?'
Turns out that years ago, while Jan was studying in New York, his trumpet was stolen after a performance. It was a unique vintage model, with a heavy price tag. At that moment Jan was about to return to the Netherlands so he was broken-hearted and thought he would never see his trumpet again. Two days later, Jan received a phone call. "Are you missing a trumpet?" The mysterious caller had bought the trumpet for just a couple of ten dollar bills, but knew the actual value of the instrument was much, much higher. The caller found a receipt of a sim card and managed to get a hold of Jan's phone number this way. Jan could come and pick up his trumpet that night at the caller's house in Harlem, New York.
When Jan entered the house, it was filled with instruments. The caller talked about jazz clubs in Harlem and said that he was a musician too, a bass player. He played in a group as well, called Sun Ra Arkestra…
So now, years later, the Sun Ra Arkestra travelled to Utrecht and were in need of a baritone saxophone. By coincidence we called the one person in Utrecht who owed the band a huge favor. Needless to say, Jan was happy to help. A good deed travels a long way. In this case: all the way from New York to Utrecht. That night, Sun Ra Arkestra performed on Jan's baritone saxophone.
Audio recorded by Marc Broer at Le Guess Who? 2017 on Sunday, 12 November. Recordings made in cooperation with VPRO / Vrije Geluiden.
Photography by Ben Houdijk and Jelmer de Haas.