Noori & His Dorpa Band - Live at Le Guess Who? 2022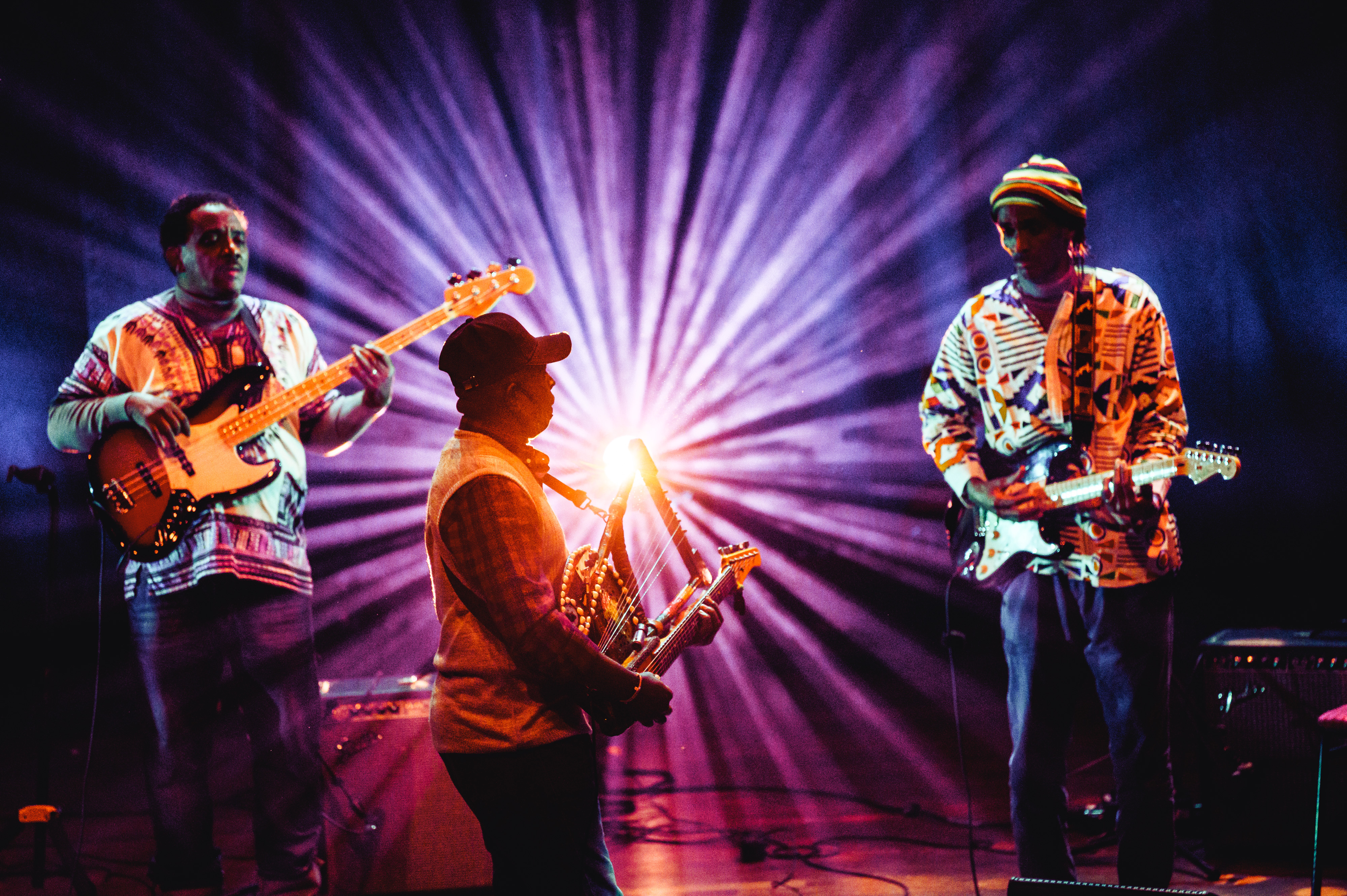 Sudan's Noori & His Dorpa Band performed live at Le Guess Who? 2022, presented in collaboration with Ostinato Records. Below, you can relive the performance with our video of a part of the concert, as well as the audio of the full show, with a spirited introduction by Ostinato's Vik Sohonie before the band came on stage.
About
Noori's musical journey began far before Ostinato Records scouted his mysterious band in late 2021. In the nineties, the then eighteen-year-old came across a guitar neck in Port Sudan. Forging it with the vintage tambour his father had gifted him, he created the electrified tambo-guitar. Ever since, Noori has used his creation to uplift the ever-resilient Beja community, whose long history is rife with oppression from the Sudanese government. Their album 'Beja Power!' is the Beja people's first international musical encounter, and, with Ostinato Records, Noori & His Dorpa Band have created a moving, necessary archive of the radiance in resistance.
"We have been here for centuries between the desert and the red sea with our own traditions and customs that are not found anywhere else in Sudan or in the world. The band has the same spirit and the same problem as Sudan, we feel the suffering of Sudan and this is reflected in our music. We have a beautiful and powerful traditional music, we are a peaceful people who have no enemies, we respect the elders, we respect those who respect others, we have a poetic vision of life. As a musician, I feel responsible for conveying a different message, representing our culture and identity and changing perceptions about Sudan" -
Noori in conversation with Pan African Music
Le Guess Who? Recordings
The publication of this recording is part of Le Guess Who?'s ongoing expansion of the festival's recordings archive, with 80+ recordings from past editions now freely available online. It contains audio and/or video recordings of Estrella Morente & Amsterdam Andalusian Orchestra, clipping., Asher Gamedze, The Brother Moves On, Arooj Aftab, OSEES, Mazaher, Suuns, Alabaster dePlume, The Microphones, Eddie Chacon, Aldous Harding, Deerhunter, Makaya McCraven, Art Ensemble of Chicago, Beverly Glenn-Copeland, Neneh Cherry, Mount Eerie, Selda Bağcan and many more.
"This strange blend of modern and traditional, ancient culture and globalisation, is the backdrop to these vital questions on what role the music industry has to play today. 'The future of it lives entirely in your hands,' Sohonie continues, his voice echoing around the walls of the Grote Zaal (Great Hall). The consumer decides where the business goes. You decide who goes big. 'The melodies you hear tonight might have been first heard thousands of years ago around the fire.' If any festival attendee is in question if they're supporting the IP business or the music business – 'At Utrecht you're supporting the music business and the band that is about to be on'" -
CLASH Magazine
Captured at TivoliVredenburg's Grote Zaal on Thursday, 10 November during Le Guess Who? 2022.
Noori & His Dorpa Band:
Noori - Guitar-Tambour
Tariq - Rhythm Guitar
Gaido - Bass Guitar
Naji - Tenor Sax
Fox - Congas
Samir - Bongos
Direction: Dammes Kieft
Camera: Anaïs Saebu, Jonathan Sipkema, Nicky Pajkić, Rikash Gobardhan, Yuma Eekman, Dammes Kieft
Production: Claudia Rison, Studio Dammes
Coordination: Barry Spooren
Montage: Dammes Kieft
Sound recording: Marc Broer
Photography: Jelmer de Haas