Anoushka Shankar & Manu Delago with Metropole Orkest Strings - Live at Le Guess Who? 2018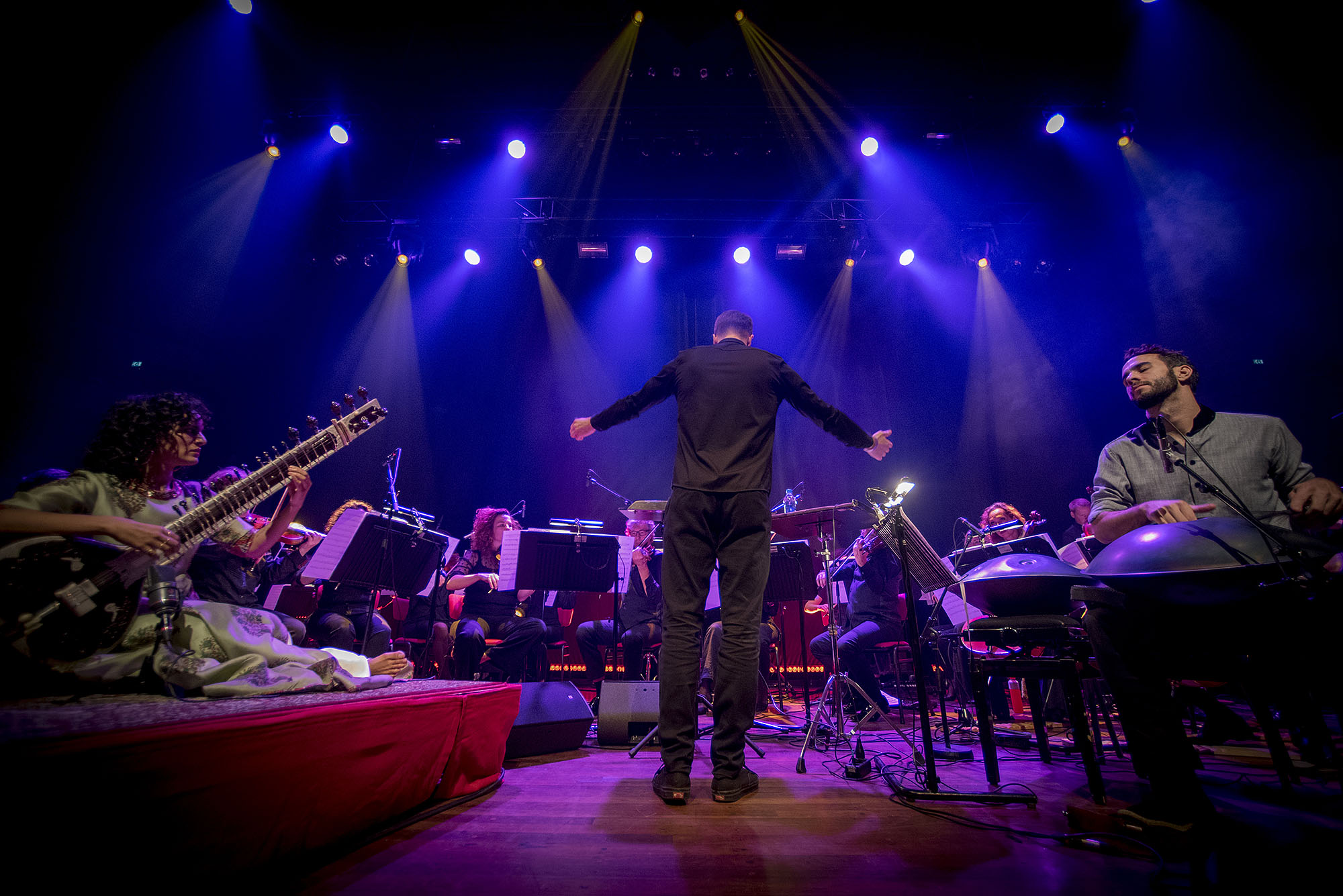 Continuing the legacy of her father, the legendary Ravi Shankar, Anoushka Shankar is considered to be one of the world's most renowned sitar players. In 2018, she performed at Le Guess Who?, together with Austrian percussionist and Björk collaborator Manu Delago and the 27-member string section of the Metropole Orkest, conducted by Jules Buckley.
Immersed from a young age on the world stage, with over a quarter-century's performing behind her, Shankar is a singular, genre-defying artist across realms – classical and contemporary, acoustic and electronic. Her music reflects her Indian background as well as her life in London and California, blending classic Indian sounds with contemporary influences.
Now, Le Guess Who? proudly shares the video recordings of this eclectic performance at Le Guess Who? 2018:
"Anoushka Shankar, with whom Manu Delago had previously collaborated, joined [...] for the second half of the performance, enchanting the audience with her mastery of sitar, blending classical Indian music with contemporary sounds. The pairing of two exceptional virtuosos on two very different and unique instruments made for a set that was nothing short of cinematic and divine." -
Cast The Dice
Tracklist
Voice of the Moon
Maya
Flight
Buleria
Jannah
Chasing shadows
Land of Gold
Captured on 10 November, 2018, at TivoliVredenburg Utrecht during Le Guess Who? 2018.
'Maya' and 'Land of Gold' composed by Anoushka Shankar & Manu Delago
All other songs composed by Anoushka Shankar
'Voice of the Moon' and 'Maya' arranged by Tom Trapp
'Flight' and 'Buleria' arranged by Kevin Halporn & Jules Buckley
'Jannah' arranged by Tim Davies
'Chasing shadows' and 'Land of Gold' arranged by Jules Buckley
Metropole Orkest Strings conducted by Jules Buckley:
1st violin: Arlia de Ruiter, Sarah Koch, Denis Koenders, Pauline Terlouw, David Peijnenborgh, Jasper van Rosmalen, Christina Knoll, Xaquín Carro Cribeiro
2nd violin: Merel Jonker, Herman van Haaren, Wim Kok, Ruben Margarita, Ewa Zbyszynska, Ian de Jong, Polina Cekov
viola: Norman Jansen, Mieke Honingh, Julia Jowett, Iris Schut, Isabella Petersen
cello: Jascha Albracht, Diederik van Dijk, Mariëtte Laport, Sander van Berkel
double bass: Arend Liefkes, Marijn van Prooijen, Boris van Oostendorp
double bass (rhythm): Aram Kersbergen
Artistic Team MO: Robert Soomer, Gert-Jan Blom
Monitoring and Recording: Dirk Overeem FOH
Engineer: Paul Pouwer
Sitar tech: Nick Able
Direction: Nick Helderman
Camera: Wim Adam, Milan van Dril, Roy Jamhouri, Hugo Jouxtel, Tim van der Voort
Montage: Nick Helderman
Sound recording: Marc Broer
Photography: Tim van Veen
Special thanks to everyone at TivoliVredenburg and Metropole Orkest