It is true that making plans for shows and festivals in 2021 is a bit of a gamble. But Le Guess Who? believes that it's important to have something to look forward to. In the spirit of cautious optimism, we are proud to announce the second round of confirmations for November 11-14 in Utrecht, The Netherlands.
Le Guess Who?'s goal to bring people together hasn't changed, and neither has our global focus: we continue to work hard to keep as many voices in the room as possible. Together we need to experience new music and artistry, and find new inspirations. We truly can't wait to have you with us again.
Curated programs
Now a hallmark of the festival, Le Guess Who? has again invited five guest curators to present their own programs of inspiring and like-minded artists.
Multi-instrumentalist, vocalist, songwriter, visual artist and record label owner John Dwyer will perform as part of OSEES and will also present the live premiere of Bent Arcana, the group Dwyer formed last year and draws inspiration from prog- and krautrock, jazz and avant-garde improvisation. For his curated program, Dwyer invites legendary German krautrock group faUSt, performing their iconic album 'Faust IV' (1973); Arrington de Dionyso's avant-blues/garage-rock outfit Old Time Relijun; vocalist, keyboard and tambourine player--and OSEES collaborator--Brigid Dawson & Sunwatchers; the cosmic musical universe of Earth Girl Helen Brown; and Gustaf, Brooklyn's most 'reliable fun band'.
Colombia-born/Berlin-based producer and sound artist Lucrecia Dalt will present her collaboration with Aaron Dilloway (Wolf Eyes); their new album 'Lucy & Aaron' will be released in July. Dalt also curates performances by Argentinian sound sculptor Beatriz Ferreyra; Barcelona's "progressive Gregorian" vocal duo Tarta Relena; German futuristic noise musician, curator, and radio host Felix Kubin; and Columbian singer-songwriter Julián Mayorga, known for his free-spirited and hyper-active compositions.
Japanese percussionist and minimalist/ambient composer Midori Takada will perform at the festival as part of Ton-Klami, her free jazz improvisational trio with pianist Masahiko Satoh and saxophonist Kang Tae Hwan. Takada also invites The Hague's Ensemble Klang to present the live premiere of their audiovisual project, Thrift Hybrids.
Clarinetist, saxophonist and "panoramic sound quilter" Matana Roberts will curate performances by free jazz and sonic poetry collective Irreversible Entanglements (featuring LGW18 curator Moor Mother); Justin Broadrick's dark, gloomy and glittery Jesu; French composer, double bass player and vocalist Joëlle Léandre; and Australian composer and multi-instrumentalist Oren Ambarchi, who has been meaningfully manipulating the guitar and its sounds for over thirty years.
At LGW 2021, lauded singer-songwriter Phil Elverum will be joined by guitarist Jay Blackinton to perform the Microphones in 2020 album in its entirety. Elverum also curates performances from figureheads of the flourishing Nairobi underground metal scene, Duma; folk and jazz cellist and former Nirvana collaborator Lori Goldston; and Estonian contemporary folk musician Mari Kalkun.
More artists from the curated programs will be announced at a later date.
General line-up
Le Guess Who? also announces new additions to the general line-up. These include Zanzibar's Siti Muharam, the great-granddaughter of taarab music legend Siti Binti Saad; Gambian-British grime and hip-hop artist Pa Salieu; Brooklyn-based New Age and Sufi composer Arooj Aftab; British cellist, vocalist and FKA Twigs collaborator Lucinda Chua; New York-based neo-soul sensation KeiyaA; Tunisian-Belgian artist Ghalia Benali, who will present her newest project 'Hadret Ishq', in which she reinterprets Sufi songs and poems; American ambient pioneer William Basinski performing his latest work, Lamentations; Spirit Fest, a project that features members of The Notwist and Tenniscoats; Gebroeders Dieleman van Eeckhout, the new project of Colin H. van Eeckhout (Amenra) and Zealandic songwriter Broeder Dieleman, and many more.
Ugandan record label Nyege Nyege Tapes presents its own Hakuna Kulala club night, featuring Authentically Plastic, Diaki, Marcelle/Another Nice Mess, Menzi and Turkana.
Utrecht's contemporary and innovative art and music platform Uncloud will host a program featuring Ana Roxanne, Galya Bisengalieva, and Vladislav Delay AV Live (visuals by AGF).
Unfortunately, Y-Bayani & Baby Naa And The Band of Enlightenment, Reason & Love had to cancel their performance at the festival.
The full outline of currently confirmed artists can be found below.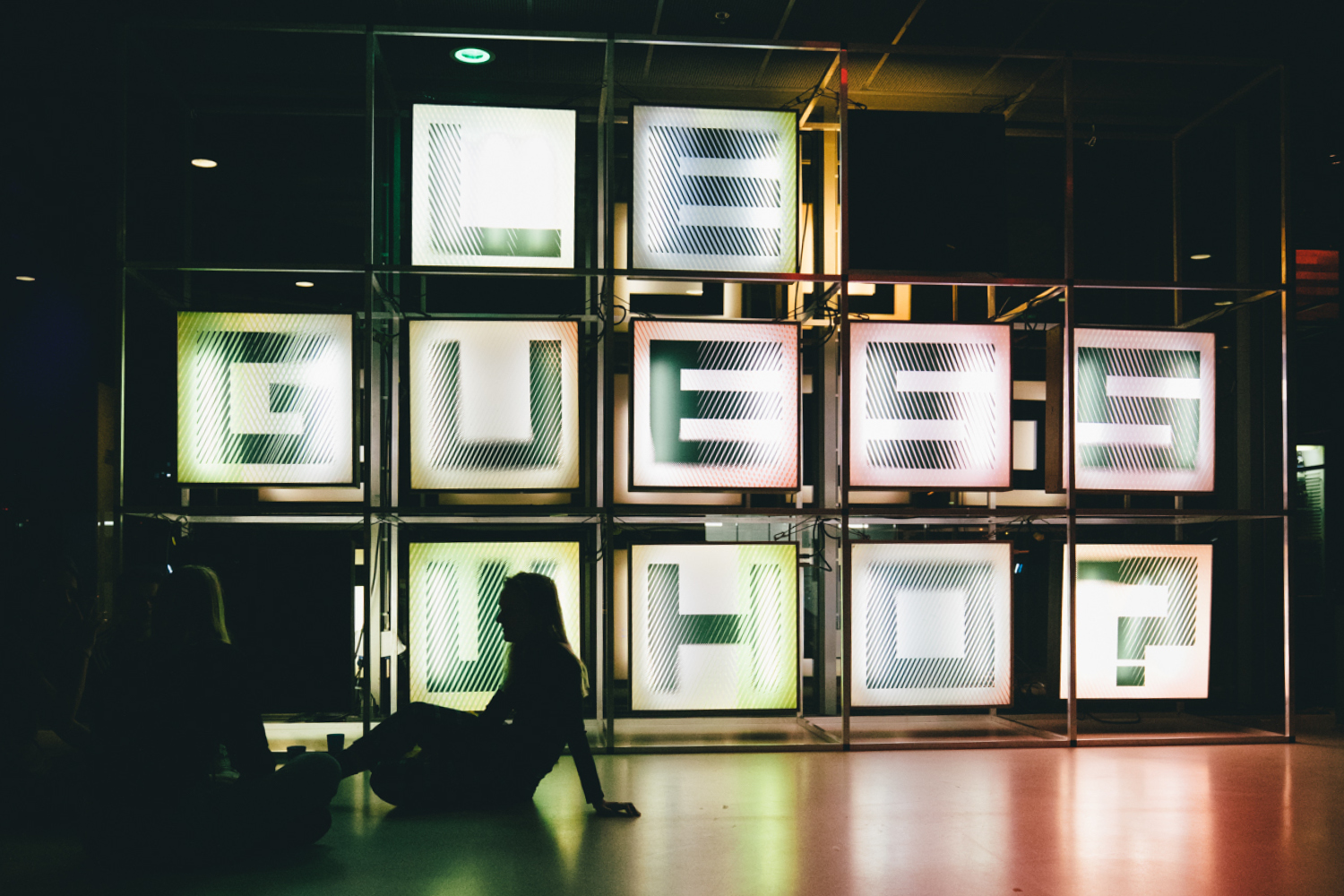 Mega Record & CD Fair during Le Guess Who? 2021
This year, Utrecht's Mega Record & CD Fair will once again take place during the same weekend as Le Guess Who?. Europe's biggest record fair is internationally renowned for its incredibly comprehensive collection of vinyl and pop memorabilia. On 12 and 13 November, vinyl lovers from all over the world can indulge themselves at the Jaarbeurs, which houses hundreds of used and new record vendors. More info can be found here.
Tickets for Le Guess Who? 2021
Le Guess Who? is dedicated to sharing and exploring boundary-crossing music & culture from all over the world. The 14th edition takes place from 11-14 November 2021 throughout the entire city of Utrecht. The festival presents music, film, visual arts and more, in pop venues, theaters, churches, museums, warehouses and public squares.
4-Day Festival Passes are available now for €133,00 (incl. service costs). Day tickets will become available at a later date.
All artists confirmed for Le Guess Who? 2021 (more to be announced)
curated by John Dwyer
Bent Arcana
Brigid Dawson & Sunwatchers
Earth Girl Helen Brown
Faust IV Live!
Gustaf
Old Time Relijun
OSEES
curated by Lucrecia Dalt
Beatriz Ferreyra
Felix Kubin
Julián Mayorga
Lucrecia Dalt & Aaron Dilloway
Tarta Relena
curated by Matana Roberts
Damon Locks' Black Monument Ensemble
Irreversible Entanglements
Jesu
Joëlle Léandre
Oren Ambarchi
curated by Midori Takada
Ensemble Klang presents Thrift Hybrids
Ton-Klami
curated by Phil Elverum
Duma
Lori Goldston
Mari Kalkun
the Microphones
General program
Alabaster dePlume (artist-in-residence)
Alexander Scriabin - 'Le Poème du Feu' performed by Radio Philharmonic Orchestra
Aquiles Navarro & Tcheser Holmes
Arooj Aftab
Black Country, New Road
Bohren & Der Club Of Gore
Conjunto Papa Upa
Etran de L'Air
Gebroeders Dieleman van Eeckhout
Ghalia Benali in Hadret Ishq
KeiyaA
Kiko Dinucci
L'Rain
Lucinda Chua
Lycox
Mazaher
Model Home
PAINT
Parrenin/Weinrich
Pa Salieu
Pink Siifu
Ronald Langestraat & Tim Koh
Sessa
Siti Muharam
SPAZA
Spirit Fest
Tara Clerkin Trio
The Necks
Vanishing Twin
William Basinski performing Lamentations
Nyege Nyege Tapes presents Hakuna Kulala Club Night
Authentically Plastic
Diaki
Marcelle/Another Nice Mess
Menzi
Turkana
Uncloud presents
Ana Roxanne
Galya Bisengalieva
Vladislav Delay AV live (visuals by AGF)
More artists to be announced