Initial line-up announced for 24-Hour Drone 2018 in Hudson, NY
Tuesday Mar 13th 2018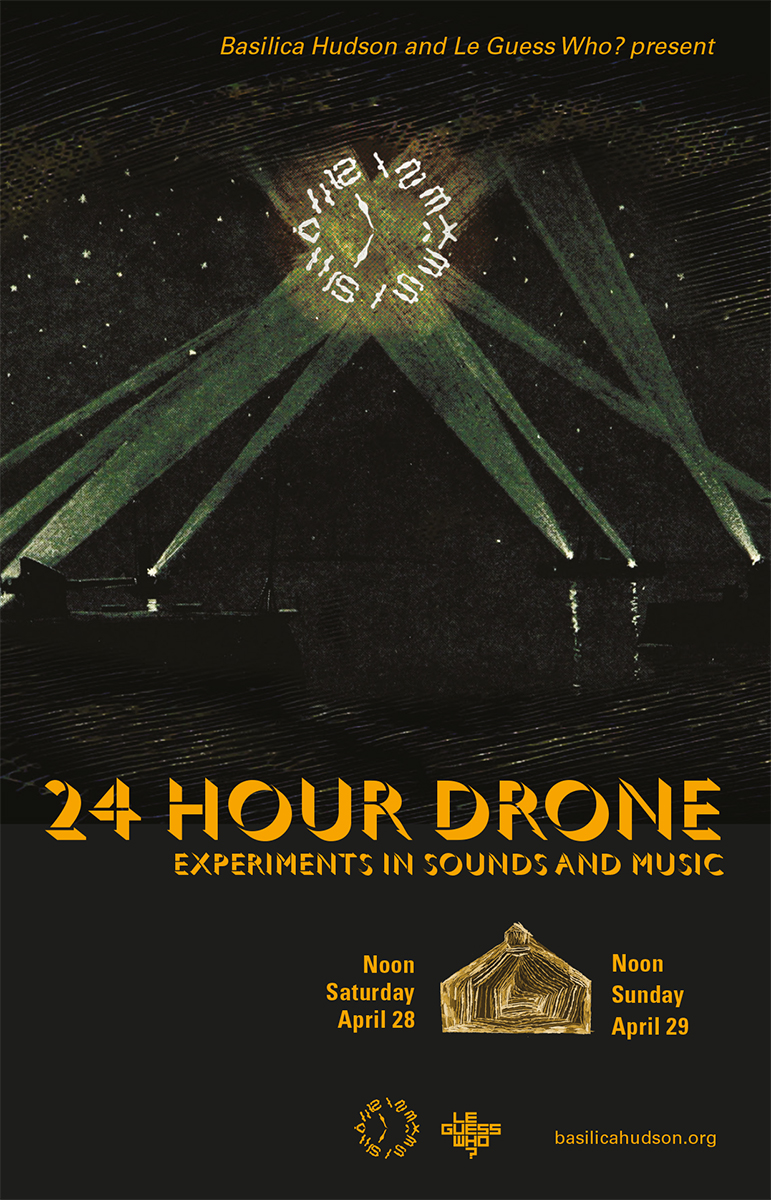 Originated in Utrecht as a collaboration between the festival and long-term partners Basilica Hudson, 24-Hour Drone is a roving, international series featuring musicians and sound artists experimenting within the spectrum of drone.
After editions in Utrecht, The Netherlands; Malmö, Sweden; Montreal, Canada; and Salford, UK, the project will return to Hudson, NY, on 28 & 29 April.
Drone is recognized as one of humanity's earliest and most elemental forms of music. It is essential to indigenous musical traditions worldwide while it also has had a profound influence on modern music.
Inspired by this minimal and ancient form, the organizers of 24-Hour Drone present an immersive, all-encompassing event featuring an international roster of musicians and sound artists working in experimental, classical, non-western and other musical genres incorporating drone to create a full 24 hours of unbroken sound. The 2018 edition will feature a.o. drone orchestras, Celtic bagpipe artists and contemporary Indonesian gamelan players.
Line-up
The initial line-up for 24-Hour Drone features many exclusive collaborations. The first confirmed artists are: noise musician Pharmakon; forefather of ambient electronic music and Brian Eno collaborator Laraaji together with Arji OceAnanda; New Castrati; Buke & Gase's Arone Dyer in collaboration with Dronechoir Syllaba; Sontag Shogun together with scentscape artist Alex Beth Schapiro; Bill Brovold and the Mystical Miniature Orchvestra; harpist Marilu Donovan & bassist Tristan Kasten-Krause; New London Drone Orchestra; Capital Region Celtic Pipe Band; the contemporary Javanese music of Gamelan Kusuma Laras; Hotel Neon; and the Persian traditional crossover sounds of Iranian musician Sabha Sizdahkhani. Queens-based artist Drew Joy will spend a week in residence at Basilica Hudson to create a site-specific piece highlighting the unique textures and reflectivity of the space.
Tickets
24-Hour Drone will take place in Hudson, NY, from Saturday, April 28 (noon) - Sunday, April 29, 2018 (noon). Advance tickets for 24-Hour Drone are available at Basilica Hudson's website for $36 + fees. Capacity is limited and advance purchase is advised. Subject to availability, tickets will be $48 + fees at the door.
Watch a documentary from 24-Hour Drone 2015:
About Basilica Hudson
Basilica Hudson is a non-profit multidisciplinary arts center supporting the creation, production and presentation of independent and innovative arts and culture while fostering sustainable community. Founded in 2010 by musician Melissa Auf der Maur and filmmaker Tony Stone, Basilica Hudson makes its home in a spectacular solar-powered reclaimed 1880s industrial factory on the waterfront of the historic City of Hudson.