COSMOS is Le Guess Who?'s hybrid platform with both live and on-demand exclusive content. Beyond music, beyond film, and beyond borders, COSMOS translates the festival's mission to the online environment. From 10-15 May, 2022, the 2nd edition of COSMOS will be freely available for worldwide streaming via cosmos.leguesswho.com. It will coincide with the festival's first line-up announcement for 2022, to expand the festival's vision and context beyond the festival dates in November.
The May edition of COSMOS will feature four segments:
LGW Embassies originated with the idea that we are stronger together than we are alone. Here, organizations and initiatives from around the world will give a view into their local and cultural scenes via live streams. The goal is to make this an ever-expanding platform to connect like-minded people, no matter where they are based.
The Embassies will be hosted by Lisbon-based online radio platform East Side Radio, who showcase upcoming artists and makers from Portugal; REProduce Live, a peer-to-peer live streaming platform for left-leaning artistic expression within India, highlighting events from Delhi, Goa, and Bangalore; media platform Mutant Radio from Tbilisi, Georgia, who broadcast live performances as well as artist conversations; and U?, Le Guess Who?'s participatory day program, broadcasting live from TivoliVredenburg's Studio Pandora and featuring talks and DJ sets with social and cultural initiatives from Utrecht.
These four embassies are the starting point for a broader network of connections around the world. Le Guess Who? is constantly looking for new partners to host embassies that amplify local scenes, local talent and local stories. Anyone who wants to join can reach out via embassy@leguesswho.com.
The Performances section of COSMOS features on-demand performances of genre-breaking artists. These include a.o. the online premiere of performances from Zanzibar singer Siti Muharam and Tunisian-Belgian artist Ghalia Benali (presenting her new project 'Hadret Ishq') live at Le Guess Who? 2021 and The Ano Nobo Quartet performing a fresh take on the Koladera genre live from Cape Verde. COSMOS also presents the video premiere of indigenous Ainu musician OKI performing 'Kai Kai As To (Rippling Lake)'.
With Context, COSMOS offers stories on the work, background and vision of artists connected to Le Guess Who?: Dutch-Surinamese artist Pink Oculus presents a documentary on the making of her latest album 'Before Wisdom'; Pan African Music premieres video portraits of Nyege Nyege-artists Menzi and Turkana, captured at Le Guess Who? 2021; and video artist Vincent Moon screens a documentary on the work of Irena & Vojtěch Havlovi, two low-profile Czech viola players who live in the suburbs of Prague, out of society.
In Conversation is a series of live conversations, interviews and Q&A sessions about music and art. These conversations will be hosted by Anupa Mistry, a writer and producer interested in the connections between art and communities, and will include a.o. former LGW curator Radwan Ghazi Moumneh; Ghalia Benali discussing the background of her project 'Hadret Ishq'; and GRAMMY Award-winning music producer and author Ian Brennan in conversation with Palestinian singer-songwriter Maysa Daw about inclusion & intersectionality for international artists.
All content on COSMOS will be available to watch worldwide from 10-15 May 2022 via cosmos.leguesswho.com.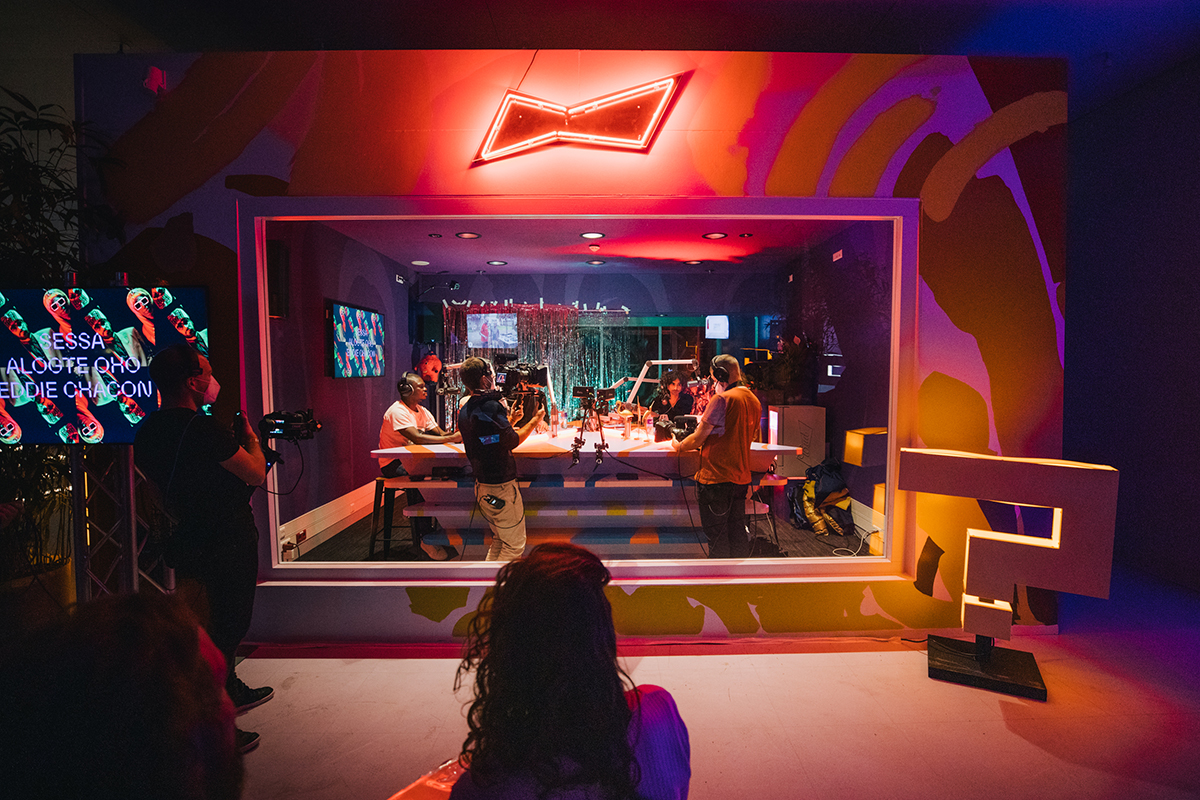 COSMOS - May Edition program:
LGW Embassies
Lisbon, Portugal - hosted by East Side Radio
Delhi, Goa & Bangalore, India - hosted by REProduce Live
Tbilisi, Georgia - hosted by Mutant Radio
Utrecht, The Netherlands - hosted by U?
Performances
Ghalia Benali - Live at Le Guess Who? 2021
Siti Muharam - Live at Le Guess Who? 2021
Jerusalem In My Heart Orchestra - Live at Le Guess Who? 2018
The Ano Nobo Quartet - Live in Santiago, Cape Verde
OKI - Performing 'Kai Kai As To'
Context
Pink Oculus - 'Before Wisdom' documentary
Turkana - Artist portrait by Pan African Music
Menzi - Artist portrait by Pan African Music
Little Blue Nothing - A portrait of Irena & Vojtěch Havlovi by Vincent Moon
In Conversation, hosted by Anupa Mistry
Radwan Ghazi Moumneh (Jerusalem In My Heart)
Ghalia Benali discusses her latest project 'Hadret Ishq' ('the Sufi Project')
Ian Brennan in conversation with Maysa Daw about inclusion & intersectionality
Tata Janashia (Mutant Radio, Georgia) and Rana Ghose (REProduce, India) about local scenes and the importance of platforms to amplify them internationally