We're happy to announce that, after four years, 24-HOUR DRONE returns to Basilica Hudson in 2023 on May 27 & 28, to coincide with Drone Day. 24-HOUR DRONE is presented by Basilica Hudson and Le Guess Who? in collaboration with Sarah Van Buren, happening in-person for the first time since 2019. Tickets are available here.
An immersive event and all-encompassing experience, 24-HOUR DRONE is a roving, international series featuring musicians and sound artists experimenting within the spectrum of drone to create 24 hours of unbroken, uninterrupted sound. 24-HOUR DRONE blurs the line between artist and attendee to create transcendence through communal experience.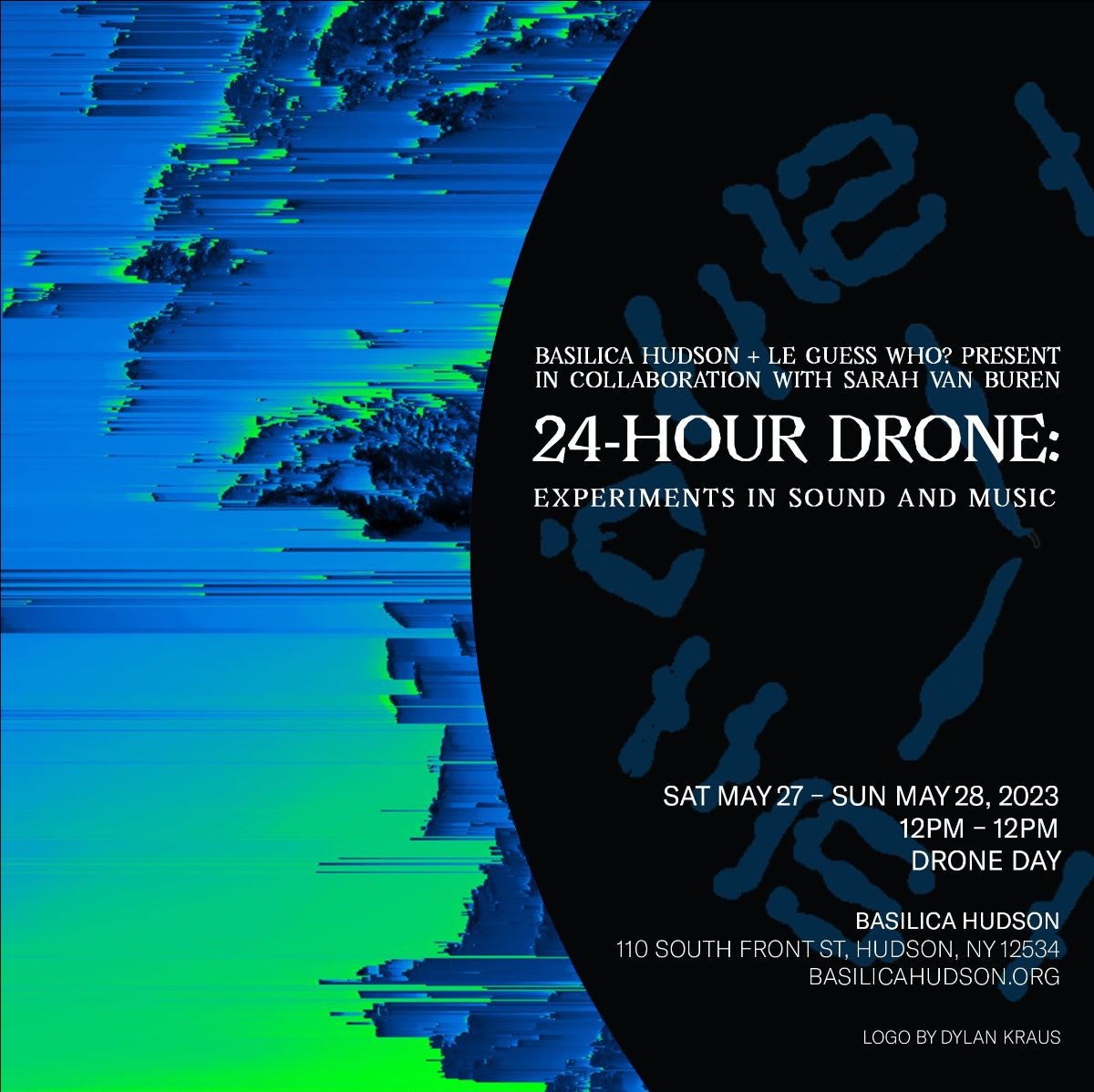 "Basilica Hudson's annual fest proved the proper place to overcome some of my skepticism and neuroses (…) It made the world seem like a better place" –
VICE
Raven Chacon (winner of the 2022 Pulitzer Prize for Music), C. Lavender, Fuji|||||||||||ta, and Photay with Celia Hollander and special guests Laraaji + Arji OceAnanda will each perform a special three-hour endurance set.
The remaining 12 hours of the event include performances by Sarah Hennies + Tristan Kasten-Krause, Laura Ortman, Evans Saxl Seretan Thayer Quartet, WSABI, Anneice Cousin and Sister Redhawk (Nea' Mckinney). It will also feature a special drone set by electronic producer and Beyonce collaborator Kelman Duran.
Lisa Bernard Kelley, a close collaborator of the late great music and Deep Listening pioneer Pauline Oliveros, will also facilitate the sonic meditation The Heart Chant (Pauline Oliveros, 2001) to close out the festival.
Performers will be situated in the center of the room at floor level with attendees surrounding them, dissolving the usual hierarchy between performer and audience. Each performance blends into the next to create twenty-four hours of unbroken, uninterrupted sound. 24-HOUR DRONE will once again be streamed live on Wave Farm Radio and broadcast live on WGXC 90.7-FM: Radio for Open Ears.
Photography by Matt Charland.