Become a LGW Supporter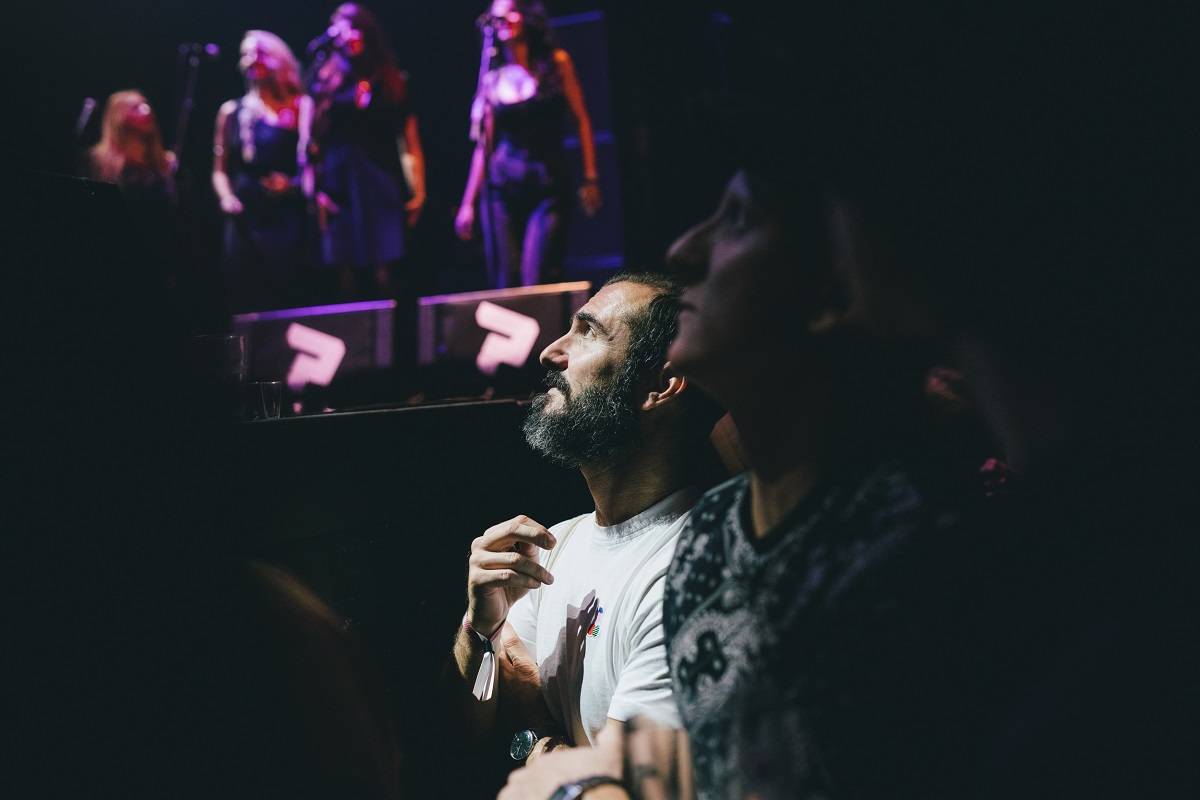 Scroll naar beneden voor de Nederlandse tekst
Thanks to visitors like you, Le Guess Who? has been able to grow into a leading international festival for underrepresented sounds over the past 15 years. We feel it is important to showcase these sounds that are rarely heard in other places. Or, as one of you put it in our audience survey:
"The most special thing about Le Guess Who? is the fact that all my festival highlights came from artists I had never heard of before, exactly in line with the spirit of the festival."
Feel the same way? You can help us to continue our mission by becoming a LGW Supporter.
Your donation will be invested directly in the festival program, and will therefore help us to bring your next favorite artist to LGW.
How to become a LGW Supporter
LGW Supporters can make a donation of at least €5 per month or €60 per year (but of course a higher gift is always welcome). As a LGW Supporter, you are invited to the annual online LGW program presentation and receive personal updates from the LGW team throughout the year.

What will Le Guess Who? do with my donation?
We are always full of new ideas that help us make Le Guess Who? a more diverse, accessible, inclusive, comfortable and sustainable organization. With the structural donations of our LGW Supporters, we can realize specific activities and projects that otherwise would not have been part of Le Guess Who?.
Being able to present exclusive premieres and a concert series like Hidden Musics at the festival is not self-evident, and we need the help of LGW Supporters to continue to realize these kinds of special projects. Also, we would love to support young artists and help them realize the creation and presentation of new work, whether it is music or any other art form.
Do you have any questions or remarks regarding the LGW Supporters program? Feel free to reach out to us by sending an email to info@leguesswho.com.
Dankzij bezoekers als jij, heeft Le Guess Who? de afgelopen 15 jaar kunnen uitgroeien tot een toonaangevend internationaal festival voor ondervertegenwoordigde geluiden. We vinden het belangrijk om deze geluiden, die op andere plaatsen zelden te horen zijn, te presenteren. Of, zoals een van jullie het verwoordde in ons publieksonderzoek:
"The most special thing about Le Guess Who? is the fact that all my festival highlights came from artists I had never heard of before, exactly in line with the spirit of the festival."
Denk jij er net zo over? Je kunt ons helpen onze missie voort te zetten door LGW Supporter te worden.
Jouw donatie wordt direct geïnvesteerd in het festivalprogramma en helpt ons zo om jouw toekomstige favoriete artiest naar LGW te brengen.
Hoe word je LGW Supporter?
LGW Supporters doneren minimaal €5 per maand of €60 per jaar (maar een hogere gift is natuurlijk altijd welkom). Als LGW Supporter kun je de jaarlijkse online programmapresentatie bijwonen en ontvang je het hele jaar door persoonlijke updates van het LGW team.

Wat doet Le Guess Who? met mijn donatie?
We zitten altijd vol nieuwe ideeën die ons helpen om van Le Guess Who? (nog meer) een organisatie te maken die oog heeft voor diversiteit, toegankelijkheid, inclusie en duurzaamheid. Met de structurele donaties van onze LGW Supporters kunnen wij specifieke activiteiten en projecten realiseren die anders geen onderdeel zouden zijn van Le Guess Who?.
Exclusieve premières en een concertreeks als Hidden Musics zijn niet vanzelfsprekend en we hebben de hulp van LGW Supporters nodig om dit soort bijzondere projecten te kunnen blijven realiseren. Ook willen we jonge kunstenaars en muzikanten graag ondersteunen en hen helpen bij presenteren van nieuw werk, of het nu muziek of een andere kunstvorm is.
Culturele ANBI
Stichting Le Guess Who staat bij de Belastingdienst geregistreerd als culturele ANBI (Algemeen Nut Beogende Instelling). Steun je Le Guess Who? met een gift, dan is deze voor 125% aftrekbaar door middel van de Geefwet. Kijk voor meer informatie op de website van De Belastingdienst.
Eenmalige en periodieke giften
Het is ook mogelijk je donatie voor een periode van minimaal vijf jaar vast te leggen. Om in aanmerking te komen voor de aftrek van zo'n periodieke gift, moet deze worden vastgelegd in een schriftelijke overeenkomst. Neem voor vrijblijvende interesse in het opstellen van zo'n overeenkomst gerust contact met ons op via info@leguesswho.com.
Giften – eenmalig en periodiek – die niet zijn vastgelegd in een schenkingsovereenkomst zijn alleen 125% fiscaal aftrekbaar wanneer het totaal van al je gedane giften aan culturele ANBI-instellingen het drempelbedrag overschrijdt: dit is minimaal 1% van je inkomen, met een minimumbedrag van €60. Alles wat je boven dit bedrag schenkt, mag je aftrekken tot maximaal 10% van je drempelinkomen. Meer informatie is te vinden op de website van De Belastingdienst.
Heb je een vraag of opmerking over het LGW Supporters programma? Neem gerust contact met ons op via info@leguesswho.com.
Photo by Melanie Marsman